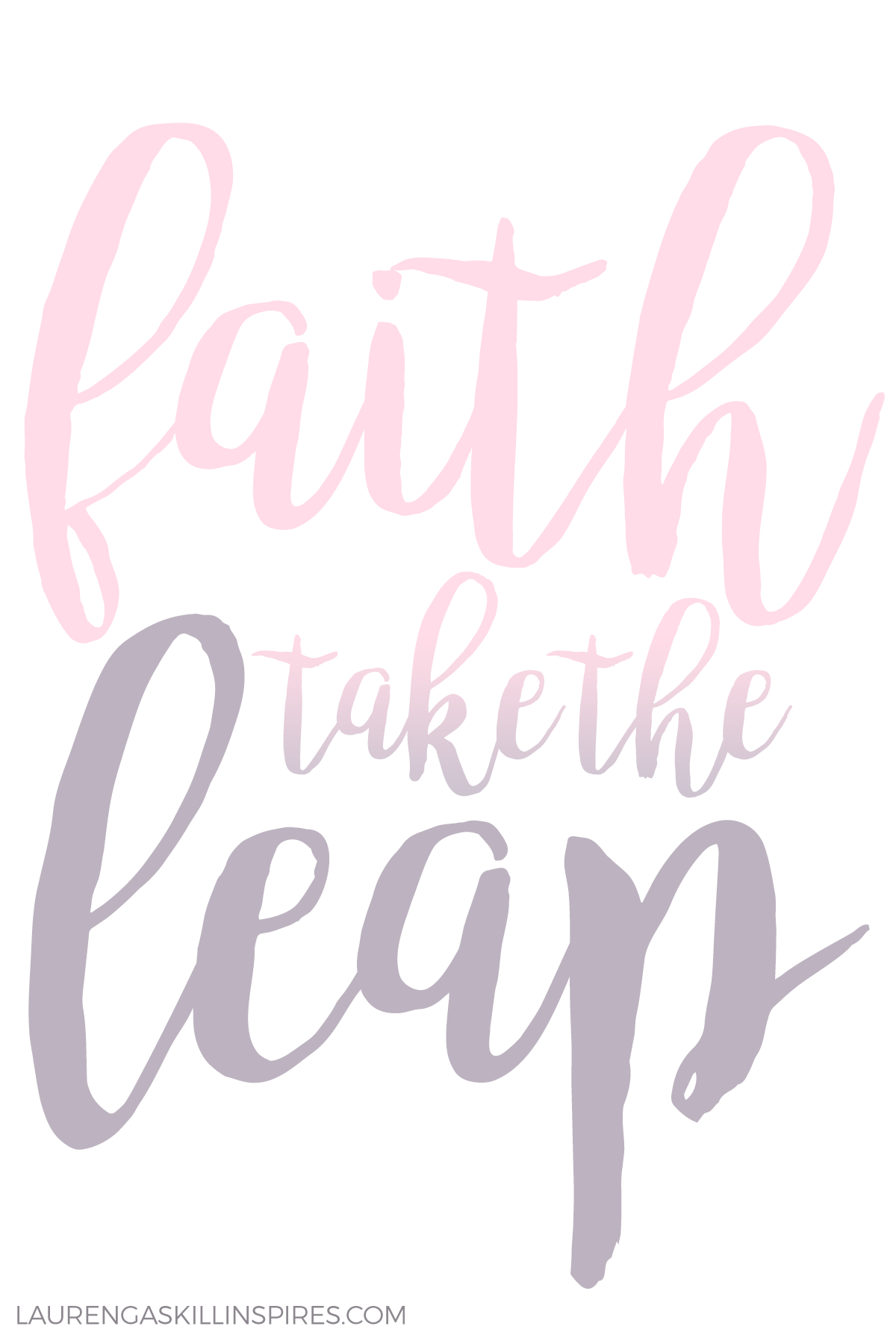 I didn't know if I would have the courage write this blog post to you. But thanks to a lot of nudging from the Holy Spirit, and by God's grace and strength, I know this is what I must do.
Before I let you in on some pretty big, exciting news, let me start by saying thank you. Thank you for being a part of this community. Thank you for sharing your heart with me week after week here on the blog and in the email newsletters. Thank you for supporting this ministry. Thank you for coming alongside me in prayer.
I've said it many times and I'll say it again: Writing may be something God has called me to, but you guys are one of the main reasons why I write. You are the reason why I stay up editing podcasts when I get home from working my full-time job. You are the reason why I pour my soul out week after week, in the hopes that my story might inspire and encourage you in your own faith journey.
So thank you. Thank you for being here and thank you in advance for supporting me in what I'm about to share with you.
When I first met my husband eight years ago, I had no idea how our story would unfold. But I did know two things: one, he loved me; and two, he wanted to be a business owner someday. After moving from Indiana to the great state of Minnesota and then to Iowa, I knew three things: one, he loved me; two, he still wanted to be a business owner; and three, we wanted to settle somewhere warm — a place with plenty of beach and mountain scenery to go around.
From the day our moving truck unloaded our belongings here in Des Moines, we knew this city was only a chapter in our journey. We just didn't know how long we'd be here.
Lord, please speak to my husband when the time is right to move. You know our hearts and what we desire, but we also want Your will to be done, so we will stay here until you say go. 
In January, a year and a few months after we'd moved, my husband came to me and said, "I think it's time."
He'd already been looking at businesses to acquire for more than a year, and this time, the Lord brought a venture to him that was too good to ignore.
Five months later, I am thrilled to let you in on our little secret:
My husband bought a business in Raleigh and we are moving to North Carolina!
Ya'll, I can't even begin to explain how God-breathed this move is. First of all, the timing is not what I expected. I thought for sure we'd be in Des Moines at least another year, and I had made peace with that potential reality. Second of all, I had just got a book agent and started working on my second manuscript (we're saving the first for a later book). A move would mean a definite pause in the progression of that manuscript. Third of all, my life has been insanely stressful this year … I thought for sure we'd move once things settled down a bit — not in the middle of the chaos!
But God works and moves in mysterious ways, and as I've watched this whole thing unfold I can't deny this is the path He has for us.
Many of you know my focus for this year has been on loving God, my husband and others well. Sometimes loving well looks like taking a leap of faith, even when you're unsure of what the road ahead will hold. Here's what I've learned: Sometimes loving well looks like taking a step back and saying no to some things in order to say yes to the things that really matter. Sometimes loving well looks like making sacrifices for a greater purpose and plan. That's where I'm at today, and that's what makes this blog post so hard to write … because I know God has blatantly told me me to lay the blog and the podcast at His feet for a season.
Like I said before, the timing of this does not make sense to me. I just got a book agent. I'm supposed to be coming out with a book sometime in the next year or so. I shouldn't be taking a break from my blog … that's author suicide.
And yet, that's what God has asked me to do.
So in faith, that's what I'm going to do.
It's a huge leap of faith — moving to North Carolina and taking a break from this blog — but I know it's God's will for me, and I know He's going to do something amazing in the midst of it all.
My hope and prayer is that you would continue to stand by me in this transition. This isn't goodbye forever, this is, as Tigger would say, simply "ta ta for now." God has called me to ministry, and I don't intend to walk away from it completely. I will still be on social media from time to time. I will still send emails. It's just all going to look a little different for a little while, and that's OK with me. I have a peace about this, because I'm saying yes to something God has called me to.
Has God asked you to say yes to something that seems scary or impossible? Here's my encouragement to you today: Hear God out. Have a little faith.
God's plans are to give us a hope and a future (Jeremiah 29:11). He wants what's best for us. He would never ask us to do something that wasn't for our good. So, if you feel Him calling you to do something today, why not trust Him on it? Why not take a leap of faith and say yes to the call? You might not know where the road will lead, but you can be sure that God is with you. God has gone before you. And He will never leave you.
But the LORD is the one who is marching before you! He is the one who will be with you! He won't let you down. He won't abandon you. So don't be afraid or scared!" -Deuteronomy 31:8 (CEB)
Speaking of loving well, please join Rachel Macy Stafford (AKA Hands Free Mama) and I on the latest episode of the Finding Joy Podcast as we talk about love, technology and living hands free.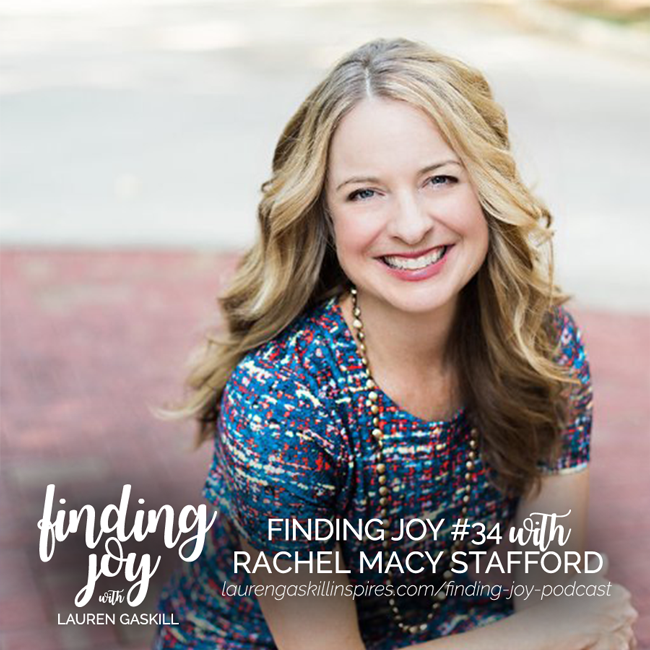 In addition to talking about her new book, which you can enter to win a copy of below, in this episode Rachel and I discuss:
How to set a positive example for the next generation about what it means to live in the present by being fully present.
How to use technology as a tool and not a crutch.
Practical ways to make space for the things that truly matter.
Rachel encourages us to make space for the things that truly matter in life, and forget about all the rest.
Finding Joy is a podcast dedicated to bringing you encouragement and inspiration in all of life's moments — the good, bad and everything in-between.
Links from the Show
Only Love Today
Hands Free Life
Connect With Rachel
Facebook | Twitter | Instagram
How to Listen to the Finding Joy Podcast
You can listen to the podcast here on this blog, or by subscribing to the podcast through iTunes.

Subscribe to the iTunes podcast HERE.
Review this Podcast
By rating this podcast or writing a short review, you can help others find the Finding Joy podcast more easily! Click here to head over to iTunes and rate Finding Joy.
Give to the Podcast
Click here to learn more about how you can financially support the The Finding Joy Podcast.
*Links in this post may be affiliate links. If you purchase using one of these links, I will receive a small commission. Thank you for supporting the ministry of the blog!