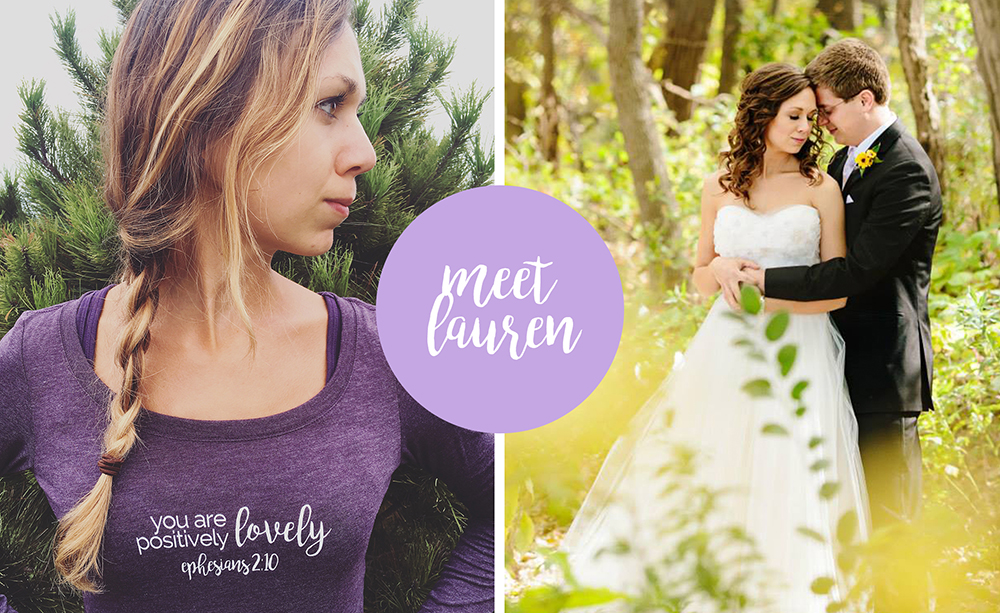 Bio
Lauren Gaskill is an author, speaker and host of the Finding Joy podcast and Finding Joy Ladies Night Out. She is in the process of publishing her first non-fiction inspirational book. Diagnosed with an incurable genetic disorder (Hypermobile Ehlers-Danlos Syndrome), Lauren is passionate about encouraging others to fight for faith and keep hope alive — no matter what. When she's not writing, Lauren loves to cook, bake and go on hikes with her husband and Cavalier King Charles Spaniel, who is affectionately named Reese after Lauren's favorite candy, peanut butter cups.
A Few More Things About Me
Beyond the standard introduction above, there's a few things I want to share to help you get to know the real me on a deeper level. Click on the boxes below to learn more.
I remember the night everything fell apart like it was yesterday. I'd just come home from a long swim practice and found my dinner wrapped on the counter, ready to be microwaved. I scarfed down the steak and potatoes and headed immediately for my room, so I could work on homework. And that's when it happened. My first anxiety attack.
I won't bore you with all the details of what led to the attack (simply because they aren't that relevant to this story) but I will tell you this: In a moment I went from feeling fine to feeling like my life was over.
The attack was so horrendous I couldn't get it out of my head the next day. The scenes from that night played like a bad YouTube video on repeat in my mind. I wondered how I could let myself get so out of control, and I was afraid that if it happened once it could happen again. And that night, I had another anxiety attack.
One-by-one they kept coming. Night after night, month after month, I laid in bed powerless to the psychosomatic response that had become a daily occurrence. I'd grown up in the church and given my life to Jesus as a child, but none of that was helping, or so it seemed at the time.
I began to hate the girl I saw in the mirror staring back at me. I wanted to reach through the glass and slap her silly. I wanted to shake her and scream at her, "I hate you!" I wanted to beg her to just stop feeling the way she was feeling. But that didn't make the attacks go away.
It was a slow process, but as the months went on, I began to let the anxiety attacks define me. When I looked in the mirror I no longer saw a beautiful, captivating woman. I saw a detestable, pathetic shell of a human being who was a slave to anxiety.
When God didn't answer my prayers of surrender and deliver me from the anxiety, I began to doubt His love for me. Even worse, I began to doubt my value. Maybe I'm not worth saving, I thought to myself. It was a total lie from the enemy, but in my weakened state I let it take root in my soul.
Eventually the attacks dwindled. But my beaten identity lingered.
It wasn't until a few years later, when God brought a counselor into my life, that I began to understand who I was as a daughter of God.
The more we talked through the lies and labels I'd given myself, the more I began to see that I wasn't positively horrible — I was Positively Lovely!
I'd been a "Christian" my whole life, but in this moment it's like I was seeing myself for the first time — seeing myself as my Father saw me, instead of the bruised and beaten up version I was holding on to in my mind. By His grace and with His guiding hand, I began to work on exchanging the lies for truth by claiming His word over my life.
Every day I reminded myself that no matter what I face:
I am a daughter of the One True God. (John 1:12)
I am loved more than I could ever imagine. (John 3:16)
I am a living work of art — a true masterpiece. (Ephesians 2:10)
I am more precious and valuable than jewels. (Proverbs 3:15)
It was one thing to read these scriptures growing up, but finally knowing and claiming these truths changed my life. I began to see when I lived within my God-given identity, I really could do all things through Christ, as Paul tells us in Philippians 4:13. In Him I was not pathetic, helpless or alone. In Him I could drive out fear; I could rest; and I could overcome whatever struggle came my way.
Looking back, I'm so glad that God taught me those lessons when He did, because five years later, when I was diagnosed with Ehlers-Danlos Hypermobility (EDS III) at age 23, I had never needed His truths more.
Living with a chronic illness like EDS III is not easy. (I write more about living with the disorder here.) There are days when the pain is too great. Days I want to give up. Days I cry out to God in angst, desperately crying out for Him to heal me. But in this journey, as in my journey with anxiety attacks, I have found profound beauty along the way. I have experienced a closeness to God that I am eternally grateful for.
Getting out of bed is hard some days, but with each faithful step I take, God continues to reveal more of himself to me. Day by day He continues to pull me further out of darkness and into His glorious light.
You see, there is a darkness but we don't belong to it. And not only do we not belong to it, but it also has no authority over us.
God is bigger. God is stronger. And He can give us the faith we need to overcome anything the enemy throws at us.
As I mentioned earlier, there was a time I let my struggles define me, but I'm not going back there — to the darkness, to the night, to the overwhelming pit of despair. Because I've been called into the light — into abundant life. And so have you. And we don't have to even entertain the darkness because as children of God it's not who we are. It does not define us.
You are Positively Lovely. And nothing will ever change that.
– – – – –
A few more things: Today I am married to my high school sweetheart. We met over Blizzards at Dairy Queen back in 2009, and I am still head-over-heels in love with him.
I am an entirely self-taught chef and baker, and I love developing new recipes. I actually used to be a food/faith blogger, until I felt God call me to full-time ministry. You can check out my old recipes here.
I am a storyteller. I believe stories are powerful, and I love how God uses them for His good. I write and speak to motivate and inspire others to experience abundant life in Christ.
I am particularly passionate about encouraging women to claim their identity as a Positively Lovely daughter of God.
As a woman who suffers from a connective tissue disorder, I also write and speak about what it looks like to walk with Jesus through pain and suffering.
These are a few of my favorite things.
Hiking in the mountains
Walking on the beach
Exploring new places
Spending time with family and friends
Serving at church and being in fellowship with women
Swimming laps at the pool
Laughing so hard that it hurts
Singing in the car and driving with the windows down
Bonfires under a starry sky
Freshly baked cookies
Dark chocolate, 60-80%
Red wine, preferably Montepulciano d'Abruzzo or Tempranillo
Bacon, avocados, bread and cheese — in that order
Thai, Indian and Mediterranean food