This might be the last week in our Discovering the Power of Prayer series, but our prayer adventure doesn't end here. No, our adventure is really just beginning.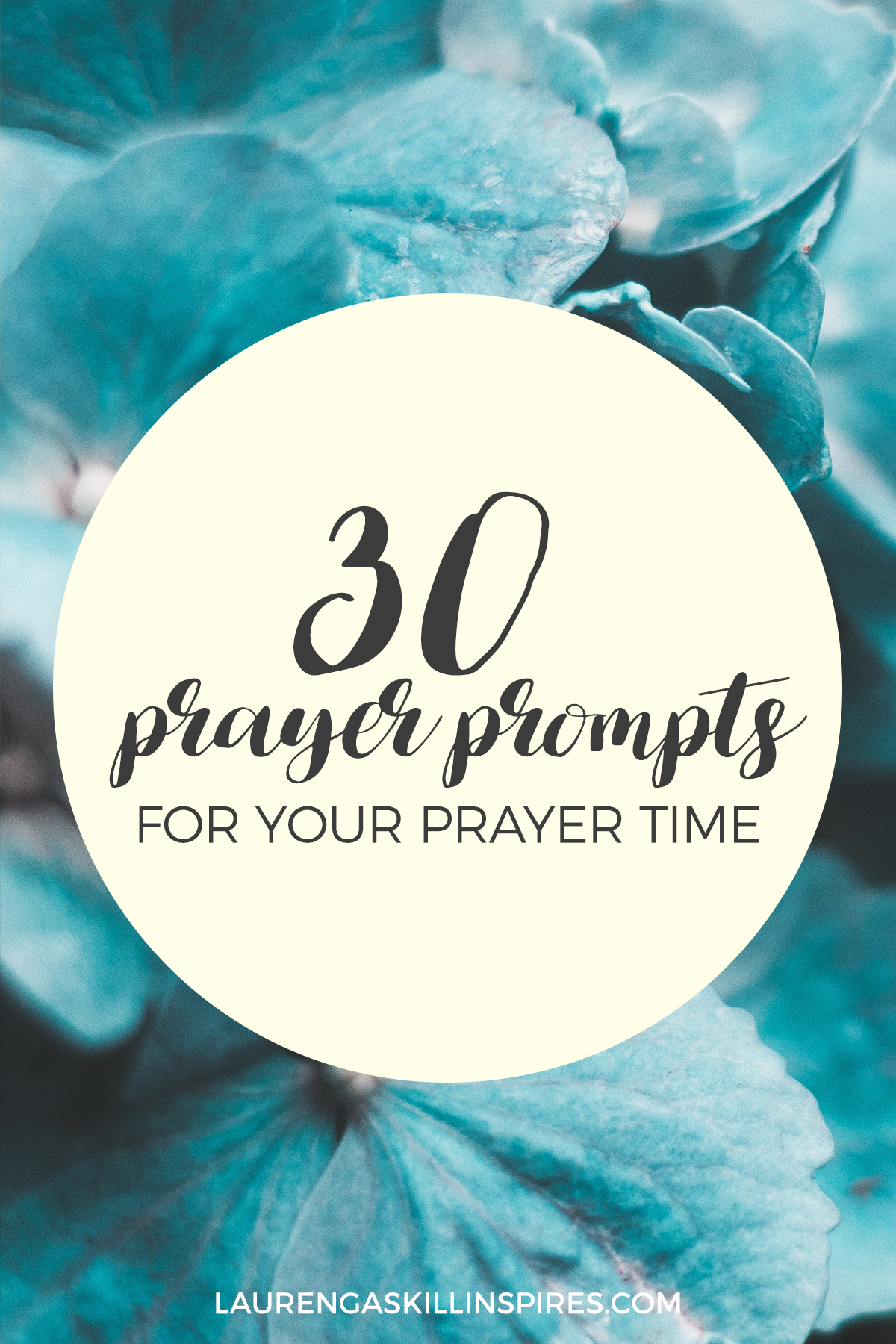 During this series, we've talked about:
Today, we are taking everything that we have discovered and practiced so far and applying it to a 30-day prayer challenge for the month of November! (If you're reading this after November, that's OK! Just join us wherever you are.)
Why a Prayer Challenge?
Now that we've gone deeper and learned more about the power of prayer, there is no better way to keep growing than to put it to practice. The following prompts are designed to bring you closer to God over the course of a month of daily devoted prayer. Feel free to edit and change the challenge to fit your prayer needs. All you have to do is click to download this prompt sheet and you can print it for yourself or to give to a friend! I've also copied the prompts below if you'd like to reference them from this blog post.
30 Prayer Prompts for Your Prayer Time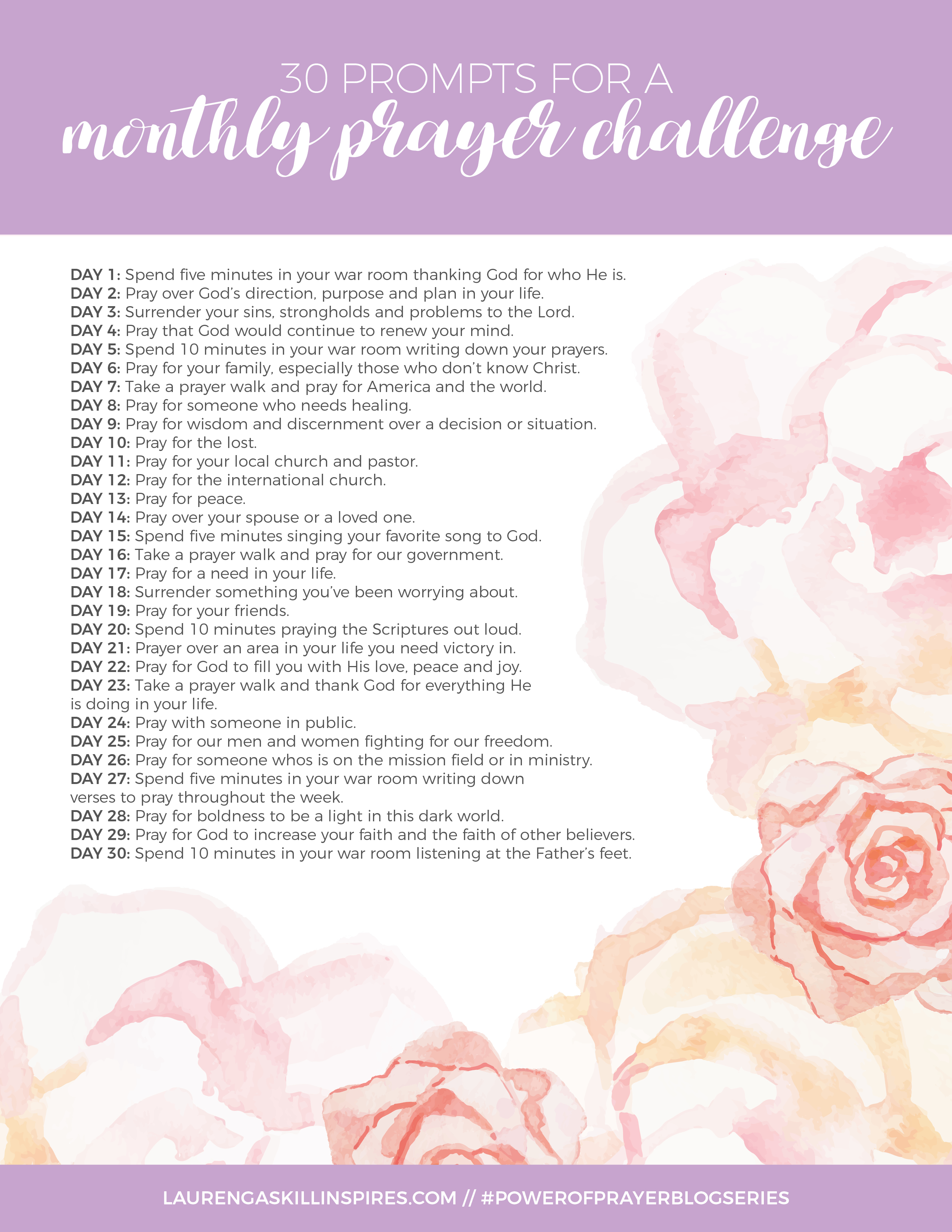 DAY 1: Spend five minutes in your war room thanking God for who He is.
DAY 2: Pray over God's direction, purpose and plan in your life.
DAY 3: Surrender your sins, strongholds and problems to the Lord.
DAY 4: Pray that God would continue to renew your mind.
DAY 5: Spend 10 minutes in your war room writing down your prayers.
DAY 6: Pray for your family, especially those who don't know Christ.
DAY 7: Take a prayer walk and pray for America and the world.
DAY 8: Pray for someone who needs healing.
DAY 9: Pray for wisdom and discernment over a decision or situation.
DAY 10: Pray for the lost.
DAY 11: Pray for your local church and pastor.
DAY 12: Pray for the international church.
DAY 13: Pray for peace.
DAY 14: Pray over your spouse or a loved one.
DAY 15: Spend five minutes singing your favorite song to God.
DAY 16: Take a prayer walk and pray for our government.
DAY 17: Pray for a need in your life.
DAY 18: Surrender something you've been worrying about.
DAY 19: Pray for your friends.
DAY 20: Spend 10 minutes praying the Scriptures out loud.
DAY 21: Prayer over an area in your life you need victory in.
DAY 22: Pray for God to fill you with His love, peace and joy.
DAY 23: Take a prayer walk and thank God for everything He is doing in your life.
DAY 24: Pray with someone in public.
DAY 25: Pray for our men and women fighting for our freedom.
DAY 26: Pray for someone whos is on the mission field or in ministry.
DAY 27: Spend five minutes in your war room writing down verses to pray throughout the week.
DAY 28: Pray for boldness to be a light in this dark world.
DAY 29: Pray for God to increase your faith and the faith of other believers.
DAY 30: Spend 10 minutes in your war room listening at the Father's feet.
Starting this Wednesday, Nov. 1, I am going to challenge myself to do all 30 of these prompts during the course of the month. I'd love it if you joined me!