One of the things I love about blogging is being a part of the blogging community. Each year, I'm amazed by how many new, talented writers I meet (some of whom have become very close friends).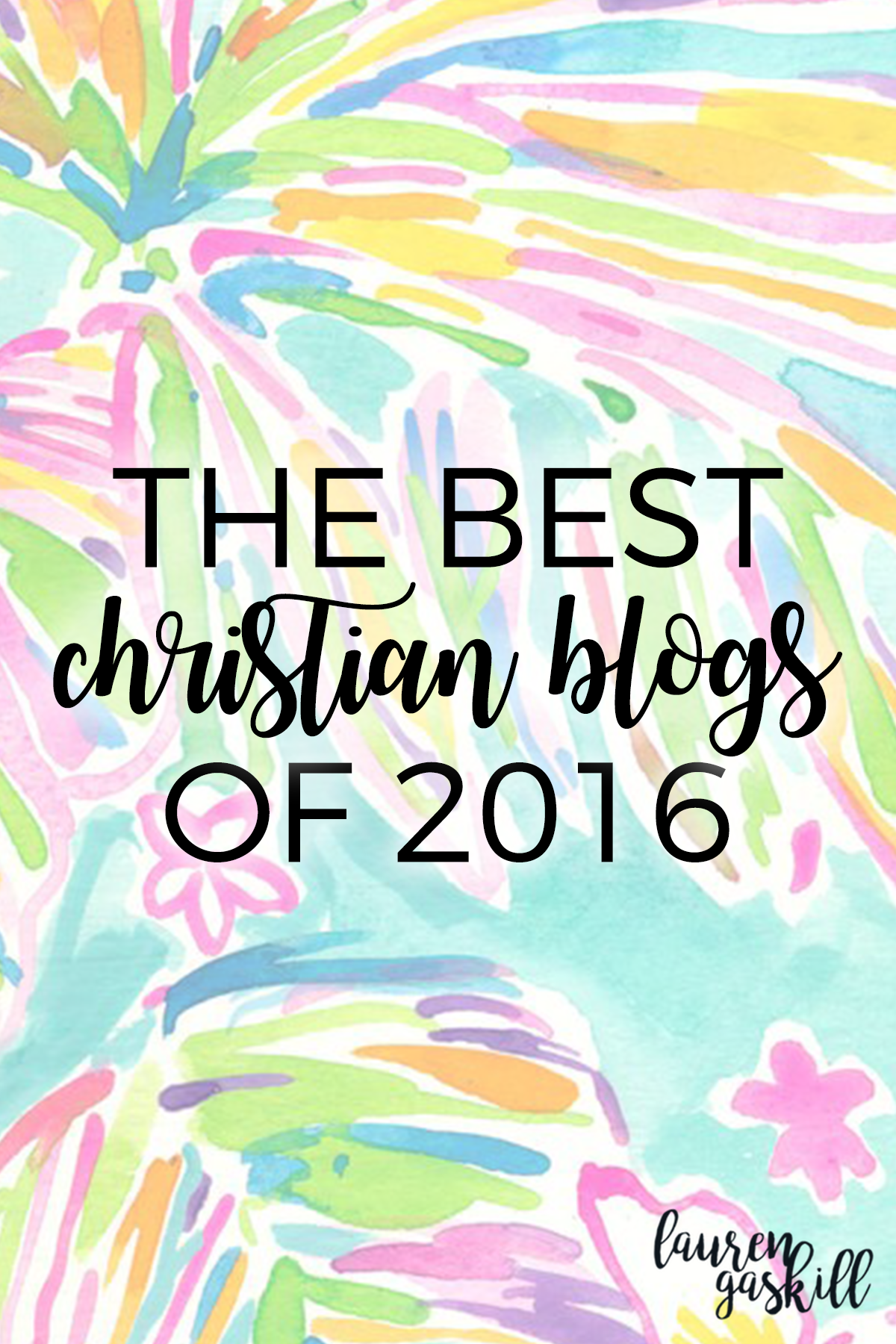 I can't tell you how many blog posts I read this year, but I can tell you some of my favorites, and I've gathered those here for you to read today. Three of these posts are reader favorites from my blog, but the rest are from writers I deeply admire and respect. Here's a list of the best Christian blog posts from 2016 — in no particular order — with an excerpt from each post.
Why We Don't Have to Feel Ready by Holley Gerth
"God is not looking for perfect examples. He is looking for ordinary people willing to just love one another. He is calling the messy, the broken and the incomplete. This is good news for all of us. It means our role is not to show off; it's just to show up. He will give to us and then He'll give through us. We're simply asked to be willing and brave enough to do it as we are and not as we'd like to be."
10 Bible Verses Every Woman Should Memorize by Lauren Gaskill
"God doesn't just want His children to open up their Bibles on Sunday. He wants His children to be filled with His word each and every day — and He wants to use His Word to transform us from the inside out. If you are interested in memorizing scripture, here are the top 10 verses that have transformed my walk with the Lord."
What Are You Chasing? by Angela Parlin
"The course we run is the Christian life. But we're not running to win the prize of salvation, since salvation comes by faith in Jesus Christ, and not by our own works. What, then, is the prize we're running to win? What are we running after anyway Jesus. We're running after Jesus, friends."
7 Powerful Verses That Will Give You God's Peace by Deb Wolf
"Peace always seemed like it was just beyond my reach. I knew my lack of peace was a faith issue, but the truth about life's 'trials and sorrows' pushed the possibility of peace right out the door. I knew Jesus words: 'I have told you all this so that you may have peace in me. Here on earth you will have many trials and sorrows. But take heart, because I have overcome the world.' John 16:33. They just didn't translate into my everyday living.
She Believes and Everything Changes by Lauren Gaskill
"There is power in believing God. There is blessing in believing God. In Luke 1:45 we are told that 'blessed is she who has believed that the Lord would fulfill his promises to her.' In Mark 9:23 we learn 'everything is possible for one who believes.' Believing changes everything."
Is This a Delay or a Dead End? by Lysa TerKeurst
"Oh, friend. When there is a delay in our lives, we must determine to fill the gap between here and there by intentionally proclaiming every hint of God's activity. Just the fact that we woke up breathing this morning is evidence of His goodness. So, let's make a list and keep acknowledging that just because God is silent in one area of our life does not mean He is silent in every area."
How to Embrace Authenticity In Your Friendships by Alison Tiemeyer
"How do we get past the fake and just be real? It's downright scary to be the friend in the group who wants to ask the deeper questions. Ask anyway. With the hard questions, a layer of that huge onion of fear is revealed and you can join hands and love on people and be real. It's hard to take a loaf of bread to your new neighbor, but your neighbor might really love bread and might really love to be a new friend. Your new neighbor could be the person that encourages your heart and listens to your struggles."
Clarify Your Calling by Micah Maddox
"I've often heard the advice that you should do what you are passionate about, but I think I disagree. Passion can be misleading … Before you embrace the thing where your passion bleeds, ask God for His direction. Don't pursue your passion, pursue God's plan."
21 Days to Revolutionary Prayer Blog Series by Suzanne Eller
This is one of my favorite blog series! It ends with a post from me, titled, "How I Got My Prayer Mojo Back." Here's an excerpt: I don't know where you are in your walk with Jesus today, but I do know this: All it takes is one small step of faith to transform your prayer life. It doesn't matter if you've been a prayer warrior for years or are a new believer — God wants to take you deeper. He wants you to trust, know and believe that He sees, He hears, He knows, He understands, and He will answer when you call.
When God Didn't Give You What You Wanted by Kelly Balarie
"God, hasn't given me a tad, He's given me a ton. Yet, sometimes, like my son, I see only the little thing he hasn't done. I focus on it, forgetting everything else. I get obsessed with that one little marshmallow and forget the sweetness of his providence."
Finding Peace Beyond the Pain by Jennifer Moye
"You see, when we seek God through His Word and prayer, we find Jesus. I sometimes forget that Jesus understands our pain because He, too, suffered. We read the words of Psalm 22:1: 'My God, my God, why have you forsaken me? Why are you so far from saving me, so far from the words of my groaning?'"
We're Children of the Light, and We're Not Turning Back by Lauren Gaskill
"I am a child of God. A child of the light and of the day. A child with 24/7 access to joy, love, peace, hope and the power of the Holy Spirit. A child whose Daddy loves her no matter what. A child who can face the darkness because the light inside her can help her overcome anything."
Do you have a favorite blog post from 2016? I'd love to hear all about it in the comments section!