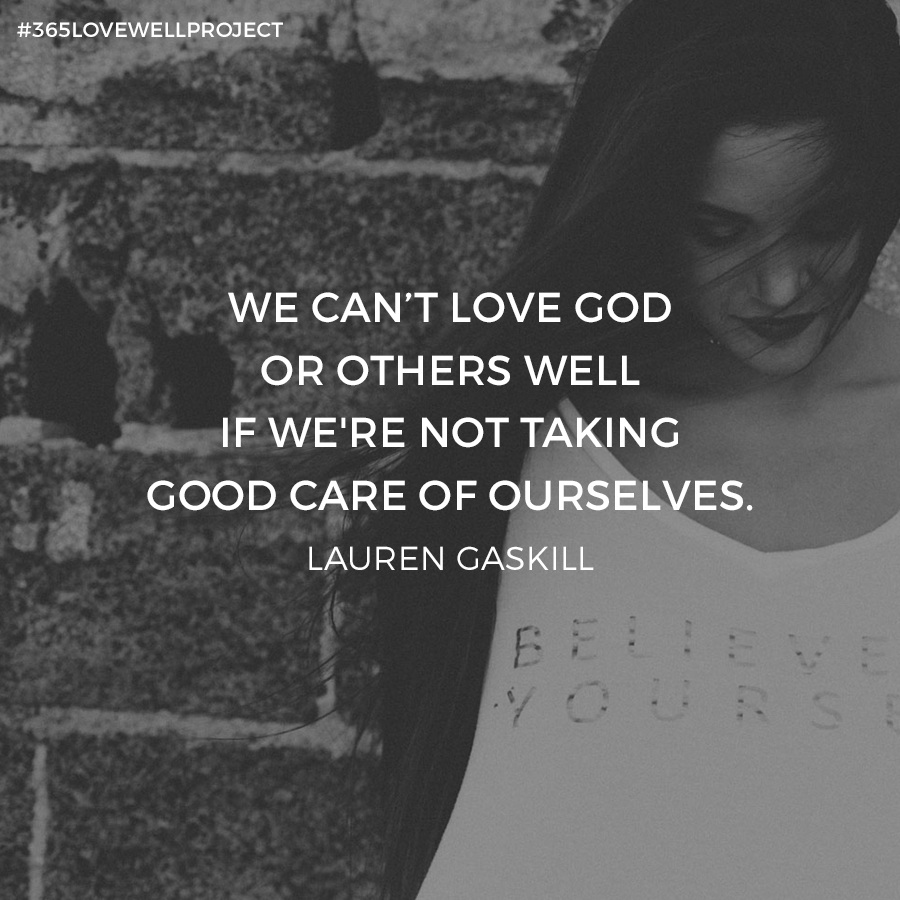 When I started the #365LoveWellProject, my main focus was on loving God and loving others better. But after a winter full of stress and activity, including three sinus infections, surgery, increased work demands and signing with a book agent, here's what I've come to realize: we can't love God or others well if we're not taking good care of ourselves.

Today's post was inspired by this realization, and my hope is it will move us to make more space for self-care in our lives.
We don't need an excuse to treat ourselves to a daily dose of self-care. All we need is a desire and drive to start taking better care of ourselves.
If we believe what the Bible says is true — that our bodies are holy temples (1 Corinthians 6:19-20) and that rest is a vital part of life (Exodus 34:21) — then we cannot afford to neglect our wellbeing. Our spiritual health will suffer if we ignore taking care of the body and soul that God entrusted us with.
The key to maintaining good spiritual health is living intentionally — organizing our schedules in a way that honors both God, others and ourselves.
Today, let's explore some ways we can start taking better care of ourselves with these 35 self-care ideas.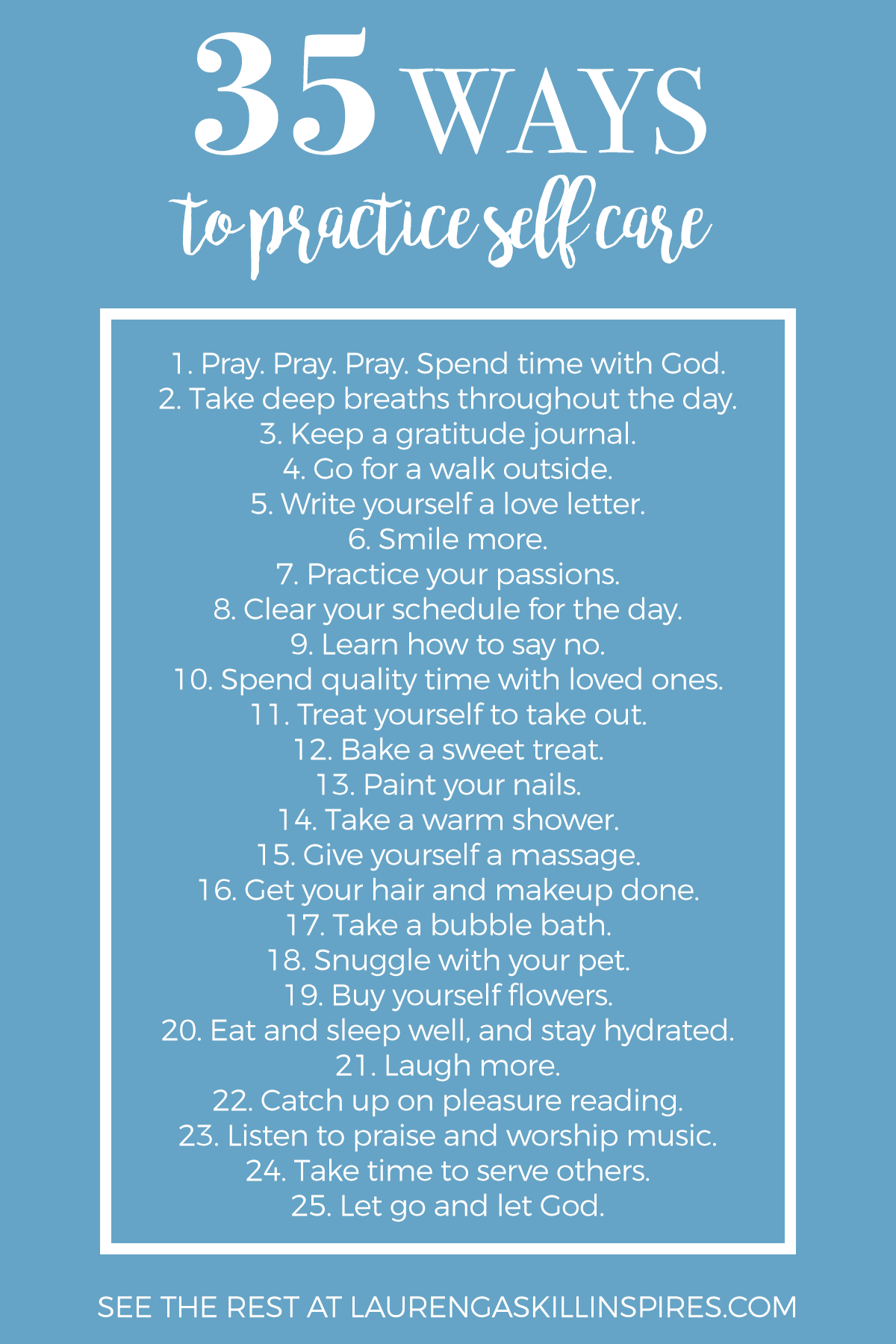 Don't feel like you have to do all of these in the next week or even month. Do whatever works for you, when it works for you. The goal is to get us thinking more about how we can nourish our own lives in the way we work to nourish others. In this way, we will be better equipped to meet the needs of others, because we will have first tended the gardens of our own soul.
Pray. Pray. Pray. Commit to spending time with God daily and being in His Word.
Take deep breaths throughout the day. If you're wondering why I have this listed as number two and why it's so important, head over to my friend Heather's blog to learn more. There is power in the way we breathe!
Keep a gratitude journal.
Go for a walk outside.
Write yourself a love letter. Stop thinking about all the things you aren't and celebrate the wonderfully and fearfully made person that you are.
Smile more. It just might change your perspective on something.
Practice your passions. What do you love to do but haven't had time to do lately? Go do that thing now.
Give yourself permission to clear your schedule and do absolutely nothing. The world won't end, I promise.
Learn how to say no.
Spend quality time with loved ones.
Treat yourself to take out. My top picks: Thai, Indian, pizza or anything Mediterranean.
Fill your house with sweet smells by baking a sweet treat. Need a few ideas? Here's five of my favorite dessert recipes, straight from my old food blog: Coconut Flour Chocolate Chip Cookie Bars, Lemon Bars and Peanut Butter Brownies. (If you don't feel like baking, you could always light a Yankee Candle Sugar Cookie Candle instead.)
Paint your nails or go get them done.
Take a warm shower, dry off and moisturize your body from head to toe.
Give yourself a massage with relaxing essential oils or go to a masseuse.
Get your hair and makeup done just because, then spend a night out on the town with your love or some friends.
Take a bubble bath and listen to music or the latest Finding Joy Podcast episodes.
Invigorate your face with a homemade mask (recipe is from my friend Amanda of Heartbeet Kitchen).
Snuggle with your pet.
Buy yourself flowers.
Eat and sleep well.
Turn off all electronics at least one hour before bedtime.
Stay hydrated.
Laugh.
Take a nap. (Or at least lie down, close your eyes and try to clear your mind.)
Put on your favorite song and dance around the room like no one's watching.
Play a fun game.
Catch up on pleasure reading.
Listen to uplifting praise and worship music throughout the day.
Stop devoting time to things that make you feel bad.
Plan something to look forward to — a girls night out, a staycation or a getaway.
Serve others any way that you can. Hold the door, carry groceries or buy the person's coffee behind you.
Make your life a little easier: cut back on housework if you can, buy pre-chopped vegetables and preassembled meals if you need to.
Look in the mirror and remind yourself, "I am a child of the risen King."