Remember how I said God was on the move at the site launch party just a few weeks ago?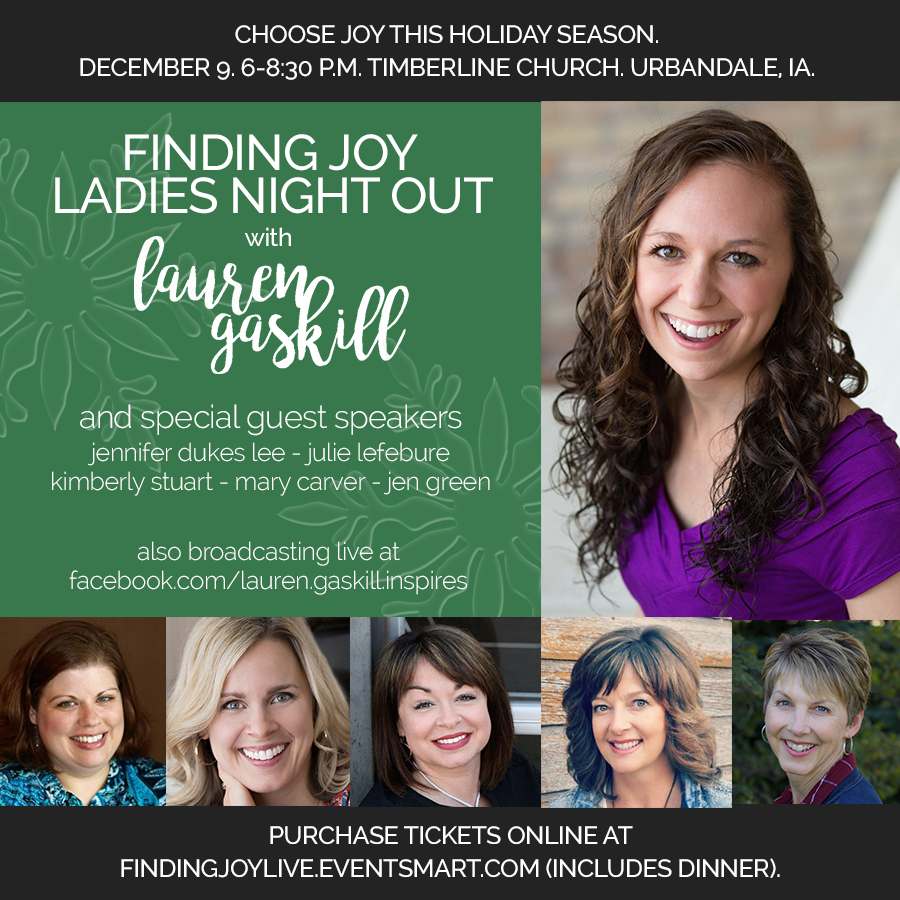 Well, He's on the move in more ways than one, and today I'm so excited to unveil something God put on my heart several months ago. Back in August, I was scrolling through my newsfeed on Facebook, and I noticed one of my fellow podcasters was doing a live event in her city. Beyond my initial reactions of, "That sounds so cool!" and "I bet that everyone is going to have an amazing time!" the Holy Spirit interrupted my thoughts. You should doing something like that here in Des Moines, Lauren, the voice said.
I chuckled at the ridiculous thought and kept scrolling. As if I had time to do something like that …
One month later, the Lord kept putting signs and messages in my path to reiterate the fact that He wanted me to do a live podcast event here in Des Moines. This wasn't just some silly idea I put in your head, Lauren, I could hear Him say to me. I actually want you to do this. And better yet, I'll help you. 
After this undeniable encounter with the Lord, I couldn't shy away from the idea any longer. And so, it is my pleasure to announce to you that, by the grace of God, I will be hosting a Finding Joy live podcast event we are calling Finding Joy Ladies Night Out in the Des Moines metro area on December 9 from 6-8:30 p.m.!
There are so many reasons not to choose joy in the world we live in. And yet because of Jesus Christ, there are so many reasons to choose joy, and we are reminded of that this Christmas season.
That's why I'm hosting this live event — to remind us all of the JOY that has been given to us through the birth, death and resurrection of our Savior.
I have an incredible list of guest speakers who will be joining me for the event:
If you live in the Des Moines area, I'd love to see your beautiful face at the event! Dinner is included and you can get ticket and event info here.

Even if you don't live in Des Moines, I'd love to see your beautiful face on the LIVE Facebook stream that I will be hosting from my author Facebook page. You can even prayerfully consider purchasing a ticket anyways as a donation to help me cover the costs of the event. Just write "DONATION" in the name box. It's going to be a fun and amazing night! OK, now on to today's bonus podcast episode.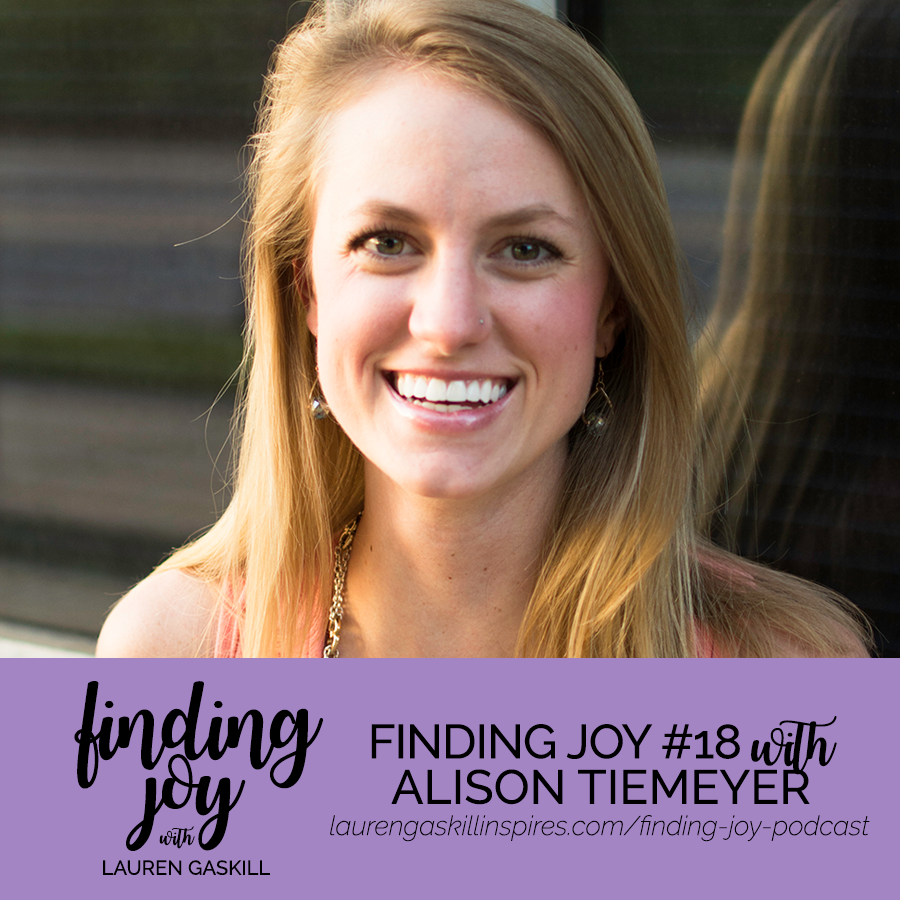 Finding Joy is a podcast dedicated to bringing you encouragement and inspiration in all of life's moments — the good, bad and everything in-between.
Alison Tiemeyer is our guest for the 18th episode of the Finding Joy podcast, which also happens to be a bonus episode for this month! As many of you know, due to the other obligations I have outside of this blog, I only publish a new podcast episode every other week. It is my hope and prayer as the Lord calls me deeper into ministry that eventually I will be able to post a new episode every week! You can be praying for this, too!
As a fellow blogger and dear friend of mine, Alison is passionate about bold living rooted in grace. Her blog is all about living well, loving well, and being bold for Christ in the midst of it all. It's about vulnerability, authenticity and being real. My favorite quote from our conversation? "Joy is an ocean of goodness that God blesses us with." Beautiful words from a beautiful soul.
In this episode, Alison and I talk about:
How to discover our God-given talents and passions.
What it looks like to follow and say yes to Jesus, even when it's hard
How joy is like an ocean of goodness.
Why we can trust God even when life doesn't make sense.
How to live boldly for Christ.
Alison encourage us to open our hearts and hands for whatever God has for us and trust that He will direct our steps exactly where we need to go.

Links From the Show
Connect With Alison
Facebook | Twitter | Pinterest | Instagram
How to Listen to the Finding Joy Podcast
You can listen to the podcast here on this blog, or by subscribing to the podcast through iTunes.

Subscribe to the iTunes podcast HERE.
Review this Podcast
By rating this podcast or writing a short review, you can help others find the Finding Joy podcast more easily! Click here to head over to iTunes and rate Finding Joy.