This Vegan Mac and Cheese is not only healthy and allergy friendly, it's also going to be your new best friend. Get ready to experience a deeper love for macaroni and cheese.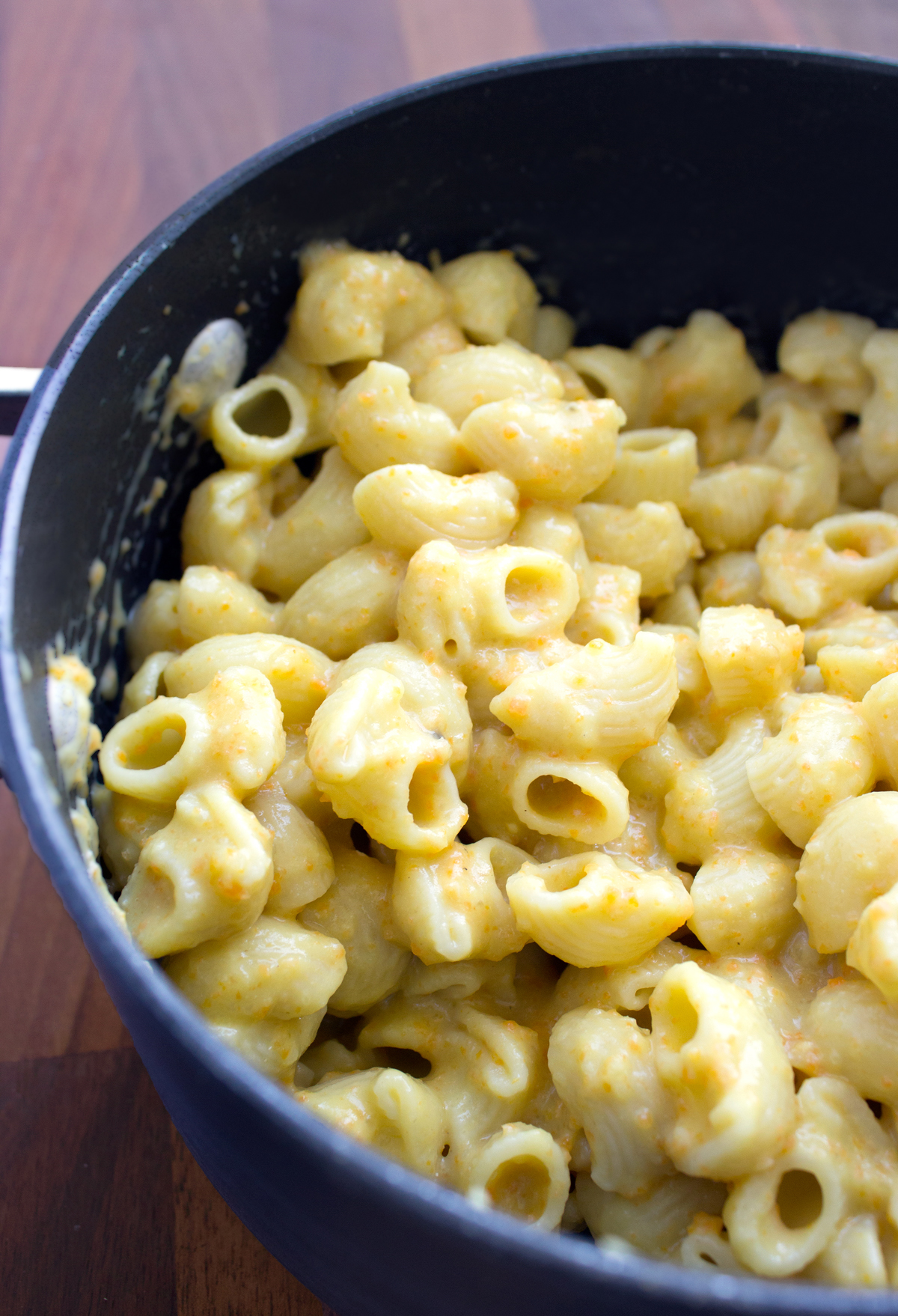 This recipe started with a dare. I have a friend who LOVES mac and cheese (who doesn't?!) and one day, she was telling me how sorry she was that I couldn't have it. "I would just die if I couldn't eat mac and cheese anymore," she said. I just laughed and told her it really wasn't that big of a deal. But then I got to thinking … Since my health caused me to go gluten and dairy free last year, I haven't tried to make mac and cheese. I don't know about you, but that's just crazy to me! One year without mac and cheese? I couldn't reconcile that fact in my mind. I had to do something about it.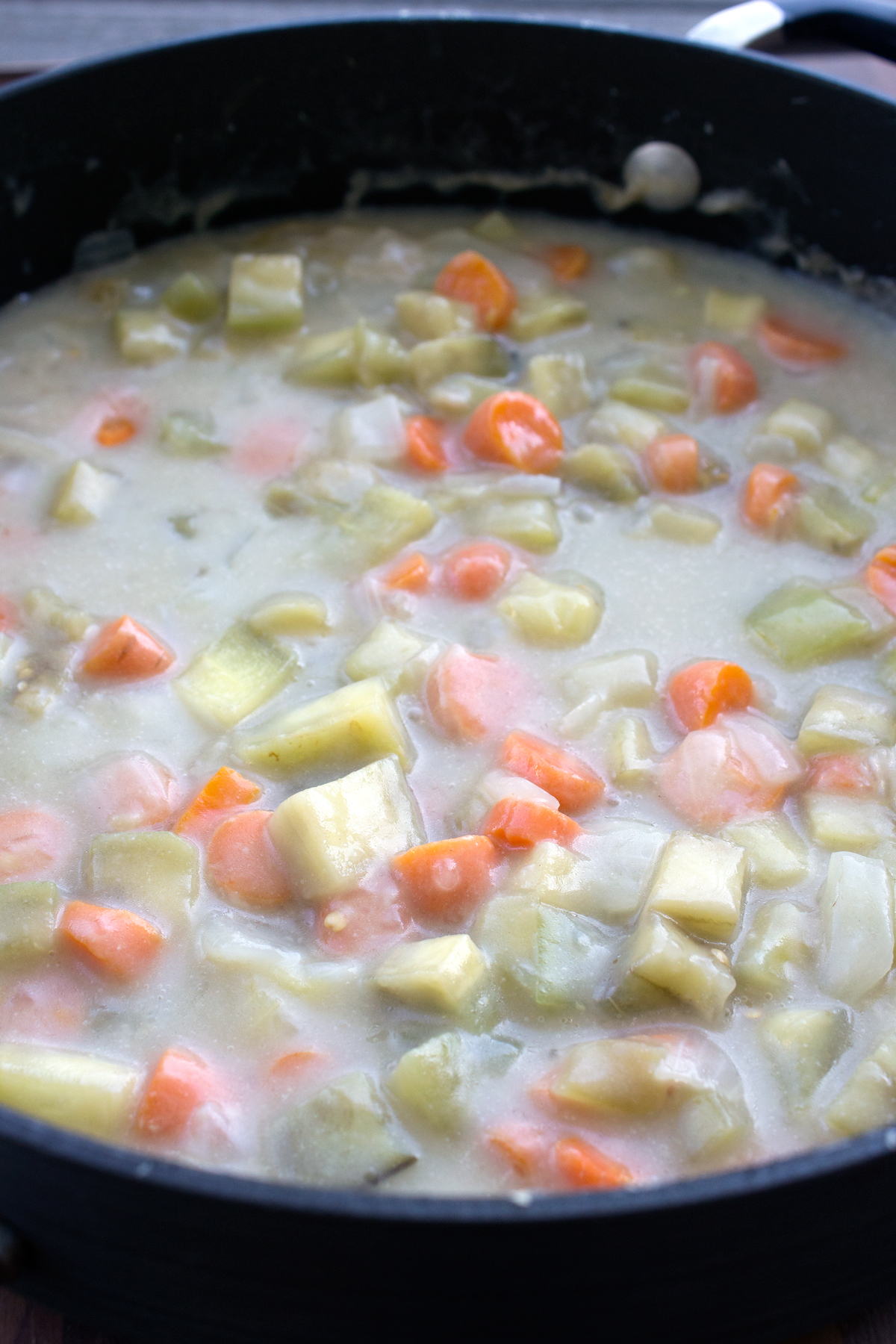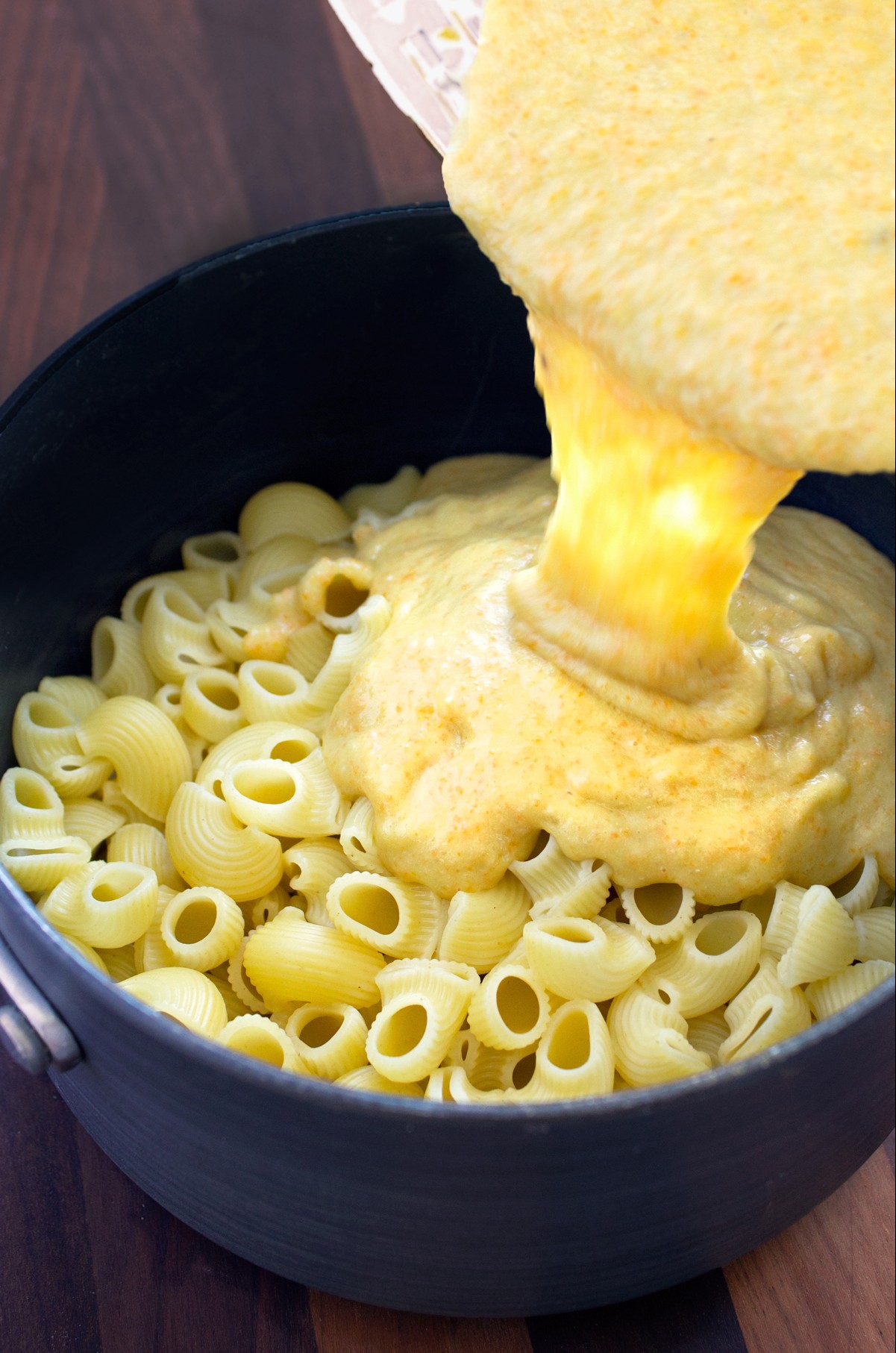 That same day my friend dared me to make a vegan version of mac and cheese that was just as addicting as the classic kind. You're staring at my answer to the dare — the meal I now eat for several days straight, several times a month. It's. That. Good.
Is it creamy? Yes. Is it comforting? Yes. Is it satisfying? Yes. Is it delicious? You betcha. This vegan mac and cheese has the same creamy, thick texture you'd expect, but without even a hint of dairy! I know all of the mac and cheese purists who are reading this right now are shaking there heads or rolling there eyes. There's no way. If that's what you're thinking right now, I dare you to make this. I dare you to eat it without wishing you had more once the bowl is gone.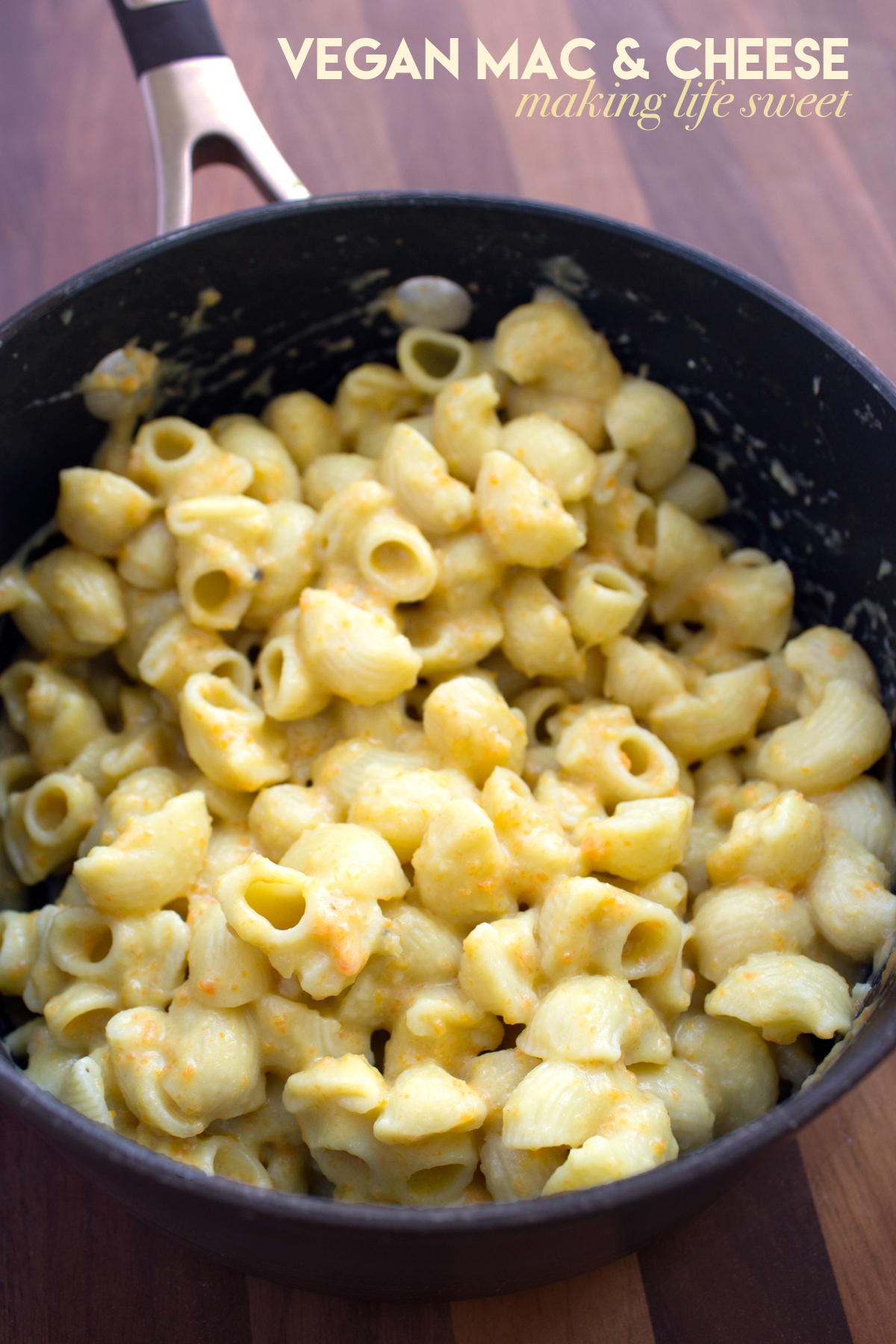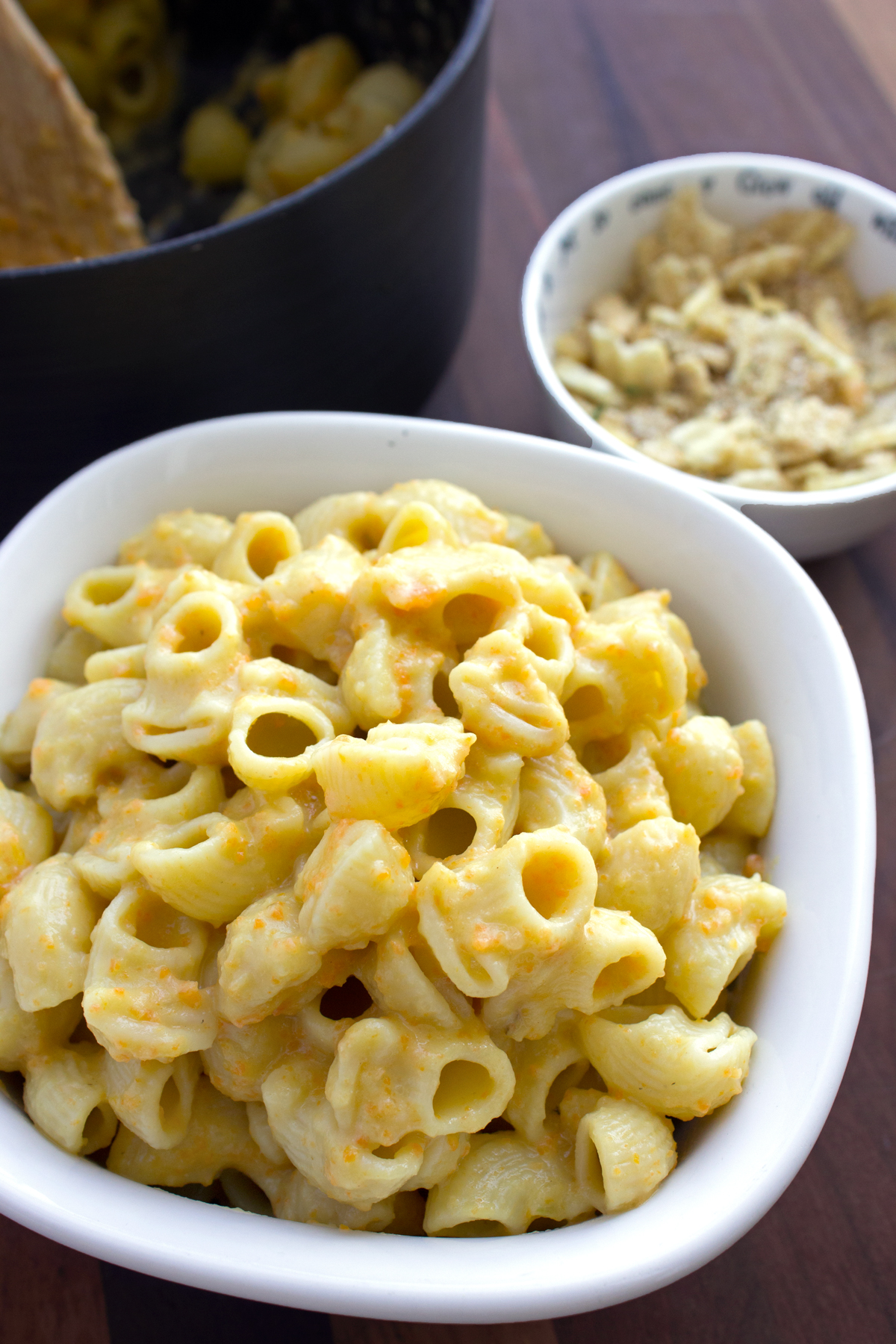 For all the moms out there (or wives with picky husbands) this is a great way to sneak vegetables into something the whole family will eat. The cheese sauce is made from eggplant, carrots, onions and coconut milk — it doesn't get much more nutritious than that!
I think you'll also like the potato chip breadcrumb topping action that's happening on top of the creamy noodles. Totally optional, but definitely recommended. 😉 Let me know what you think if you're brave enough to give this one a try, and have a lovely week friends! XOXO, Lauren. P.S. In honor of Celiac Awareness month (I'm don't have Celiac, but I have many friends who are!) Canyon Bakehouse and I are teaming up to giveaway a prize pack to one lucky winner. Enter below!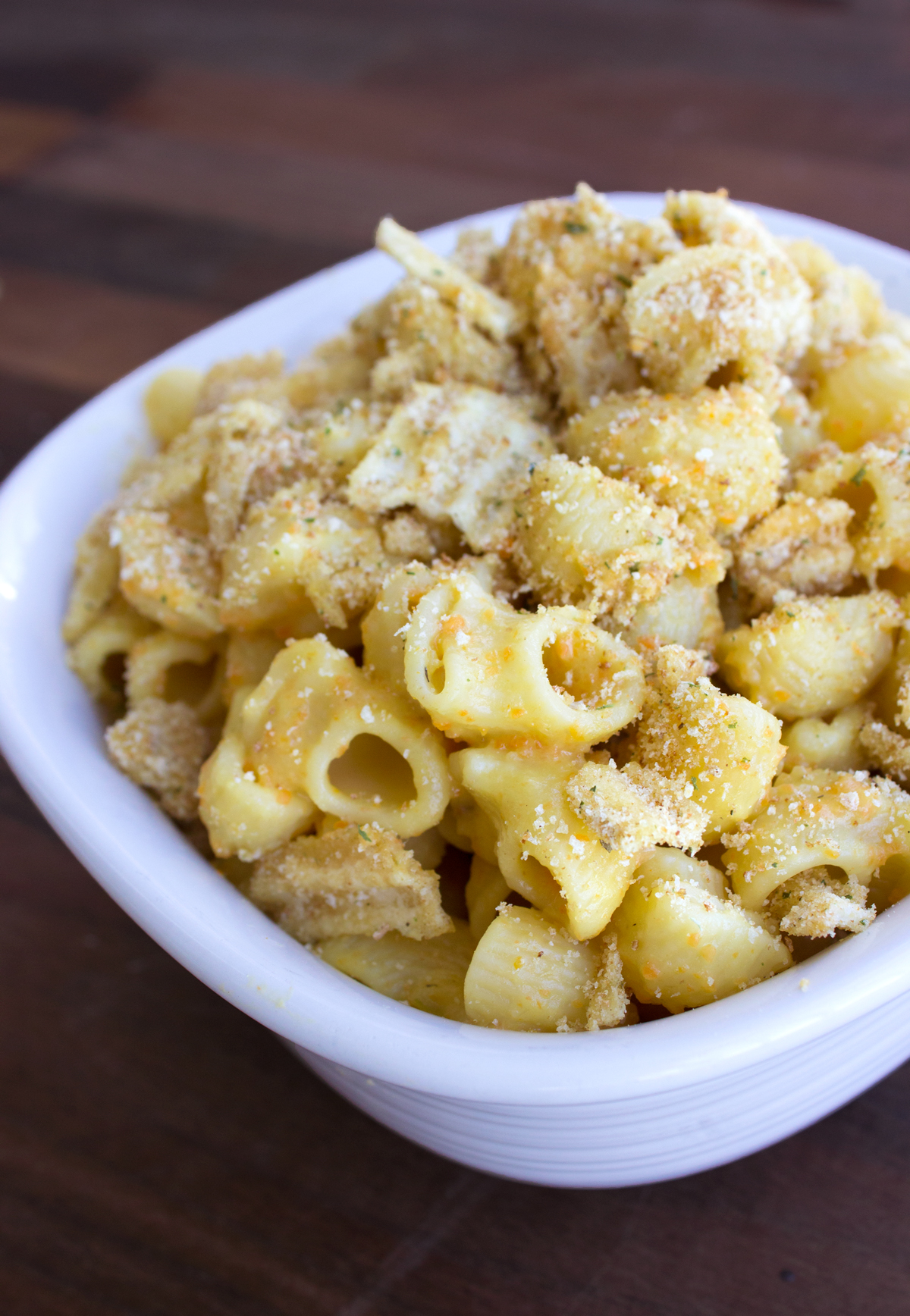 Get delicious, healthy recipes delivered to your inbox weekly! Click here to sign up for the free Making Life Sweet newsletter!
This is a sponsored post, written by me, and created in partnership with Canyon Bakehouse. All opinions expressed are straight from the heart.
Vegan Mac and Cheese
Prep time:
Cook time:
Total time:
Ingredients
1/2 large eggplant, diced
1/2 cup diced carrots
1/2 cup diced onion
1 tablespoons olive oil
1 can coconut milk
1 teaspoon garlic powder
1 teaspoon mustard
1 tablespoon cornstarch
3-4 tablespoons nutritional yeast
10 ounces macaroni noodles (I use gluten free)
[br]
[b]For the topping*:[/b]
1/2 slice Canyon Bakehouse bread, crust removed
1 tablespoon almond flour
1 tablespoon nutritional yeast
1/8 teaspoon Italian seasoning
1/8 teaspoon garlic powder
Handful of potato chips
Instructions
Heat the olive oil in a large saucepan over medium-high heat. Add eggplant, carrot and onion and sauté until onions are translucent, about 5 minutes. Add coconut milk, garlic powder, mustard and cornstarch and stir until combined. Let simmer for 10 minutes, or until vegetables are tender and the sauce has thickened.
Cook the macaroni noodles according to box instructions. While noodles are cooking, make topping. Combine bread, almond flour, nutritional yeast, Italian seasoning and garlic powder in the bowl of a food processor or blender and pulse until mixture turns into a powder. Transfer to a small bowl and clean out the food processor. Stir smashed potato chips into breadcrumb mixture and set aside.
Pour coconut milk mixture into the bowl of the clean food processor or blender and top with nutritional yeast. Blend until smooth, thick and creamy.
Combine sauce and cooked noodles in a saucepan and stir until combined. Serve immediately and sprinkle with potato chip breadcrumb topping.
[i]*Disclaimer: Topping is not vegan.[/i]