This Skillet Eggplant Lasagna has all the flavor you'd expect from traditional lasagna, without the arduous amount of prep time! All you need is 25 minutes to make this dinner for two.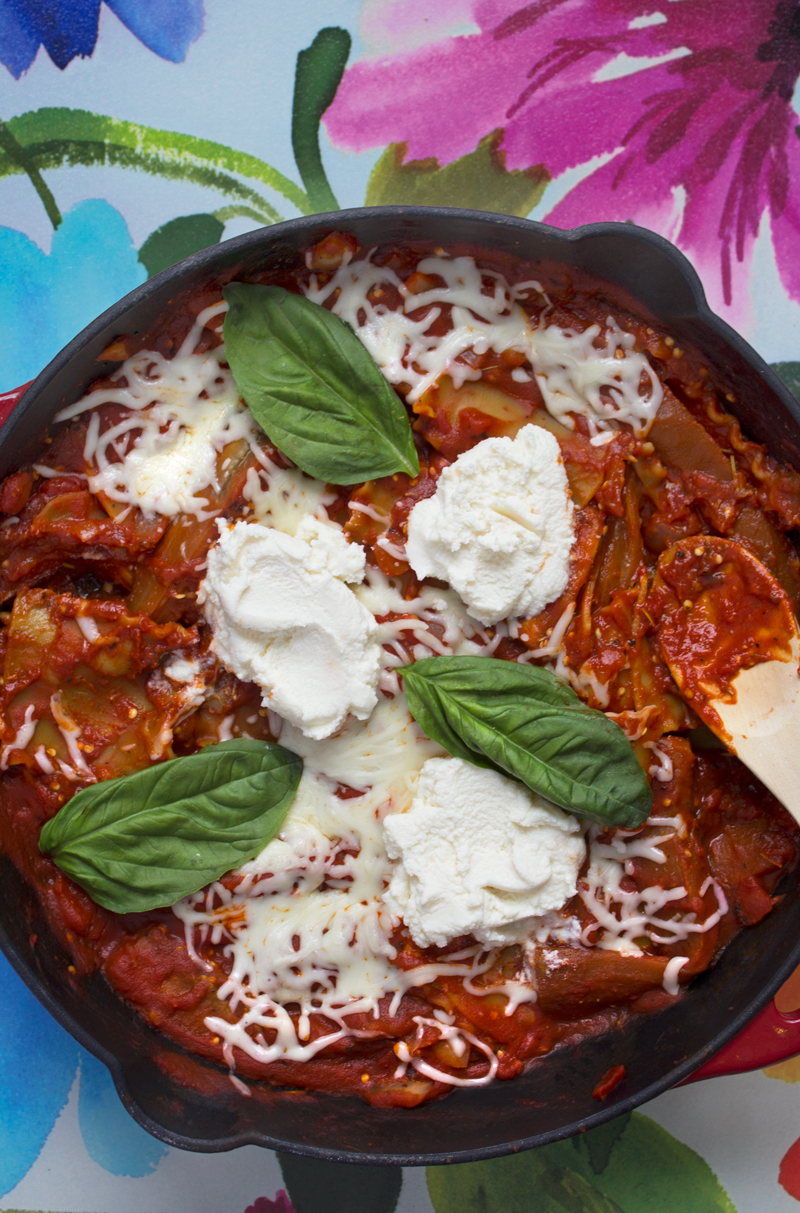 Hi friends! Happy Monday! Did you all have a fantastic weekend? Maybe even a romantic Valentine's getaway? Or a fun Galentine's celebration? I'd love to hear about what you did in the comments. Mr. Making Life Sweet and I had a lovely dinner at a French restaurant called Django in downtown Des Moines. Over the course of two hours, we sat and slowly enjoyed wine, cheese, fig jam, steak frites and more French cuisine. In between bites we talked about life, how we feel where we are today, and our hopes and dreams for the future. It was everything a night out on the town should be and I savored every minute of our time together.
But enough about Valentine's Day. It's time to get to today's post: This beautiful and flavorful Skillet Eggplant Lasagna!
I love all kinds of lasagna. Butternut squash lasagna, mushroom ragu lasagna, Italian sausage lasagna. I could go on and on! There's only one problem with my love for lasagna: I rarely have time to make it the traditional way. As a result, lasagna usually falls into my "special occasion only" meal bucket. Or at least that was the case until I discovered the wonderful method of making skillet lasagna.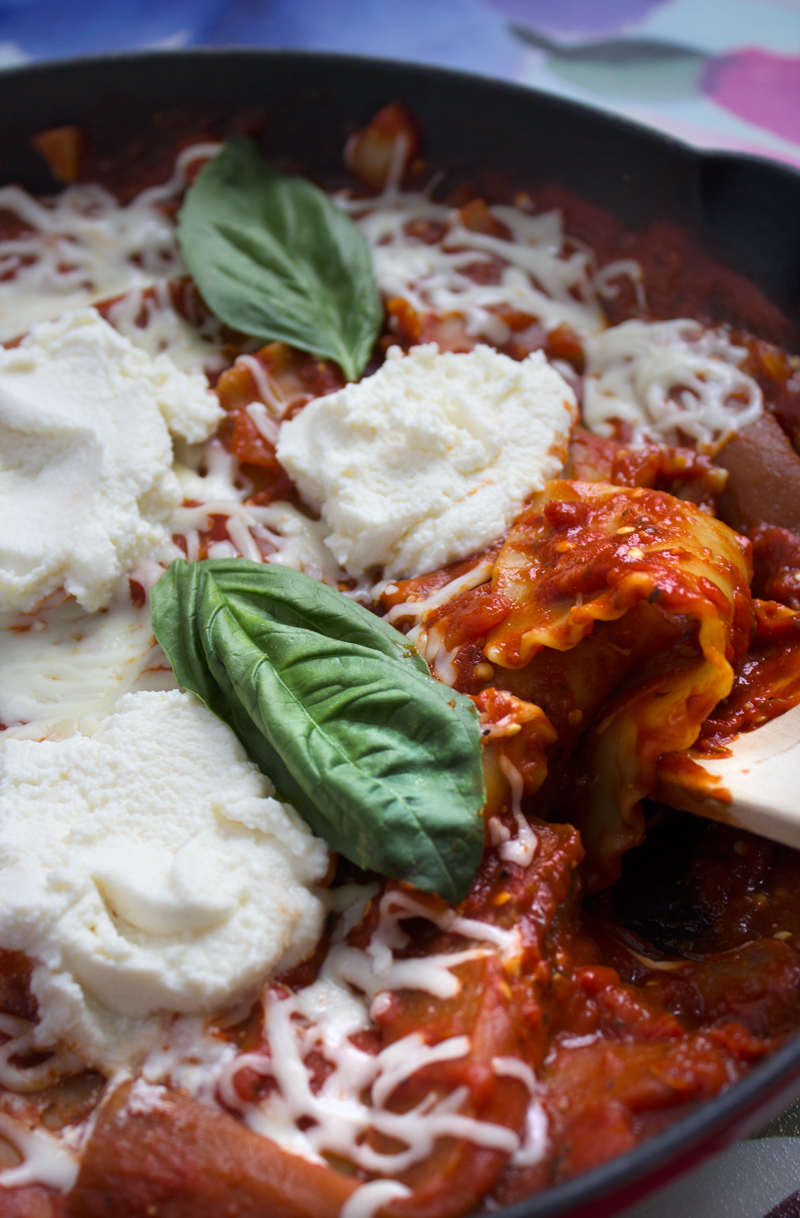 Don't get me wrong, the traditional, oven-baked version is still amazingly delicious, but once you try skillet lasagna you'll wonder why you ever spent hours putting together baked lasagna when you could have it ready on the stove in less than 30 minutes. I promise you, if you try this Skillet Eggplant Lasagna, you will be overjoyed with how much time it saves you without sacrificing on taste!
Plus, can we talk about how pretty skillet lasagna is? Like whoa. I wish I could look this good (or just get ready for that matter) in only 25 minutes. #Goals. Usually I keep getting ready to under 35 minutes, but if I had another extra 10 minutes to sleep in the morning, that'd be fabulous. Don't you agree?
Hidden beneath this skillet lasagna's creamy mozzarella, ricotta topping is a tantalizing combination of tomatoes, onion, bell pepper, eggplant strips and, of course, noodles. My advice: Don't skimp on the fresh basil as a garnish. It's like the cherry on top of a sundae — the dish is just not complete without it. Another tip: Depending on what size skillet you are using, you may need to add more liquid to get the noodles to cook properly. Just make sure the noodles are mostly covered with sauce and you're good to go.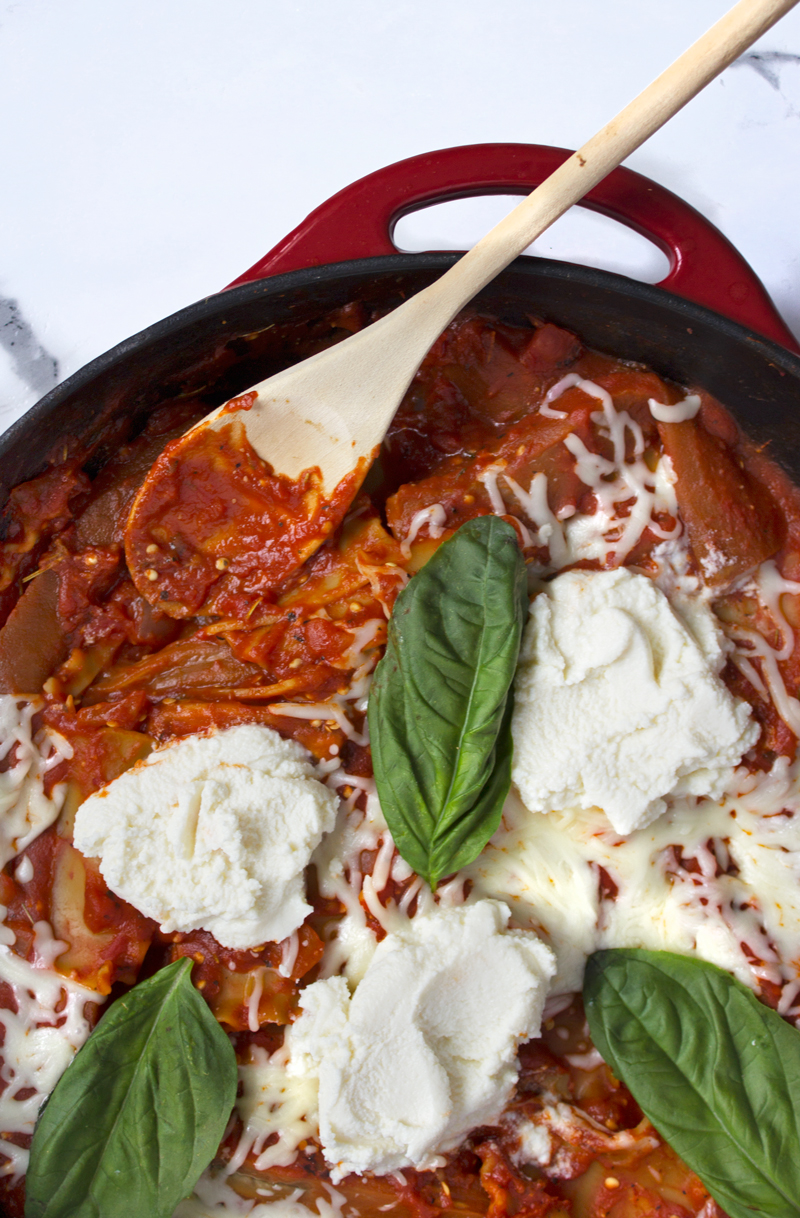 P.S. Thank you to all of you who tuned in to the first episode of  the Finding Joy podcast last week! More than 150 of you downloaded the podcast and I couldn't be more grateful. The next episode will be on Feb. 24. Stay tuned on social media for the big reveal on who the guest will be! (As the episodes go on, if there's someone specific you'd like to see on the show, please let me know!)
Skillet Eggplant Lasagna
Prep time:
Cook time:
Total time:
Ingredients
1 tablespoon olive oil
½ cup chopped onion
½ cup chopped bell pepper
1 clove garlic, minced
1 teaspoon dried oregano
1 teaspoon dried basil
¼ teaspoon crushed red pepper flakes
1 can (15 oz.) tomato sauce
1 can (15 oz.) crushed tomatoes
½ cup water
Salt and pepper to taste
½ large eggplant, cut lengthwise into 1" strips
6 lasagna noodles (I used gluten-free noodles), broken into 2" pieces
1 cup shredded mozzarella cheese
½ cup ricotta cheese
Fresh basil for garnish
Instructions
In a large skillet, heat olive oil over medium heat. Add onion and bell pepper and cook, stirring occasionally until both are softened and translucent, about 5 minutes.
Add spices and minced garlic and cook until fragrant, about 1 minute.
Pour in tomato sauce, crushed tomatoes and water and bring to a gentle simmer. Salt and pepper to taste.
Stir eggplant strips and broken noodles into tomato mixture until mostly covered with sauce. Simmer uncovered until noodles are al dente, about 8-10 minutes.
[url href="https://www.snapfitness.com/blog/post/skillet-eggplant-lasagna/3598″ target="_blank"]Click here[/url] to see the rest of the recipe on SnapFitness.com!