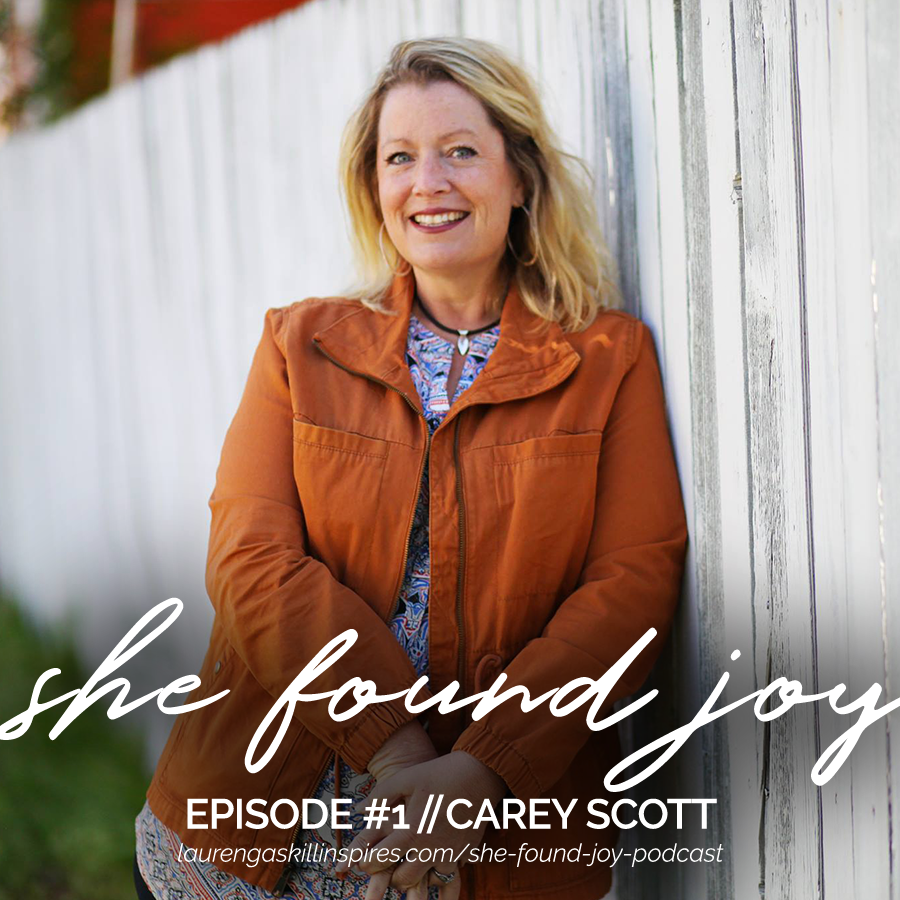 Today is a super exciting day, 1) because my sweet friend Carey Scott is joining me on the podcast and 2) this is the first episode since rebranding my ministry from "Finding Joy" to "She Found Joy!"
One of the reasons I love Carey is because she's devoted to honesty and authenticity, and she's all about helping other women live untangled, uncommon and unafraid lives. (Those adjectives also happen to be the names of her bestselling books, with her most recent book Unafraid: Be You. Be Authentic. Find the Grit and Grace to Shine releasing July 1.)
In this episode, Carey and and I talk about what it means to live authentic — to live a life that's deeply rooted in Christ and the identity He gave us through His work on the cross.
I love what Carey had to say about learning how to filter the messages the world sends us about ourselves through God's Word. "We have to settle in us the biblical truths of "This is who I am in this very moment … This is what God says about me." Now, this is a tall order because the world tells us that we aren't good enough … but I encourage women to ask themselves, "What is the lie I am believing about my identity?" and then filter it through what God's Word says about us. For example, let's say the world says you're a failure but God says you're blank."
Carey challenges us all to take 24 hours and write down all the negative things we say or think about ourselves and then ask God to tell us the truth of who we really are in Him. Y'all. This is a powerful exercise, and I highly recommend you join us in doing this! Enjoy the show.
P.S. If you've been blessed by the She Found Joy Podcast, or if this episode blesses you, it would mean the world to me if you left a review on iTunes. This will help more people find the show and learn more about the joy of Jesus.
Links from the Show
She Found Joy tour information
Unafraid Book
Connect With Carey
Connect With Lauren
Tweet the Podcast
How to Listen to the She Found Joy Podcast
You can listen to the podcast here on this blog, or by subscribing to the podcast through iTunes.

Subscribe to the iTunes podcast HERE.
Subscribe on Stitcher HERE.
Review this Podcast
By rating this podcast or writing a short review, you can help others find the She Found Joy Podcast more easily! Click here to rate on iTunes.