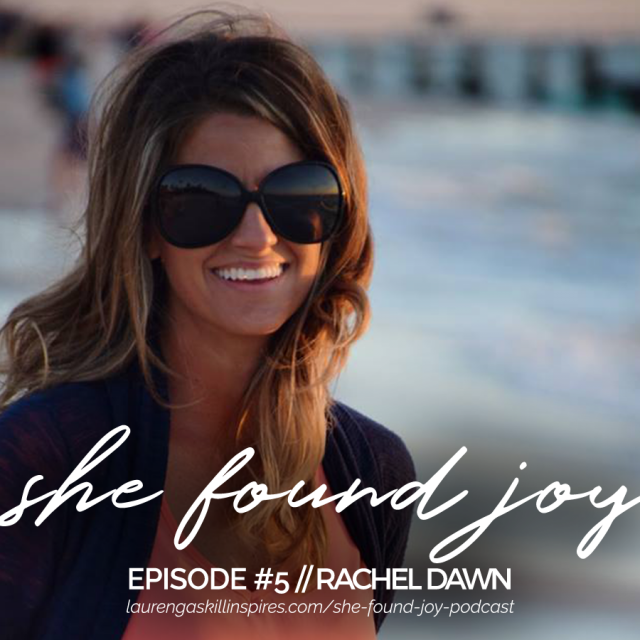 Rachel Dawn joins me for the second time today for She Found Joy #5 (you can listen to the first time we recorded together back in early 2017 here). Rachel is an author, blogger and speaker who is passionate about helping others live victoriously in Christ and dream big with God.
In this episode, Rachel and I chat about:
What to do when we find ourselves questioning a decision we thought we made for God.
Strategies for combating enemy lies and spiritual warfare.
Learning to find our satisfaction in God and God alone instead of chasing the next thing.
Why our confidence and satisfaction should always and only come from God.
The peace that comes with obeying God and surrendering our dreams to Him.
Ending the cycle of disappointment when life doesn't go as planned.
Learning to enjoy all of life … not just the mountaintop experiences.
P.S. If you've been blessed by the She Found Joy Podcast, or if this episode blesses you, it would mean the world to me if you left a review on iTunes. This will help more people find the show and learn more about the joy of Jesus.
Links from the Show
Satisfied by Jeff Manion
Now What?: A Story of Broken Dreams and the God Who Restores Them
The Bible: The Epic Miniseries
"Two Weeks Ago I Googled Myself" blog post
Connect with Rachel
Connect with Lauren
Tweet the Podcast
How to Listen to the She Found Joy Podcast
You can listen to the podcast here on this blog, or by subscribing to the podcast through iTunes.

Subscribe to the iTunes podcast HERE.
Subscribe on Stitcher HERE.
Review this Podcast
By rating this podcast or writing a short review, you can help others find the She Found Joy Podcast more easily! Click here to rate on iTunes.