This Roasted Root Vegetable Chickpea Buddha Bowl with Maple Tahini Sauce is hearty, filling and packed with nutritional powerhouses like sweet potatoes, chickpeas, avocado and quinoa. You'll be glowing from the inside out after eating it!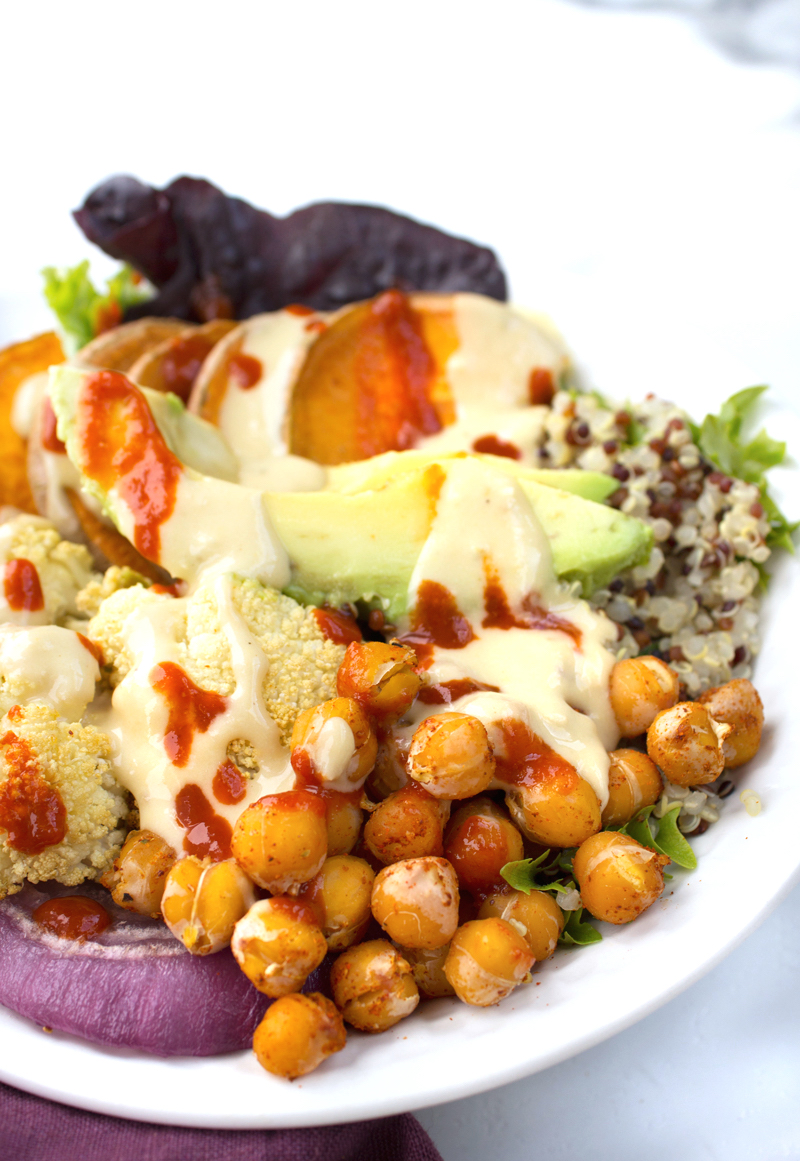 I first discovered Buddha Bowls from the lovely Dana of the Minimalist Baker blog. And in her words I'm going to describe what a buddha bowl is, because it's the best explanation I've seen thus far:
"One might assume by calling this a 'Buddha Bowl' I'm making some kind of political or religious statement, when in fact, I am not. I just like giant bowls of food. A buddha bowl, as defined by Urban Dictionary, is 'a bowl which is packed so full that is has a rounded belly appearance on the top much like the belly of a buddha.'" Right there with ya, Dana! I mean c'mon, who doesn't like bowls overflowing with food? Especially when that food also happens to be really good for you, too?
So friends, get ready to experience one of the most delicious and nutritious meals you could ever make!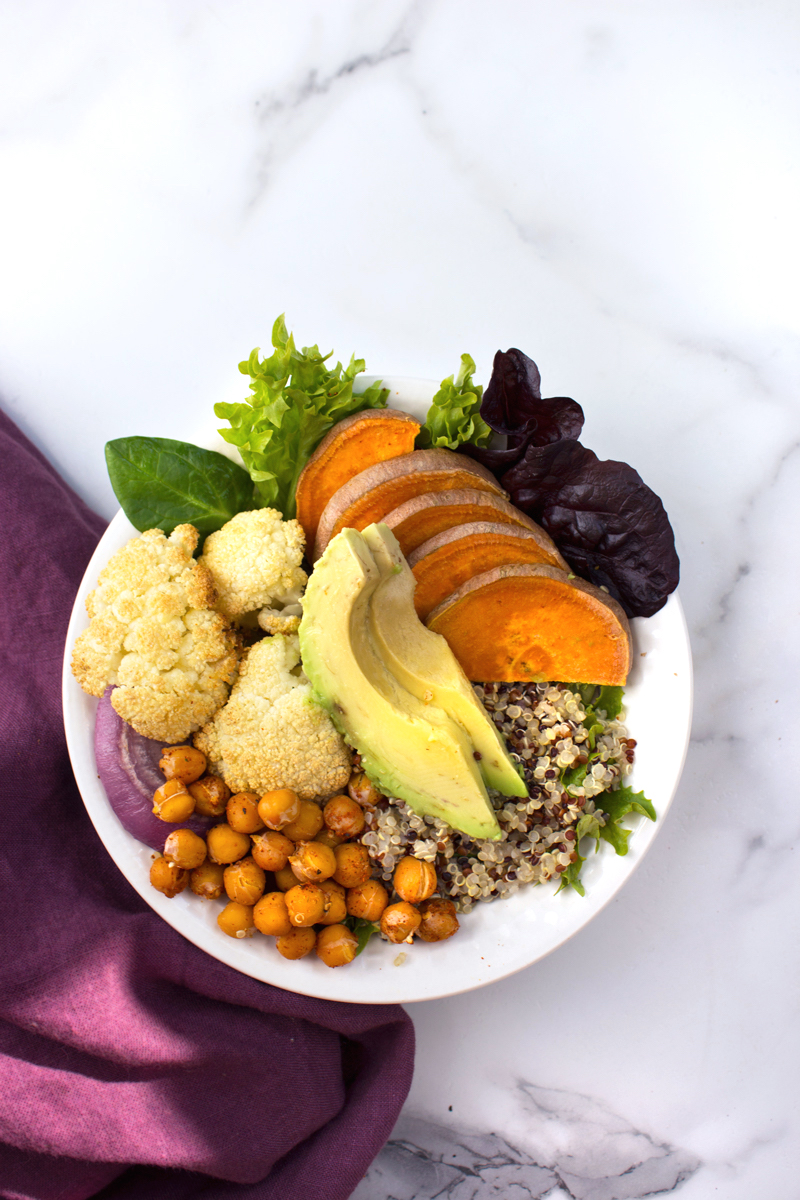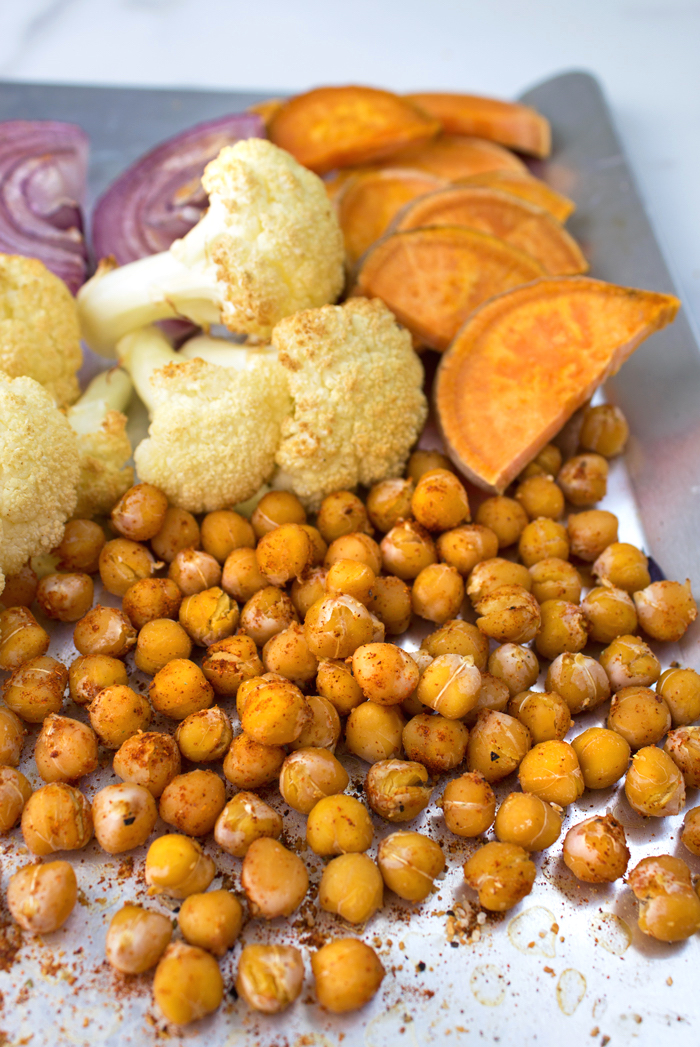 Assembling your own buddha bowl at home is simple. All you need is some combination of greens, roasted veggies, beans and grains. Aside from that, there are no hard-and-fast rules. I like to switch out my veggies depending on what is in season. This time of year, root vegetables like sweet potatoes and onions are at their peak, so I always like to add those to my bowl. I like to add cauliflower to the mix too, because I think it pairs nicely with the maple tahini sauce. But that's just me. 🙂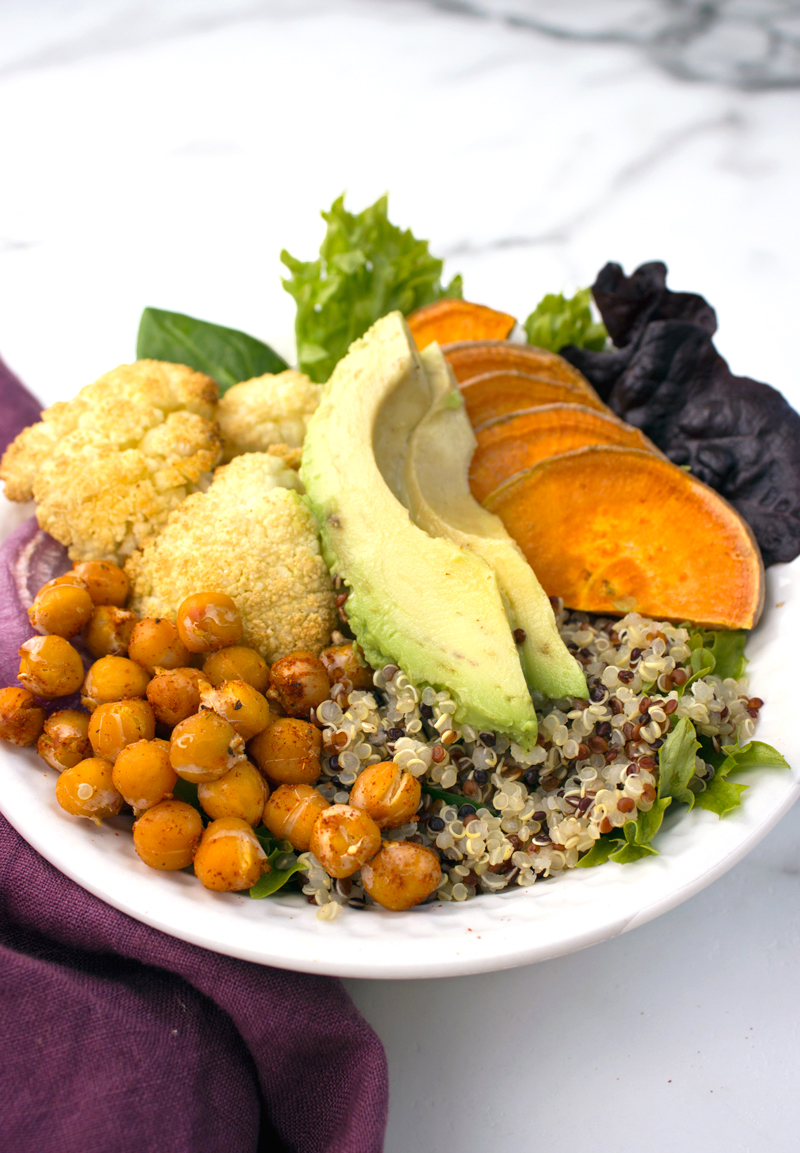 I probably make these about once a week just because of how ridiculously easy they are to put together. All you have to do is throw everything onto a baking sheet and let the oven do its magic. It's glorious! In the end, you have a meal that's:
Warm & Comforting.
Deliciously Satisfying.
Wonderfully Nourishing.
Savory & Sweet with a little bit of Spice.
Grab your fork and dive on in to these buddha bowls with me!

Roasted Root Vegetable Chickpea Buddha Bowl with Maple Tahini Sauce
Prep time:
Cook time:
Total time:
Ingredients
1 cup cooked quinoa
1 sweet potato, halved and cut into half moons
1/2 head of cauliflower, chopped
1/2 red onion, sliced
1 can chickpeas, drained
1 tablespoon olive oil
1 teaspoons maple syrup
½ teaspoon paprika
½ teaspoon garlic powder
Salt and pepper to taste
[br][br]
[b]For the Maple Tahini Dressing:[/b]
1/4 cup tahini
3 tablespoons lemon juice
1 tablespoon maple syrup
1/4 teaspoon parsley
2-4 tablespoons warm water to thin
[br][br] [b]For serving:[/b]
1 avocado, sliced
2 cups fresh salad greens
Sriracha
Instructions
Preheat oven to 400˚ F and place sweet potatoes and onions on one side of a large baking sheet. Drizzle both with a bit of olive oil.
In a small bowl, combine chickpeas, olive oil, maple syrup, paprika, garlic powder and salt and pepper and stir until chickpeas are evenly coated. Place chickpeas on the second half of the large baking sheet and bake sweet potatoes, onions and chickpeas for 10 minutes.
Remove sheet from oven, stir everything and add cauliflower in with the other veggies. Drizzle cauliflower with olive oil and place sheet back in oven. Bake for another 25-30 minutes, until chickpeas are golden and sweet potatoes are fork tender.
In another small bowl, combine tahini, maple syrup and lemon juice and stir to combine. Add warm water a little at a time until a pourable sauce is formed. Set aside.
To serve: Divide salad greens and quinoa between 2 serving bowls and top with chickpeas, sweet potatoes, onions, cauliflower and avocado. Drizzle with maple tahini sauce and Sriracha for an extra spicy kick.