I believe special occasions are best celebrated with smiles, laughter and baked goods (preferably something sweet).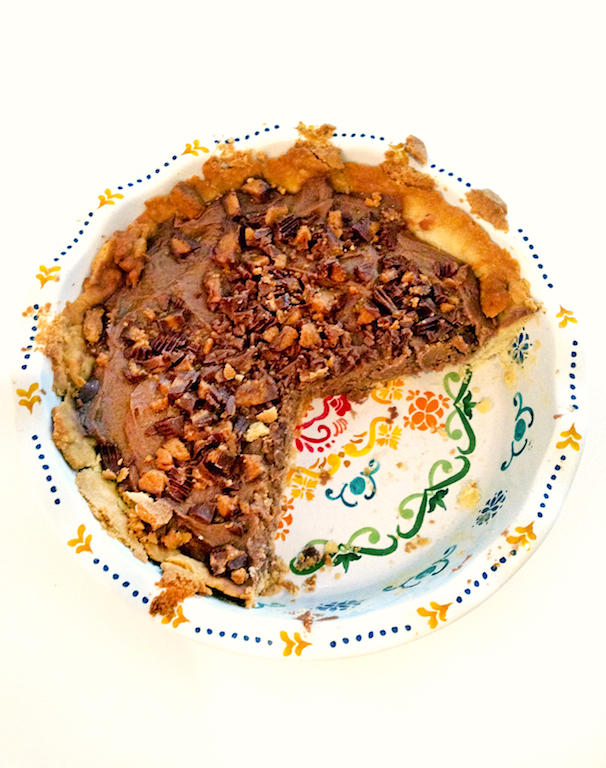 Some of the best memories I have in life were formed over scoops of ice cream, a perfectly formed pastry or decadent slice of cake. Sweet things are even better when they are shared. They make life a little brighter, and they enhance whatever situation we are in.
So when it was announced that someone was leaving the Spyder Trap team that I have the pleasure of working with, you bet I jumped on the opportunity to make something. You could call it a celebration pie, or an "excuse to make something totally over the top" pie, but whatever the motive I think this Reese's Peanut Butter Pie hits the spot.
To balance the richness of this dish without making it overpowering, I forewent a chocolate Oreo crust for the traditional pie crust recipe that I use. The filling is deliciously light. Though the recipe calls for cream cheese, you will find that the addition of whipping cream keeps the pie from taking on a cheesecake texture.
Is it decadent? Yes. Is it sweet and salty? Yes. Is it something to be savored? Absolutely. And I hope you enjoy every last bite.
Reese's Peanut Butter Pie
Makes: 1 pie
Ingredients
For the crust:
1 1/4 cups all-purpose 1:1 gluten free flour
1 stick butter, diced
2 tablespoons ice water
For the filling/topping:
1 cup creamy peanut butter
8 oz. cream cheese
1 cup powdered sugar
8 oz. chocolate whipping cream (regular is fine too)
10 Reese's peanut butter cups, chopped
Instructions
1. Combine flour and chopped butter in a food processor and pulse 10 times, about 1 second each time. Add in two tablespoons ice water and process for 20-30 seconds. (You will hear a change in the sound of the processor when it is about time to stop.)
2. Take the dough out of the processor, then form it into a disc, wrap it in plastic wrap and place it in the fridge for one hour. Note: The chilling is mandatory! Trust me, you'll want to chill it. Watch an episode of your favorite TV show while you're waiting if you have to. (:
3. Preheat the oven to 425˚ F. Then, take the dough out of the fridge, roll it out and press it into the pie pan. Bake for 25-30 minutes or until golden brown.
4. Meanwhile, in a medium bowl or Kitchen Aid mixer, combine peanut butter and cream cheese and mix until blended. Add in powdered sugar and whipped cream and mix until the filling is light and creamy.
5. Take pie crust out of oven and allow to cool. Pour filling on top of the crust and sprinkle with the chopped Reese's. Chill for at least one hour before serving.