Turn breakfast into a protein-packed work of art with these creamy, dreamy and healthy Purple Power Smoothie Bowls — ready in just a few minutes!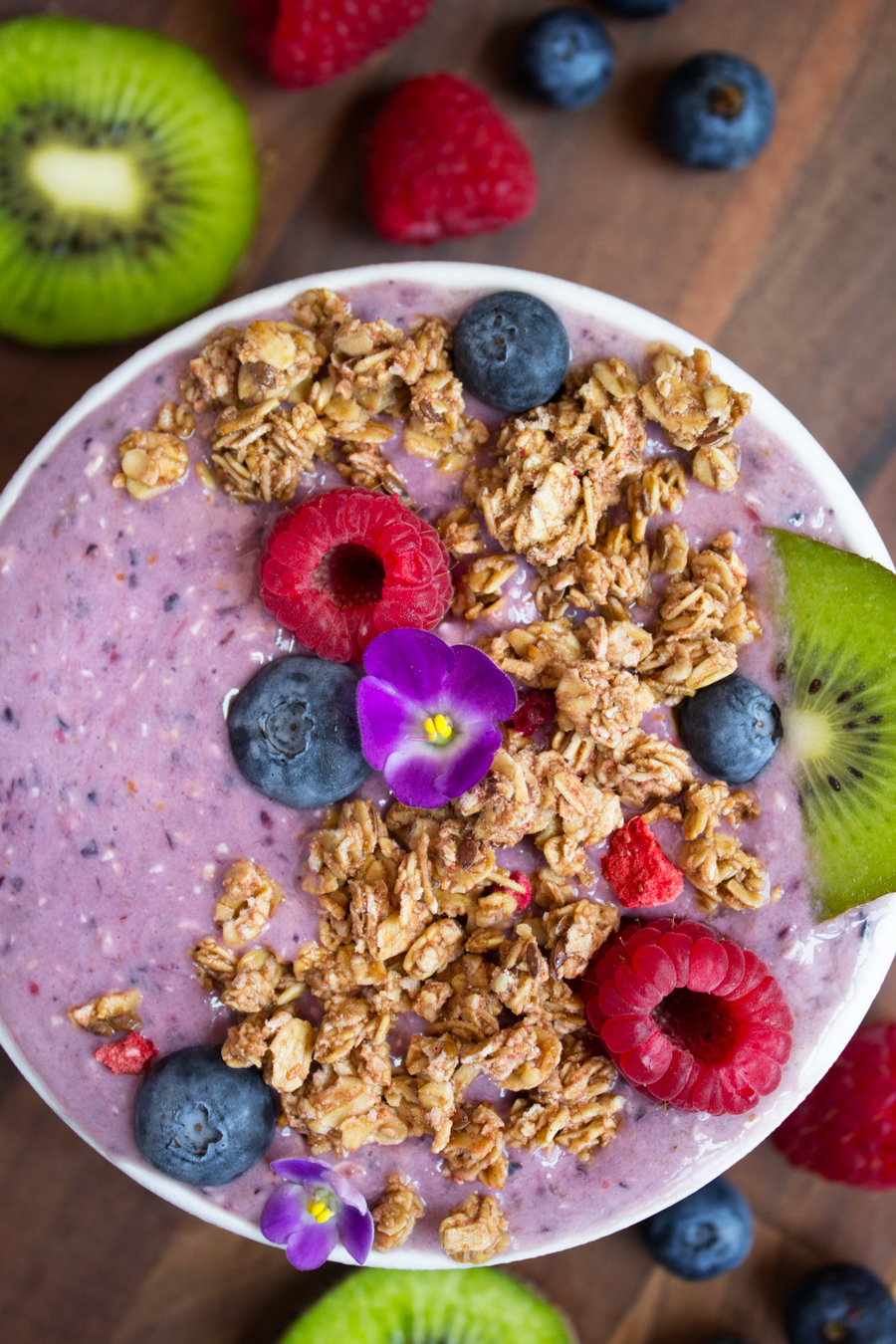 I ran across the apartment like a giddy schoolgirl, shouting to my husband, "Look! Look! Look at how pretty they are!" In my hands were two servings of these purple power smoothie bowls, which I'd spent the last hour making, decorating and photographing. "I wondered what you were doing over there," my husband said jokingly. I looked at the clock, unaware I'd spent an hour developing and capturing this recipe. Somewhere between the actual making and styling of the smoothie bowls, I lost track of time.
Time is irrelevant when you're living in the moment and doing something you love.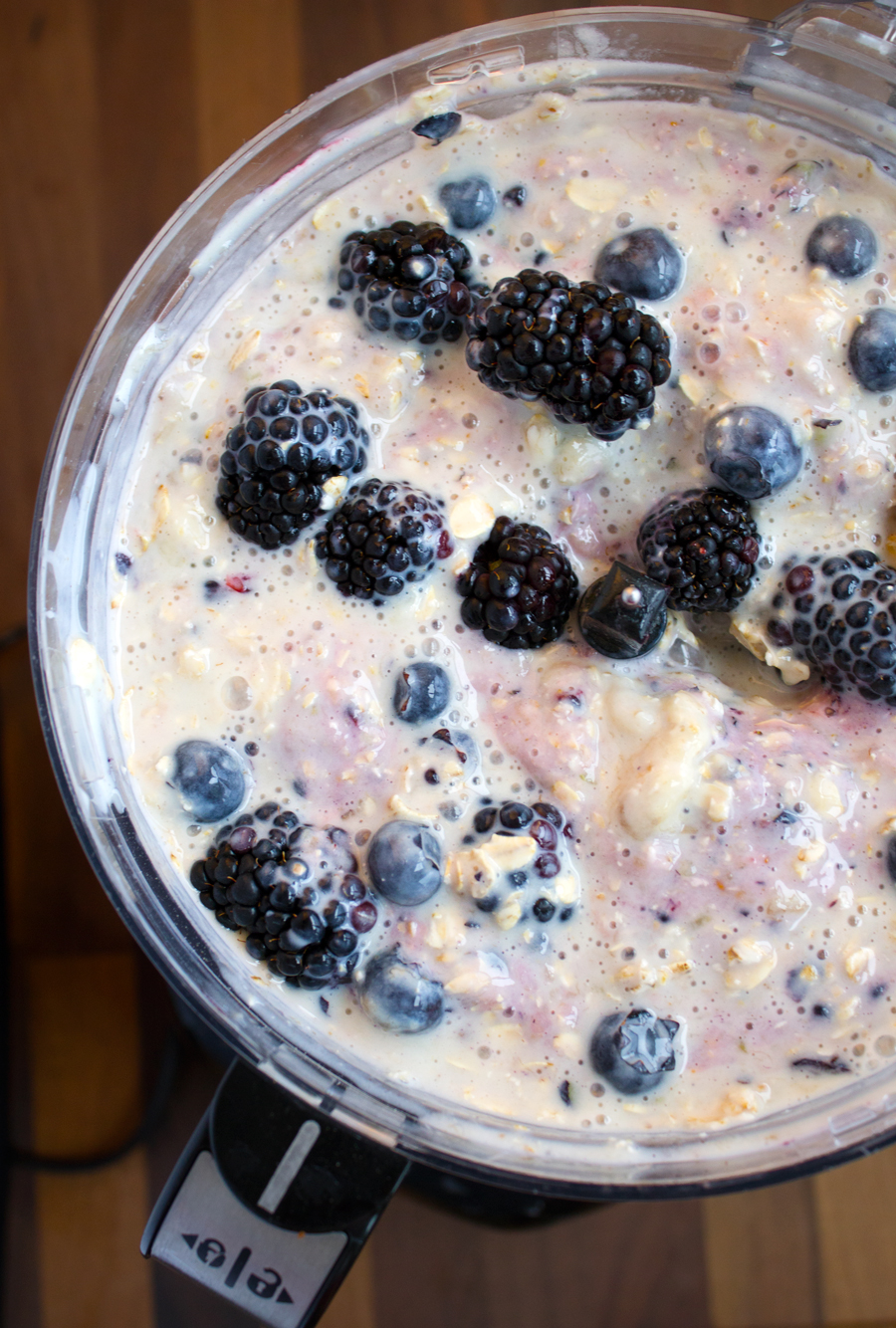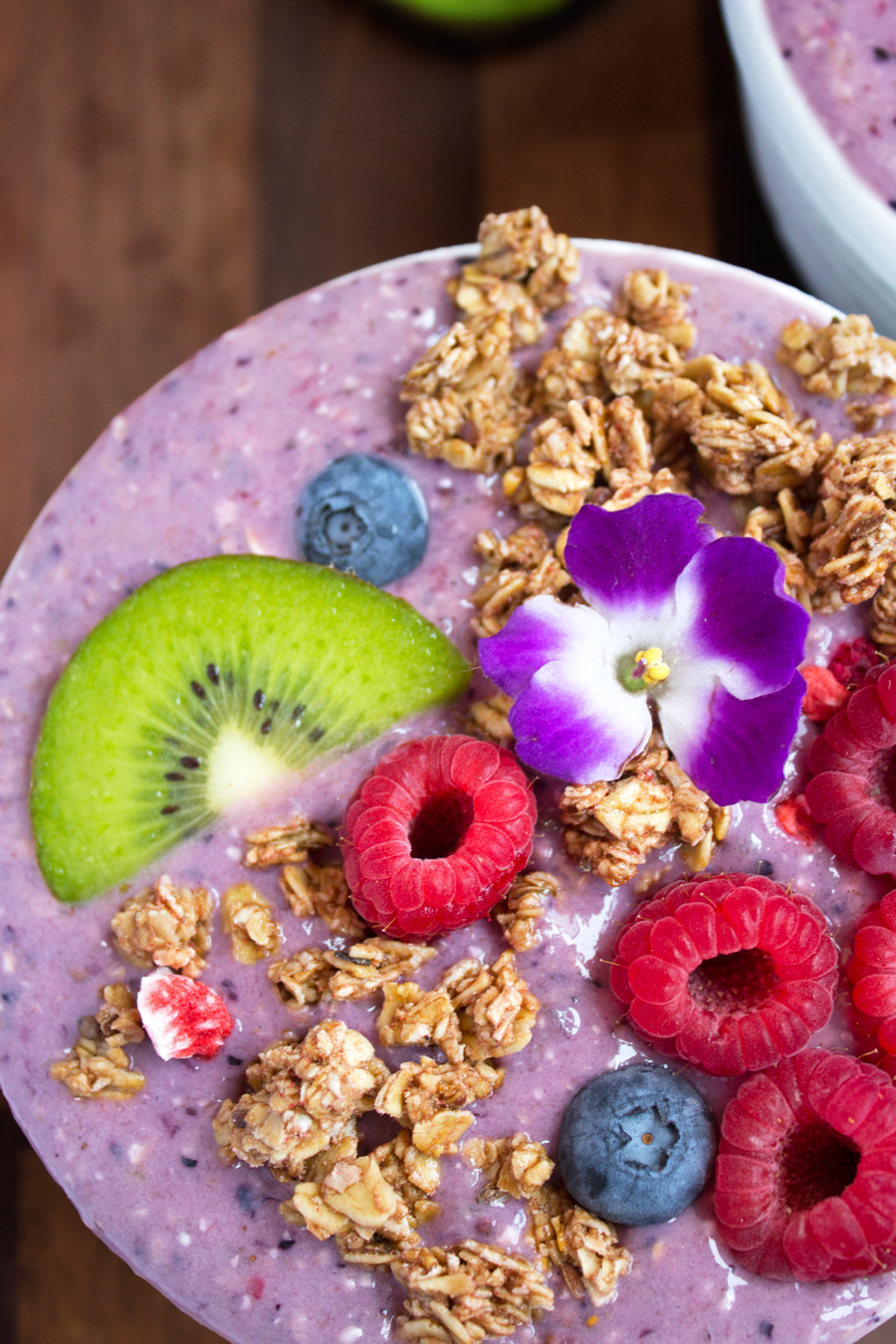 No one was paying me to make this recipe. There was no deadline or project guidelines. For the first time in a long time, it was just me and the food, and I was loving every minute of it. Do you have a hobby that feels like that for you? What brings you joy? What makes you lose track of time and truly live in the moment?
I have a theory, and it's that we as a culture spend too much time looking at the clock just waiting for time to pass. We spend our workdays waiting for 5 p.m. to roll around. We spend our work weeks waiting for Friday night. We spend our weekends waiting for the rat race to start all over again. Instead of living in the moment and being present, we're always looking ahead. Always thinking about what's next.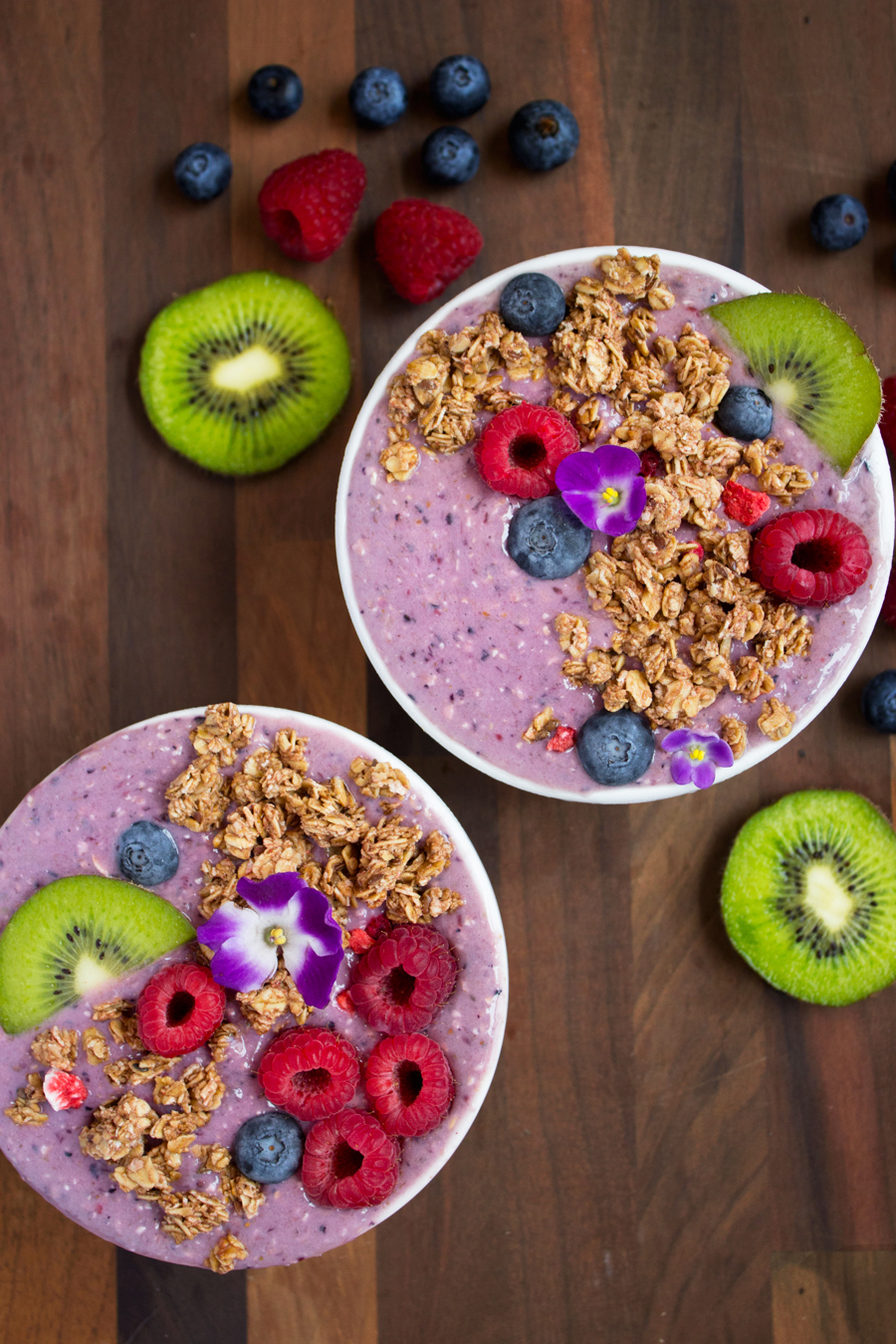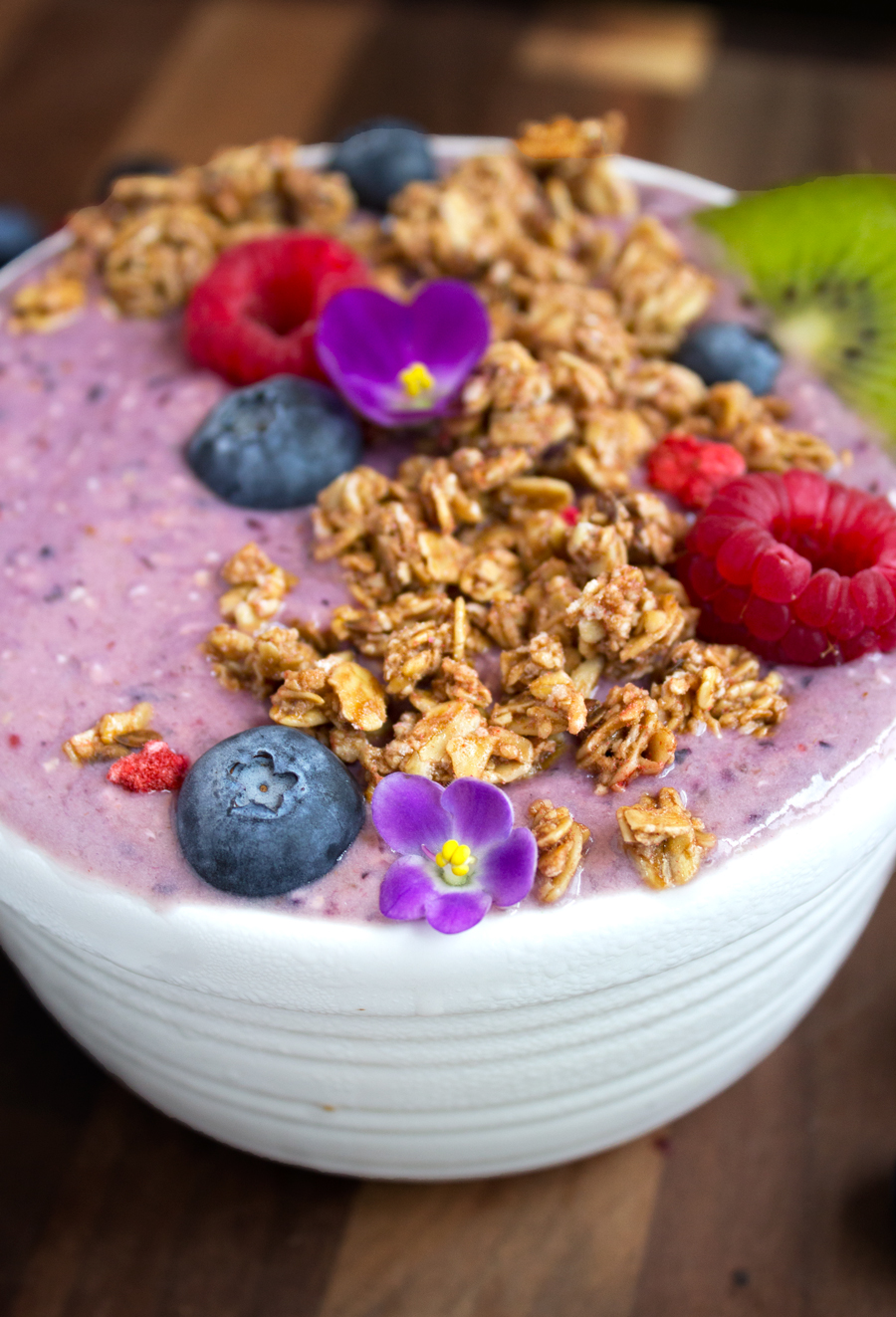 I wonder what would happen if we chose to invest ourselves in every minute of every day the way I invested myself into making these smoothie bowls. Maybe you're not working your dream job. Maybe you're not exactly where you want to be right now. But God has you there for a reason, and there's beauty to unearth wherever you are.
"He has made everything beautiful in its time. He has also set eternity in the human heart." Ecclesiastes 3:11 NIV
The reality of blogging is I don't always love every single post I do. Sometimes it's really hard work. Sometimes it can feel routine and I'm not always present in the process. But let me tell you — When I am present and I choose to see the work as a beautiful adventure rather than a stressful thing to check off the to-do list, I enjoy every minute of it. I think the same can be said for anything we do in this life.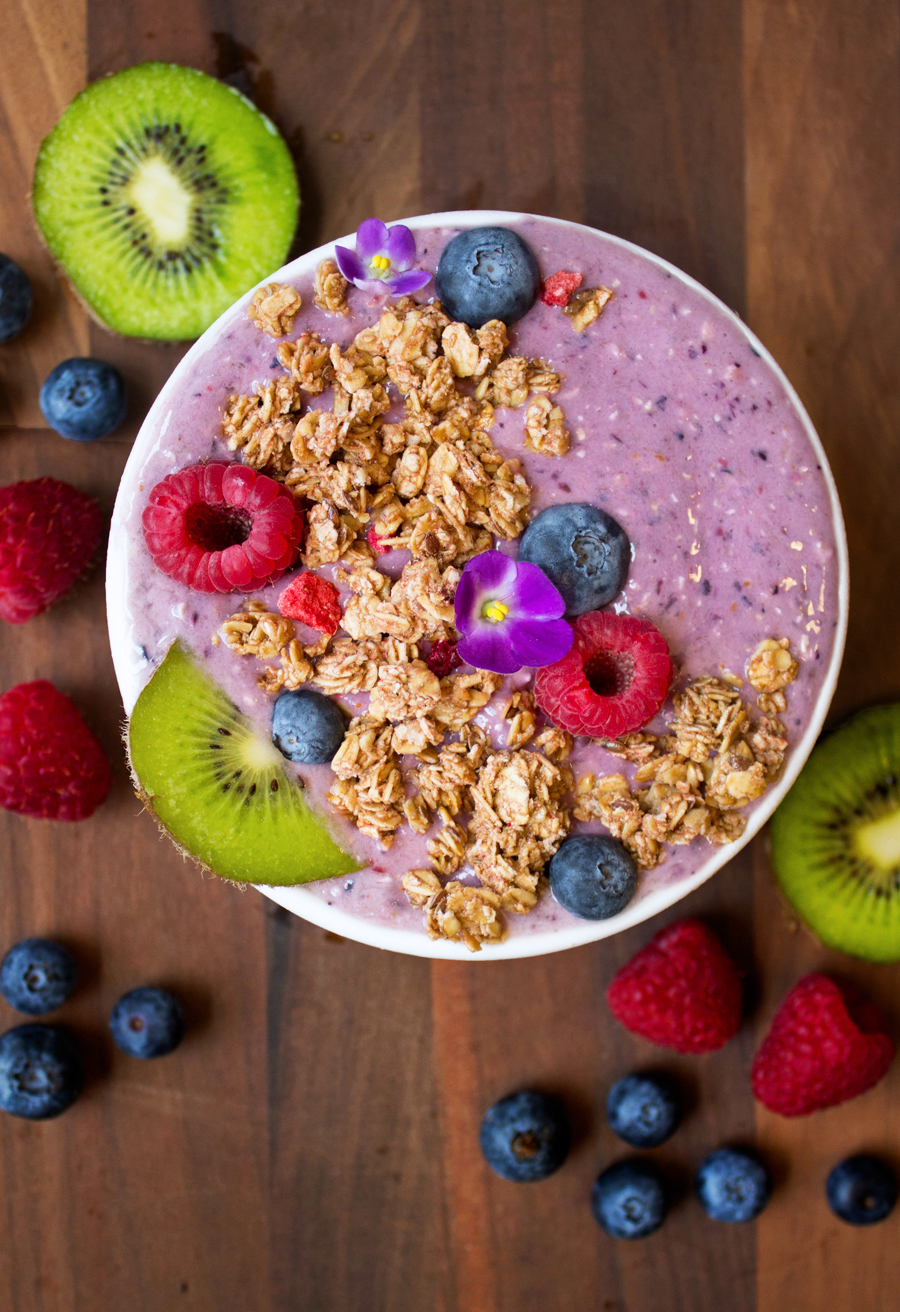 I'm super excited to share these nourishing purple smoothie bowls with you this morning — not just because they are beautiful, but because they are also my new favorite breakfast. Smoothie bowls started trending in the foodie community a few years ago, but I was reluctant to jump on board. After making my own at home, however, it's full steam ahead. And I don't think I'm ever going to get off the train!
I may have spent an hour getting the recipe to taste and look just right, but in reality you can make these in less than 10 minutes. Plus they keep in the fridge or freezer for future use. So go ahead, make a triple batch! You know you want to. 😉
Purple Power Smoothie Bowls
Ingredients
2 bananas, previously sliced and frozen
3/4 cup blueberries
1 cup blackberries
1 tablespoon chia seeds (optional)
1/2 cup vanilla yogurt (I use soy or coconut yogurt)
1 cup unsweetened almond milk
1 cup rolled oats
[br][br]
[b]Topping ideas:[/b]
Granola
Fresh berries
Edible flowers
Nuts
Shredded coconut
Instructions
Place all smoothie ingredients in the bowl of a food processor and blend until creamy and smooth. Add more almond milk (or water) to thin if desired.
Divide between serving bowls and top with whatever toppings you'd like!
Leftovers can be stored in the fridge for 2-3 days. Freeze for up to a month.