Homemade Energy Bars require only a few simple, wholesome ingredients! They are easy to make, good for your body, and cheaper and healthier than store-bought bars. Learn how to make your own today.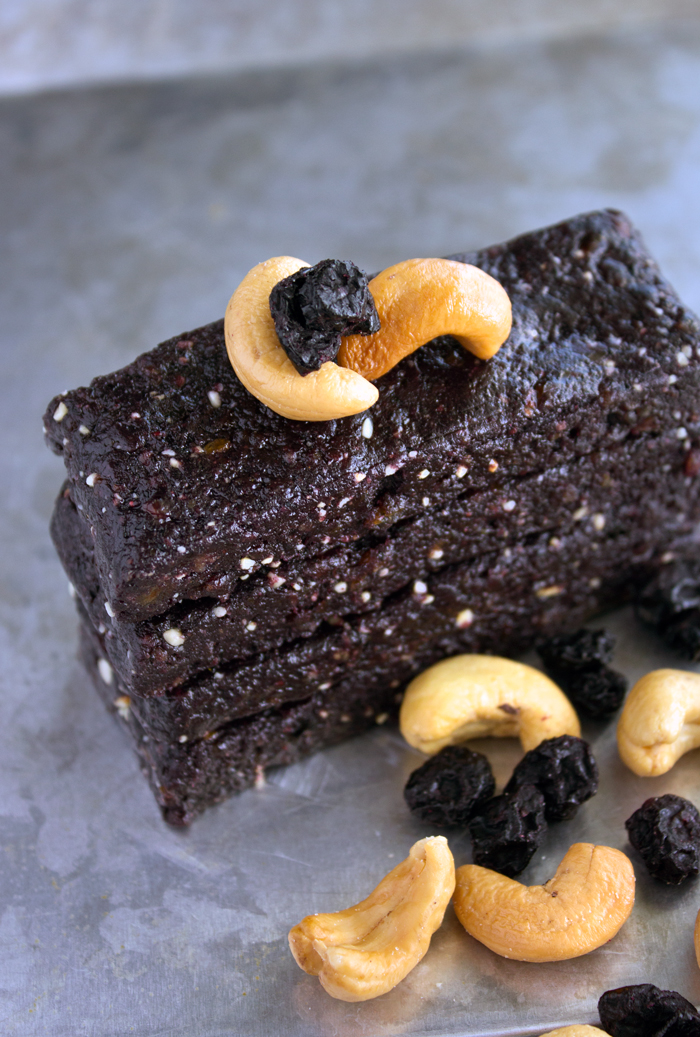 My husband gave me a puzzled look as I placed box after box of Blueberry Muffin Lärabars into our cart.  "What? They are on sale and I need to stock up," I said.
"You do realize you could probably make those at home at a cheaper rate and have them taste just as delicious, right? I mean, you develop recipes for a living," he replied.
For a second, I doubted myself. If you've ever tasted Lärabars, you'll understand why I was stocking up. Even though they are a bit on the pricey side they are stinking delicious! (And good for you too with ususally less than five ingredients!) But then I thought about it and my husband was right. To keep my hangry side at bay, I eat about 1-1.5 of these energy bars a day … so it made sense for me to start making them fresh at home.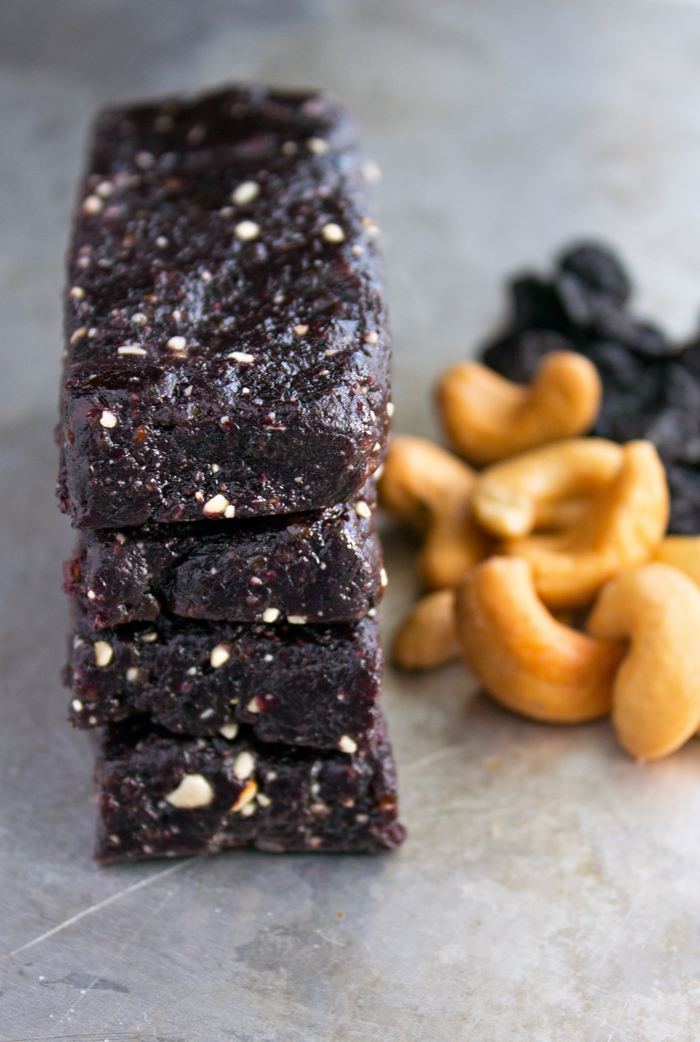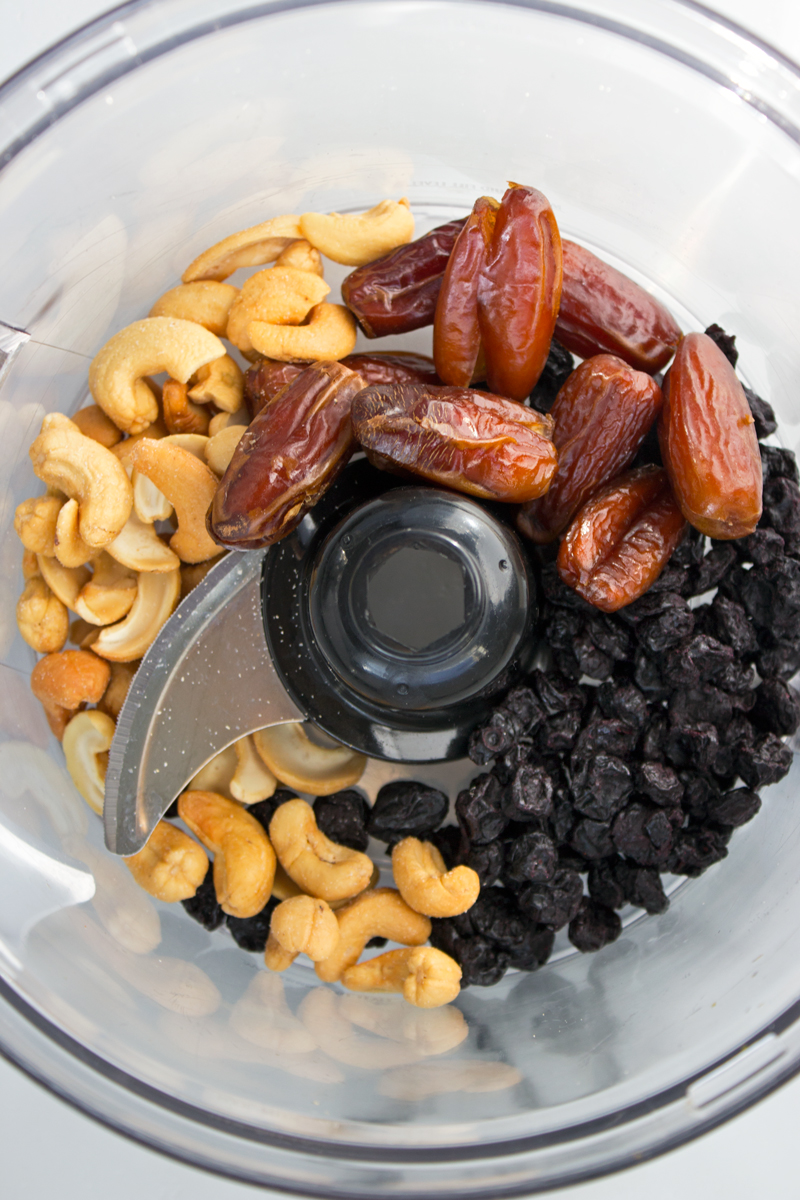 Making homemade energy bars is a lot easier than you think. Seriously, prepare to be amazed by how simple the process is. There is no cooking involved, very few ingredients and hardly any prep time. Plus they are hard to mess up. Raise your hand if that's a recipe that sounds good to you!
The best thing about homemade energy bars is that you can personalize them based on what kind of flavors you like. All you need is a few ingredients — dates, some kind of roasted nut and some kind of dried fruit — and you can totally customize the bars to create any combination you'd like. Today's recipe is for Blueberry Cashew Energy Bars, but here are a few other recipe combination ideas (Note: something optional for all of these combinations is 1 teaspoon honey. I like the extra sweetness, but if you want to keep even natural sugar out you can omit that):
Cherry Almond
1 cup dried cherries
1 cup pitted, dried dates
1 cup almonds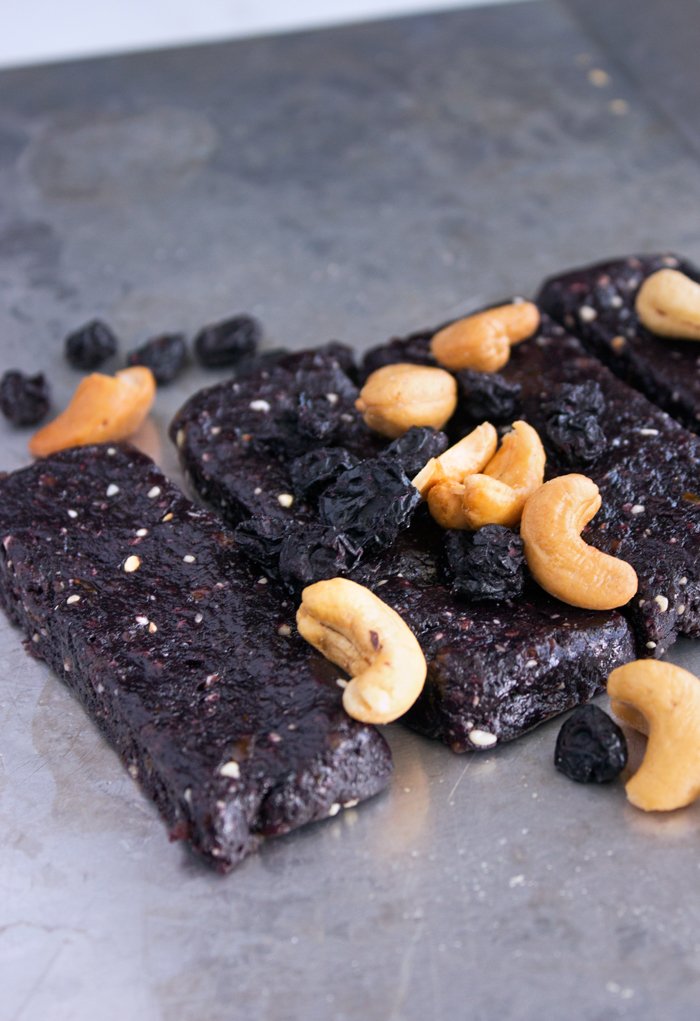 Apple Pie
1 cup dates
1/2 cup almonds
1 /2 cup walnuts
¼ cup applesauce
1 teaspoon cinnamon
Key Lime Pie
2/3 cup shredded coconut
1 cup pitted, dried dates
1 cup cashews
Zest of 1 lime
1 tablespoon lime juice
Peanut Butter Bliss
1 cup pitted, dried dates
1 cup peanuts
1 tablespoon creamy peanut butter
1/4 teaspoon sea salt
Chocolate Chip Cookie Dough
1 cup pitted, dried dates
1 cup cashews
3 tablespoons chocolate chips
1/4 teaspoon sea salt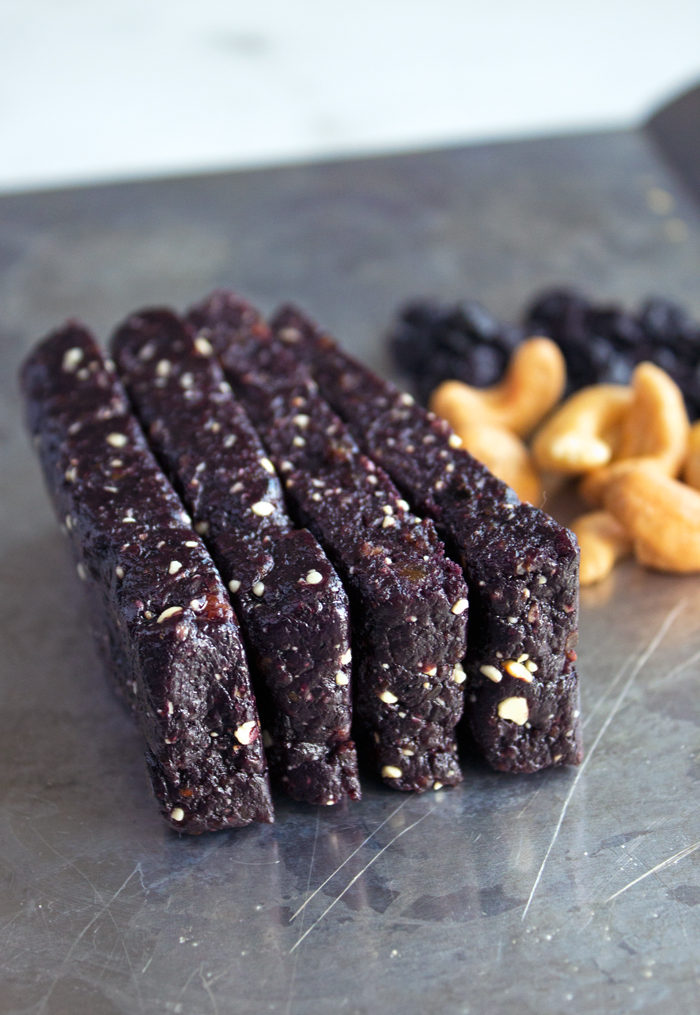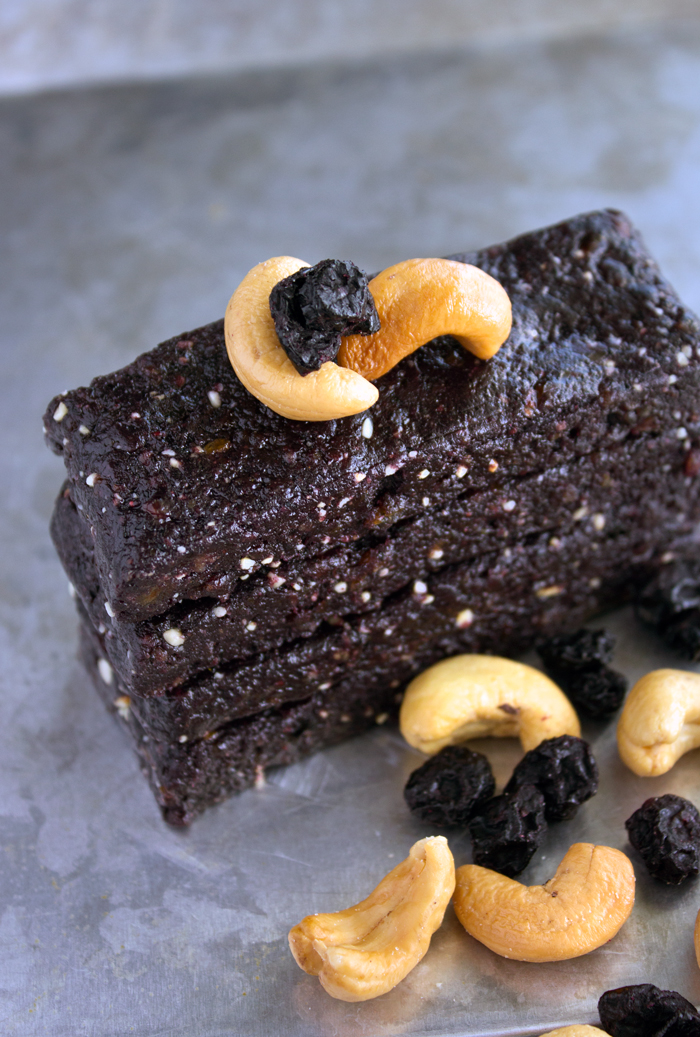 If you notice the mixture is too dry after combining it in a food processor, you can always add a few tablespoons of water or lemon juice. I hope you enjoy these bars as much as I have been enjoying them since making them for the first time last week! They are so simple, you'll never buy them from the store again.
Modify this recipe to use whatever fruit or nuts you like!
Blueberry Cashew Energy Bars
Ingredients
1 cup pitted, dried dates
1 cup roasted cashews
1 cup dried blueberries
1 teaspoon honey (optional)
2 teaspoons lemon juice
Instructions
Place all ingredients in a food processor and pulse a few times to break everything up. If the dates start to clump together, use a fork to separate.
Process continuously for 30 seconds until ingredients break down into crumb-sized pieces. Use a spatula to scrape edges of the food processor and beneath the blade to make suer everything is mixed evenly.
Continue processing until a ball is formed, about 2 minutes.
Lay a piece of wax paper on your counter and place mixture on top. Use your hands to press mixture into a thick rectangle. Wrap and place in the fridge for about an hour.
Remove bars from the fridge and transfer to a cutting board. Cut into 8 large bars and wrap each bar individually to store.
Storage tips: You can store bars in the fridge for a few weeks or in the freezer for up to 3 months.