This beautiful heart pizza will have you falling head over heels … for beets and your sweetheart.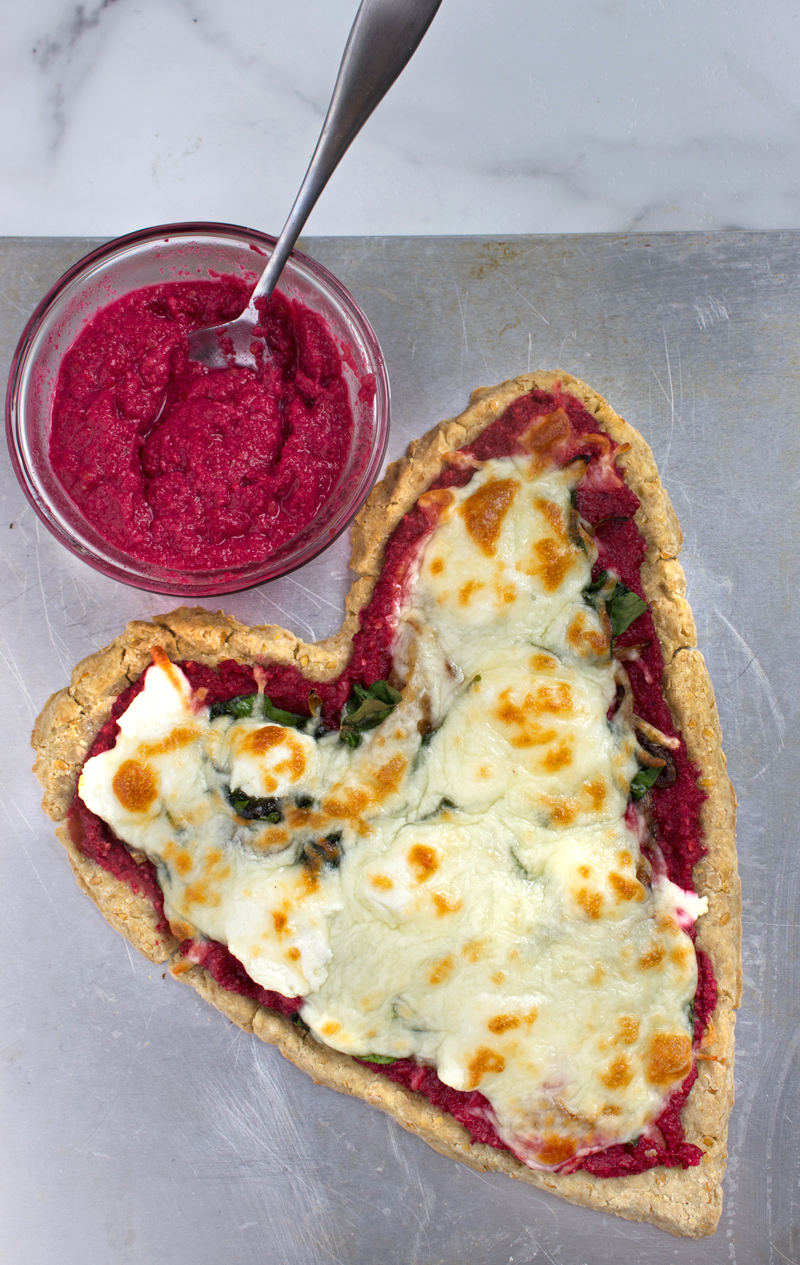 My attitude toward Valentine's Day has changed over the seven years Mr. Making Life Sweet and I have been together. Our first celebration was full of teenage emotion and anticipation. We got together to exchange gifts at Dairy Queen (where we first met each other) and I'll never forget his first Valentine's gift to me: a 3-foot tall card, flowers and lots of chocolate.
The enormous card had a pair of monkeys on the front and it read, "I love hanging with you." This was before we'd reached the actual "I love YOU" stage, but I was giddy as any girl could be. Since that monkey card, we've had years where we didn't celebrate Valentine's Day and years where we did. But now that we are married the holiday has taken on a new importance. You see, when you are married you would think you have all the time in the world to spend with your husband. But the truth is, life and obligations are still real and time is not as abundant as you would like it to be.
That's why this year I'm going all out for Valentine's Day, and it starts with this Beet Pesto, Spinach, Caramelized Onion and Goat Cheese pizza — all in the shape of a heart! I first came across this recipe for beet pesto through my friend Julia over at The Roasted Root. It was one of those things I bookmarked but never tried.
I remembered the recipe when I got the idea to make a heart pizza earlier this year. I knew the beet pesto would provide the color and taste I wanted for a pizza like this, so I went and located the recipe again. If you're wondering why I'm suddenly eating cheese again (I went gluten and dairy free about nine months ago for health-related reasons), it's because my doctor encouraged me to take another stab at reintroducing cheese into my diet. The way she described it, there might be one type of cheese that doesn't irritate my system. For example, it may turn out that soft cheese is OK while hard cheese is not and vice versa.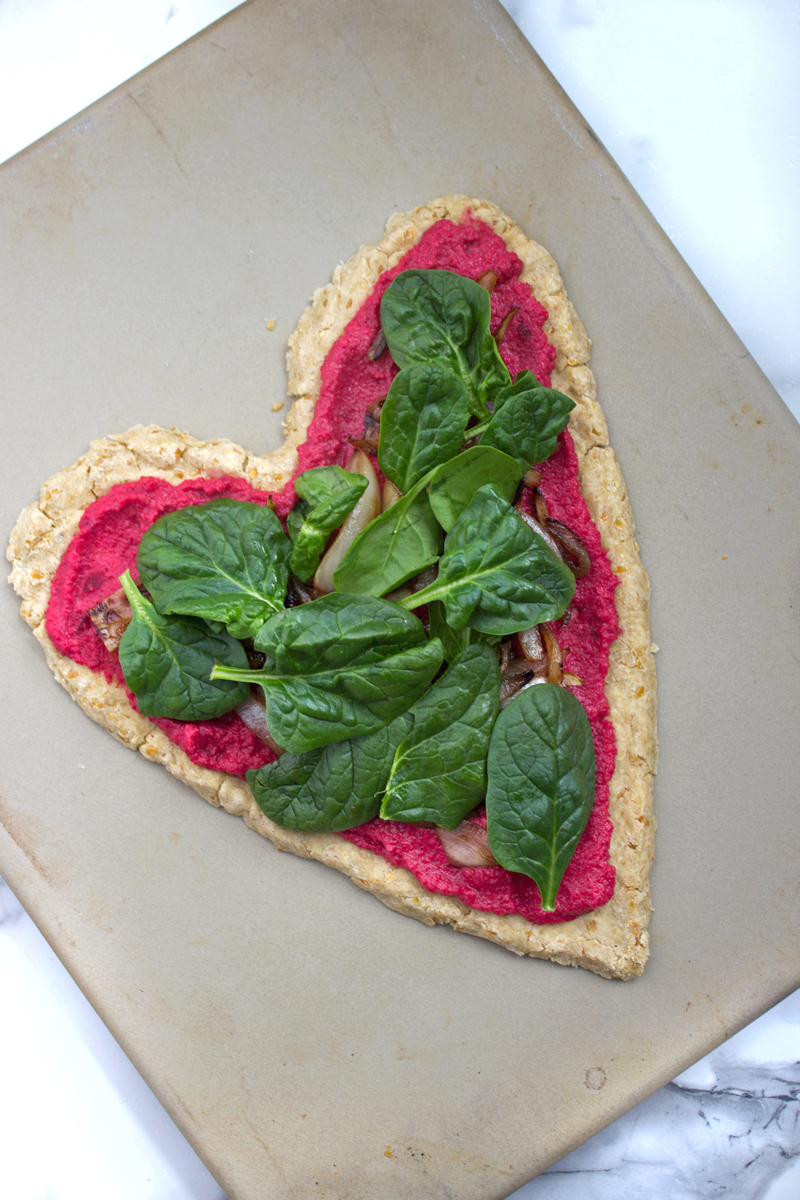 We'll see how it goes (I'm rooting for being able to eat soft cheeses again … hello goat!!!) and I'll keep you posted. For now, I'm going to keep shoving my face with the last slice of this amazingly delicious pizza. Who's with me?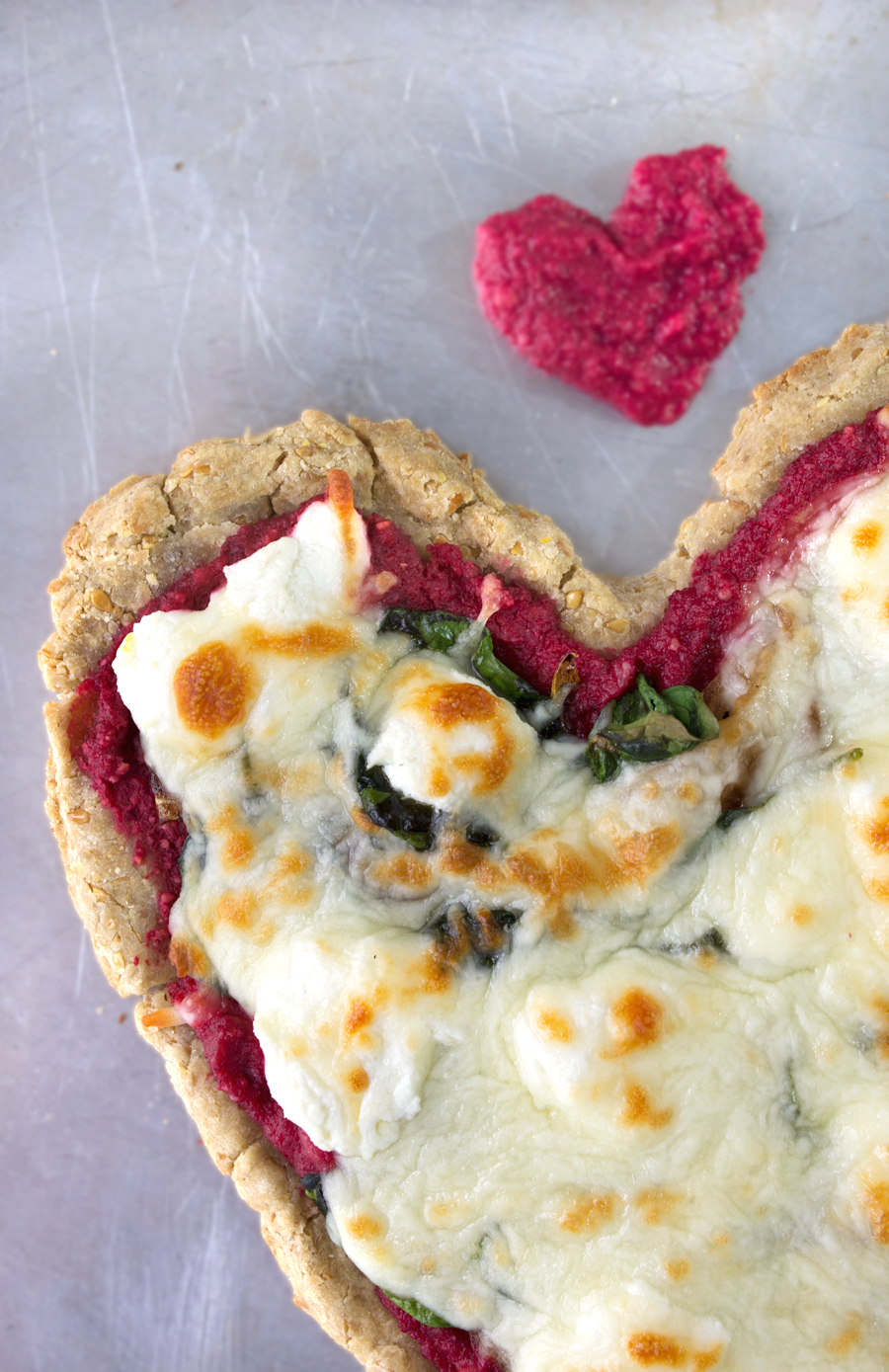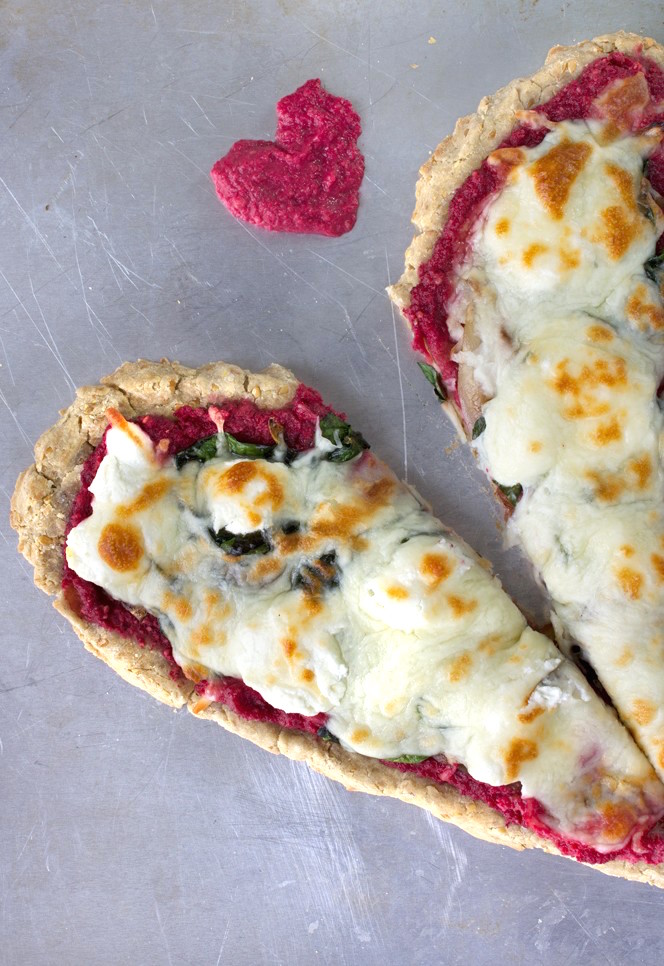 P.S. Happy early Valentine's Day! Stay tuned later this week for a love-themed dessert. 😉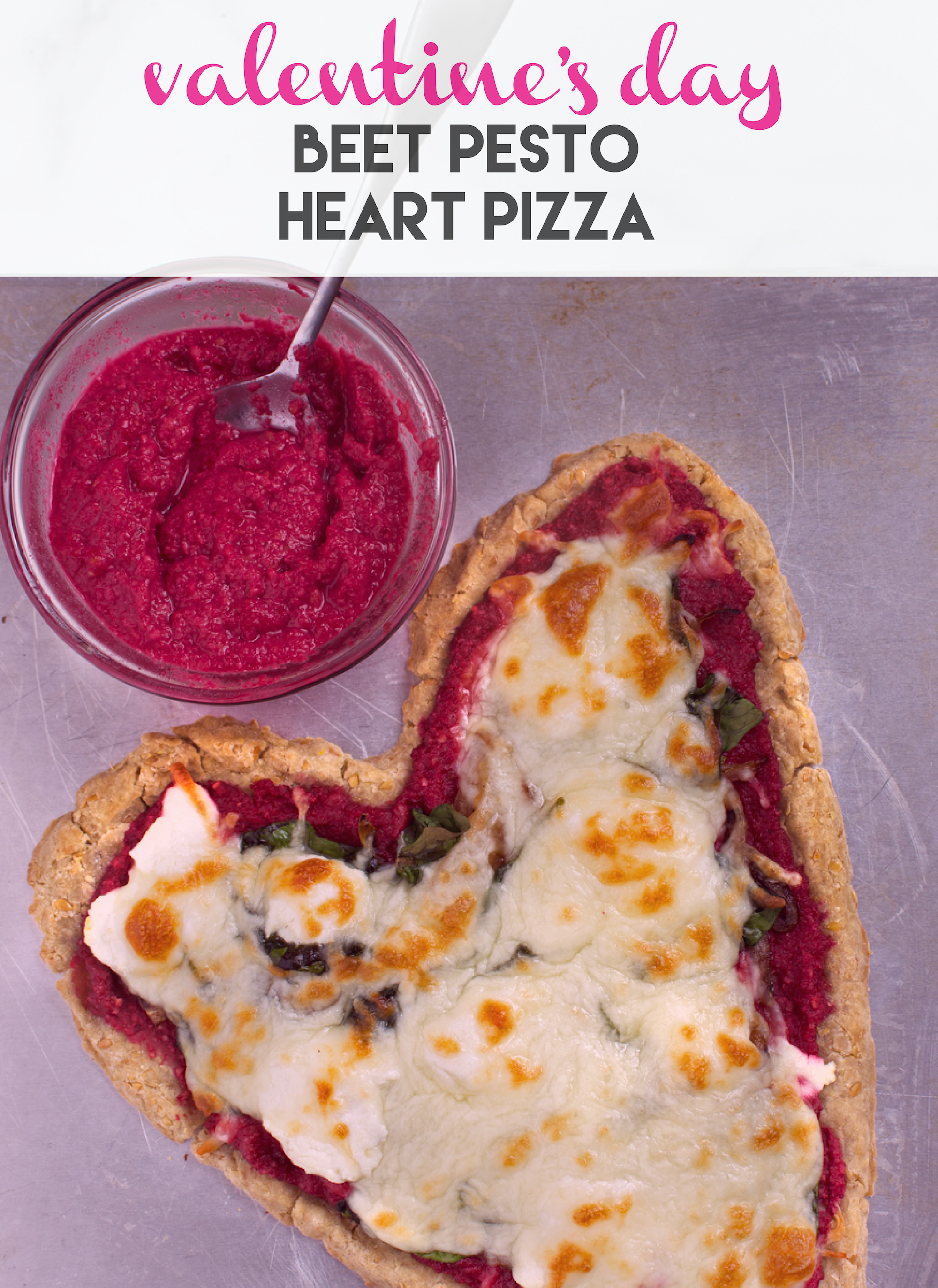 Valentine's Day Heart Pizza with Beet Pesto, Spinach + Goat Cheese
Ingredients
[b]For the crust:[/b]
1 cup high-quality all-purpose gluten-free flour
2 cups (280 g) high-quality all-purpose gluten-free flour (I use Cup4Cup)
1 1/2 teaspoons active dry yeast
1/2 teaspoon coconut sugar
1/2 teaspoon salt
1/2 cup warm water
1 tablespoon + 1 teaspoon olive oil
[br][br]
[b]For the pizza:[/b]
1/2 cup caramelized onions
[url href="http://www.theroastedroot.net/roasted-beet-pesto/" target="_blank"]3/4 cup roasted beet pesto[/url]
1 cup spinach, packed
2 ounces goat cheese
1 cup shredded mozzarella cheese
Instructions
Place the flour, yeast, sugar and salt in the bowl of a stand mixer fitted with the paddle attachment and mix until combined. Add olive oil and water in a steady stream and mix on medium speed until mixture begins to come together. Remove dough from mixer and press into a disk.
Place dough in another medium-size bowl and drizzle with olive oil, turning the dough to coat it completely. This will prevent a crust from forming on the dough while it is rising. Cover the bowl with plastic wrap and place it in a warm, draft-free area to rise until doubled in volume (about 1 hour).
After the dough has risen, wrap it in plastic wrap and chill for at least an hour before rolling out. To make pizza, roll between two pieces of parchment paper and use your hands to form dough into the shape of a heart. Create a crust by rolling in the edges, brush the dough with olive oil, and blind bake it at about 400°F for 5 minutes, so the crust begins to crisp.
Remove crust from oven and top with beet pesto, spinach, onions and cheese, and bake until the cheese is melted, about 7-10 minutes.