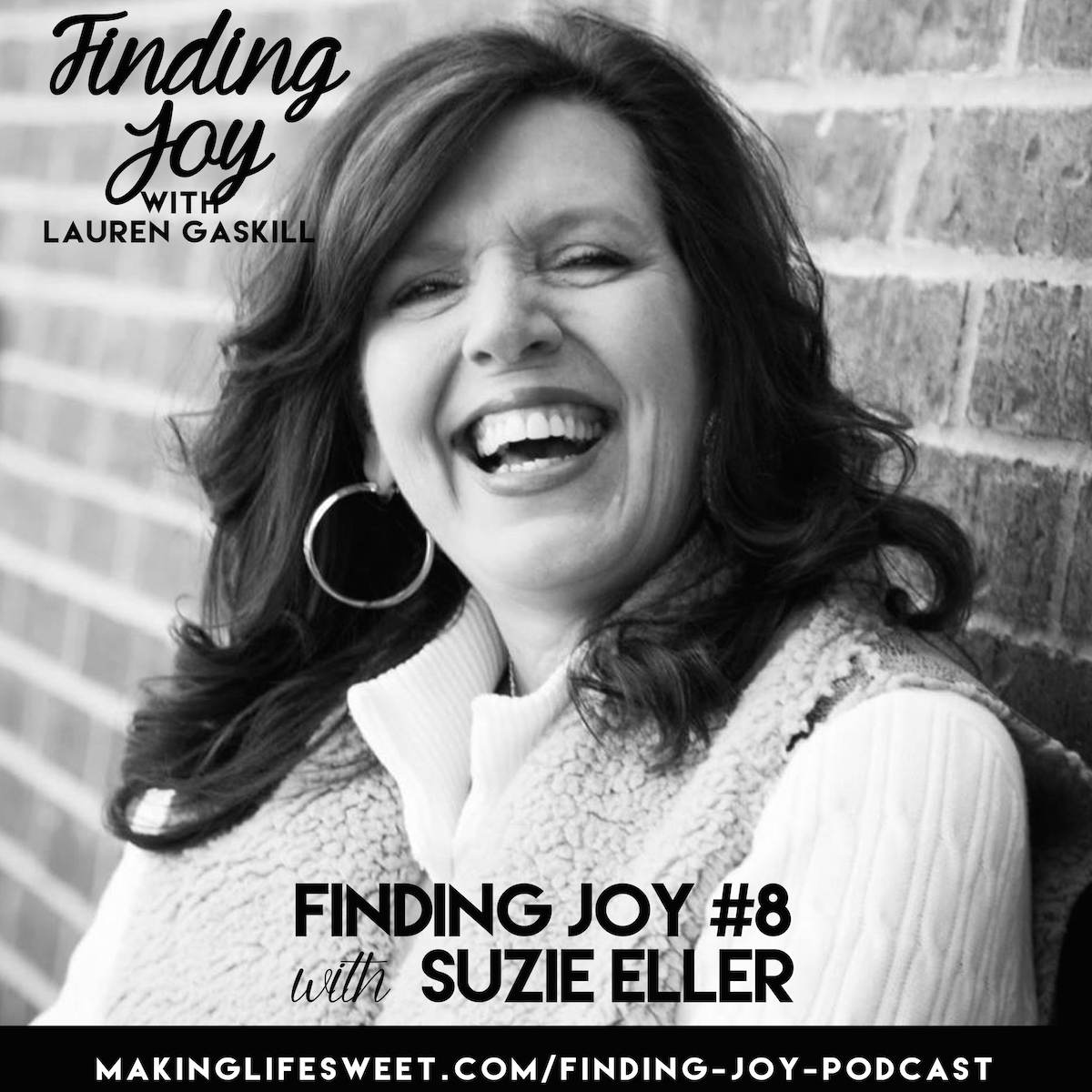 Finding Joy is a podcast dedicated to bringing you encouragement and inspiration in all of life's moments — the good, bad and everything in-between.
Suzie Eller is our guest for the eighth episode of the Finding Joy podcast! I can honestly say I've never met a woman more honest and comfortable in her own skin, and I'm so excited to introduce you to Suzie today. When she's not writing or speaking for Proverbs 31 Ministries, Suzie is a wife, mother and "gaga" to six beautiful grand babies under the age of five!
She is also an author of articles, columns, and eight books including her most recent, Come With Me: Discovering the Beauty of Following Where He Leads. In this book, Suzie shows how, when you say yes to Jesus, you take a step away from the uncertainty, the to-do list, the worries and excuses. And you take a step toward the One who promises to delight and surprise, who will transform who you are, how you live, and how you impact the world.
In this episode, Suzie and I talk about:
What it's been like to live out what "Come With Me" is all about.

What it means to be the 13th disciple.

The joy that is found when God interrupts our plans.

The freedom that is found in following after Jesus.
Suzie encourages us to ask ourselves the question: "What would happen if we whispered yes where no wants to take root?" What would happen if we embraced lives of freedom and claimed our true calling: to live life fully as a disciple of Jesus Christ?
Want to win a copy of Suzie's new book??? Enter below and also leave a review of the this podcast on the iTunes page. You have until Friday, May 20, to enter!

Come With Me by Suzie Eller Giveaway!

How to Listen to the Finding Joy Podcast
You can listen to the podcast here on this blog, or by subscribing to the podcast through iTunes.

Subscribe to the iTunes podcast HERE.
Review this Podcast
By rating this podcast or writing a short review, you can help others find the Finding Joy podcast more easily! Click here to head over to iTunes and rate Finding Joy.