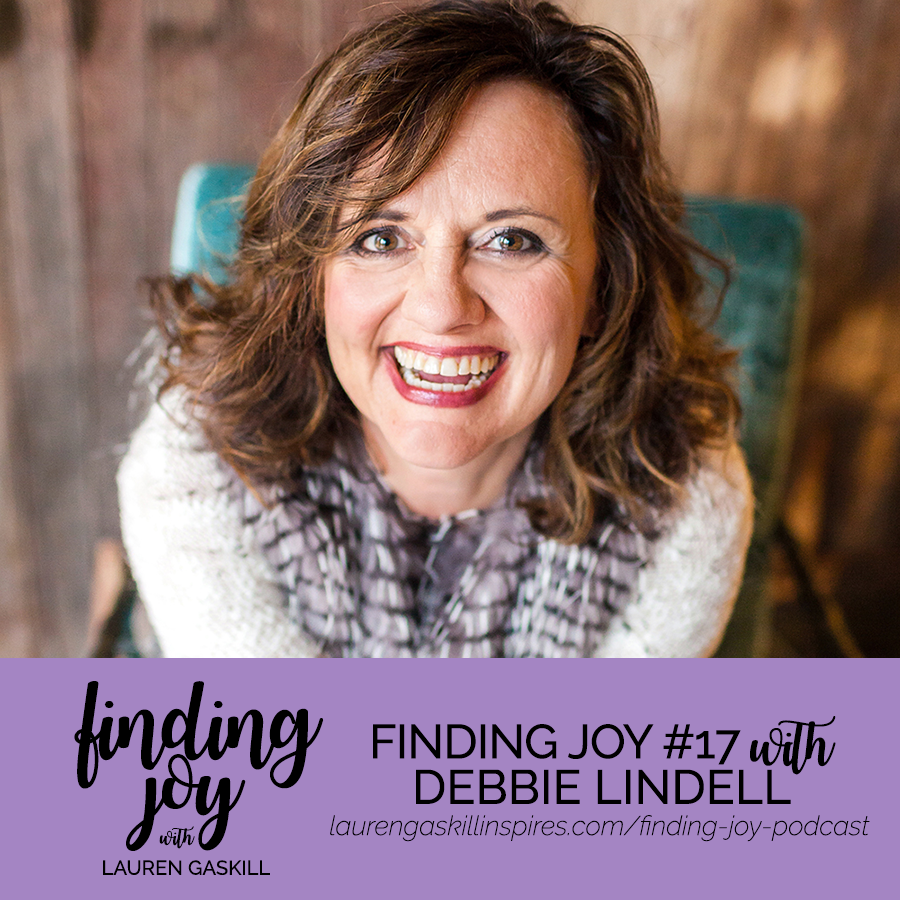 Finding Joy is a podcast dedicated to bringing you encouragement and inspiration in all of life's moments — the good, bad and everything in-between.
Debbie Lindell is our special guest for the 17th episode of the Finding Joy podcast, and I couldn't be more excited! Seriously ya'll, I think this may be one of the most fun podcasts I've ever recorded to date. I just know you're going to love it, too. 
As a lead pastor at James River Church, author, speaker and mom, Debbie is passionate about life and serving God with all her heart. Her greatest desire is to use her life to lead all who are watching her closer to Jesus, and to inspire every girl to believe what God's Word says about them and His amazing plan and purpose for their life. Debbie loves to write, give gifts, eat chocolate, drink lattes and play with her grandkids.
Before we get to today's show, I need to tell you a little bit about the backstory behind how Debbie and I met. 
Several weeks ago, Debbie's publicist reached out to me to see if I would have her on the show to talk about her ministry and new book, She Believes. The second we recorded the podcast last Friday, I knew that it was no accident her publicist had reached out to me. During our conversation we talked about many things, including the Designed for Life Conference (DFL) 2016, which kicked off last week.
The minute we started talking about it I had a sense that I was supposed to go, even though it was the following weekend and I didn't know how I would even get there. The unrealistic nature of it all made me laugh inside. So I just let it go, shrugged it off and continued talking. But then something incredible happened. When we wrapped the podcast up, I jokingly told Debbie that I had had such a good time that I was about to jump in my car and come down and see her. In that moment, she invited me to the conference … talk about a divine appointment.
This past weekend I had the pleasure of meeting Debbie in person at DFL — an experience I will never forget. This woman is the real deal, and I am blessed to have connected with her.
In this episode, Debbie and I talk about:
Her new book She Believes, which released on Oct. 4.
How even the faith of a mustard seed can move mountains and transform your life.
The difference between knowing God and believing God.
The power of biblical sisterhood and the dangers of comparison.
What it looks like to lead by example in community.
The power of self-talk and why it matters how you speak about yourself.
Debbie encourages us to believe God for every detail of our lives and focus on living the faith-filled life God created us to live.

Links From the Show
Debbie's Book
Designed for Life Conference
Connect With Debbie
Facebook | Twitter | Instagram
How to Listen to the Finding Joy Podcast
You can listen to the podcast here on this blog, or by subscribing to the podcast through iTunes.

Subscribe to the iTunes podcast HERE.
Review this Podcast
By rating this podcast or writing a short review, you can help others find the Finding Joy podcast more easily! Click here to head over to iTunes and rate Finding Joy.