These Curried Baked Sweet Potato Fries are ready to eat in less than one hour and paired with a chipotle ketchup that will have you dunking them faster than you can eat them!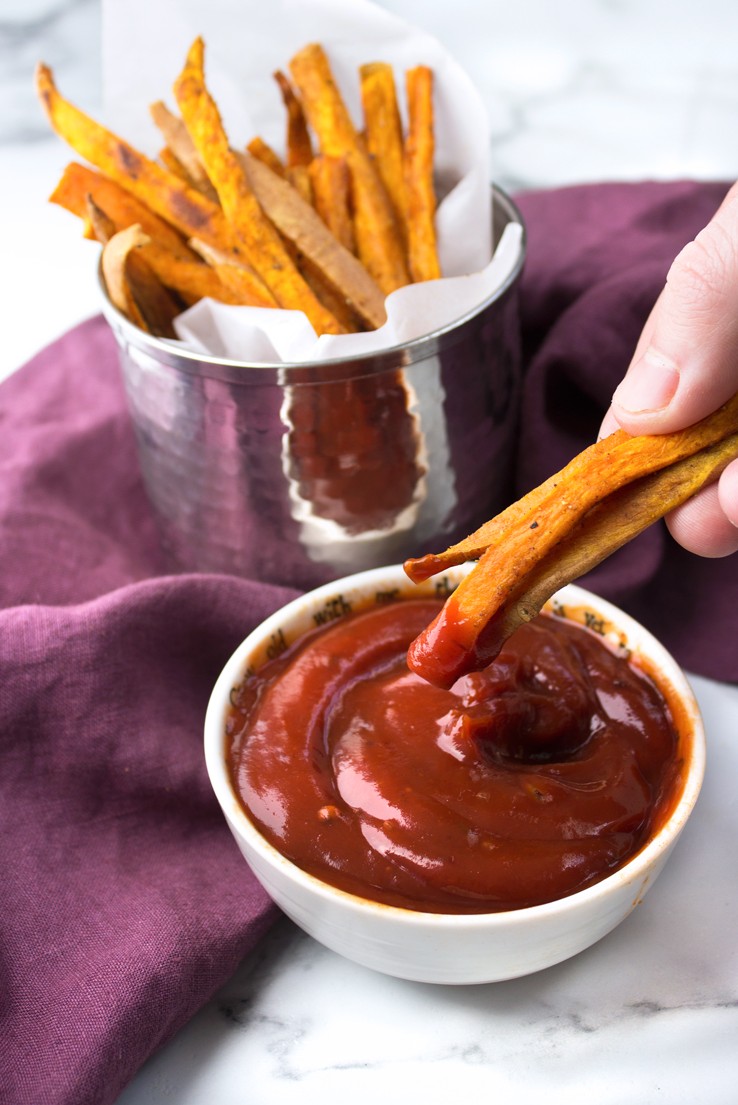 What was the best thing you ate during the Super Bowl last night? Cheese dip? Wings? Cookies shaped like footballs? For me, it was a tie between my friends Kathy and Kaitlin's chili and these baked sweet potato fries. If you're thinking … hmmm, I bet the fries would taste good in the chili — you're right! After eating a few handfuls of fries and ketchup by themselves, I decided to put the fries and a dollop of the chipotle ketchup into the chili. Call me crazy but man, oh man, was it good.
Shoutout to my man Peyton Manning for winning yet another Super Bowl. Even though you left the Colts long ago, I've never stopped cheering for you. I realize I might make some enemies here by saying this but WAY. TO. GO. BRONCOS!!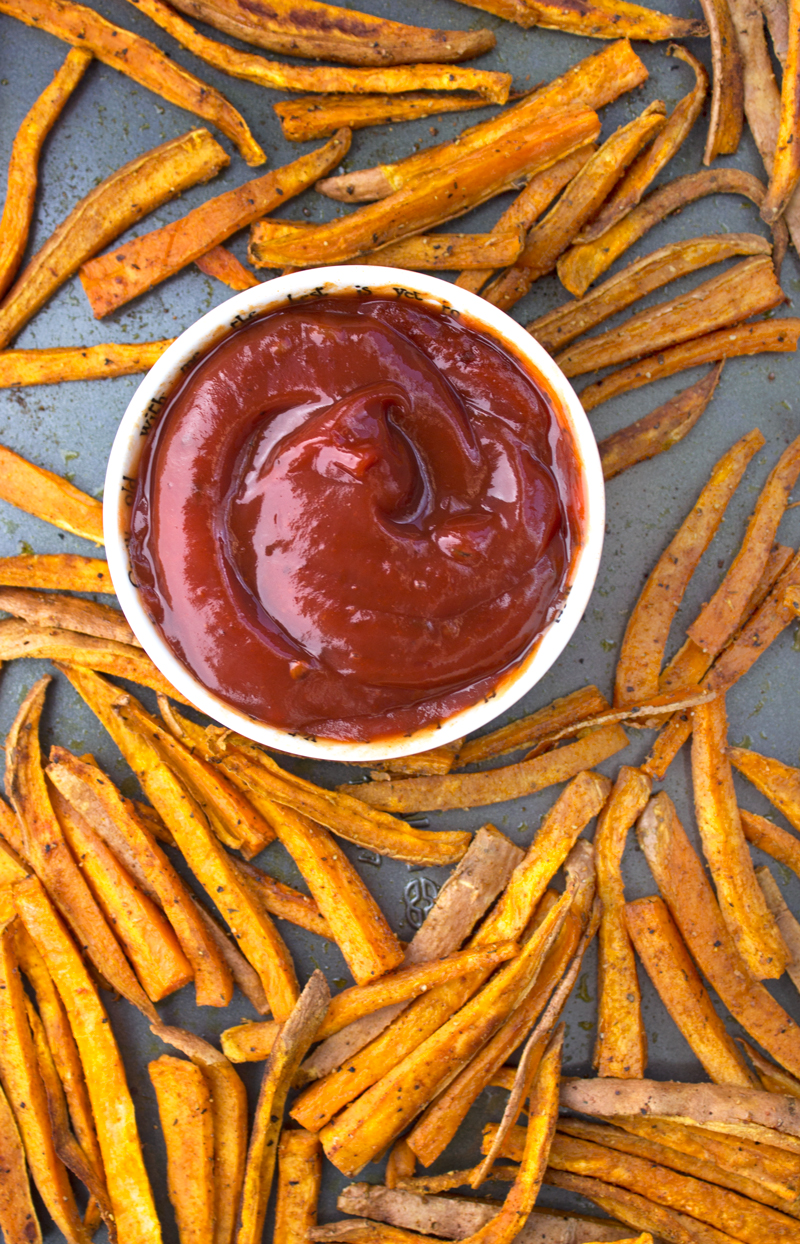 I'm sharing these fries with you post-Super Bowl because, even though I ate them for the big game, I think this is one of those recipes you can make and eat any day of the week. You can enjoy them with burgers, chili, soup, sandwiches, salads, or whatever else you like to eat with fries. Even though there is curry in the recipe I think they would go great with just about anything — especially if that thing already involves chipotle peppers, like the ketchup in this recipe.
Let's take a minute to talk about the ketchup. LIKE WHOA. Talk about total flavor bomb! I might never eat regular ketchup again.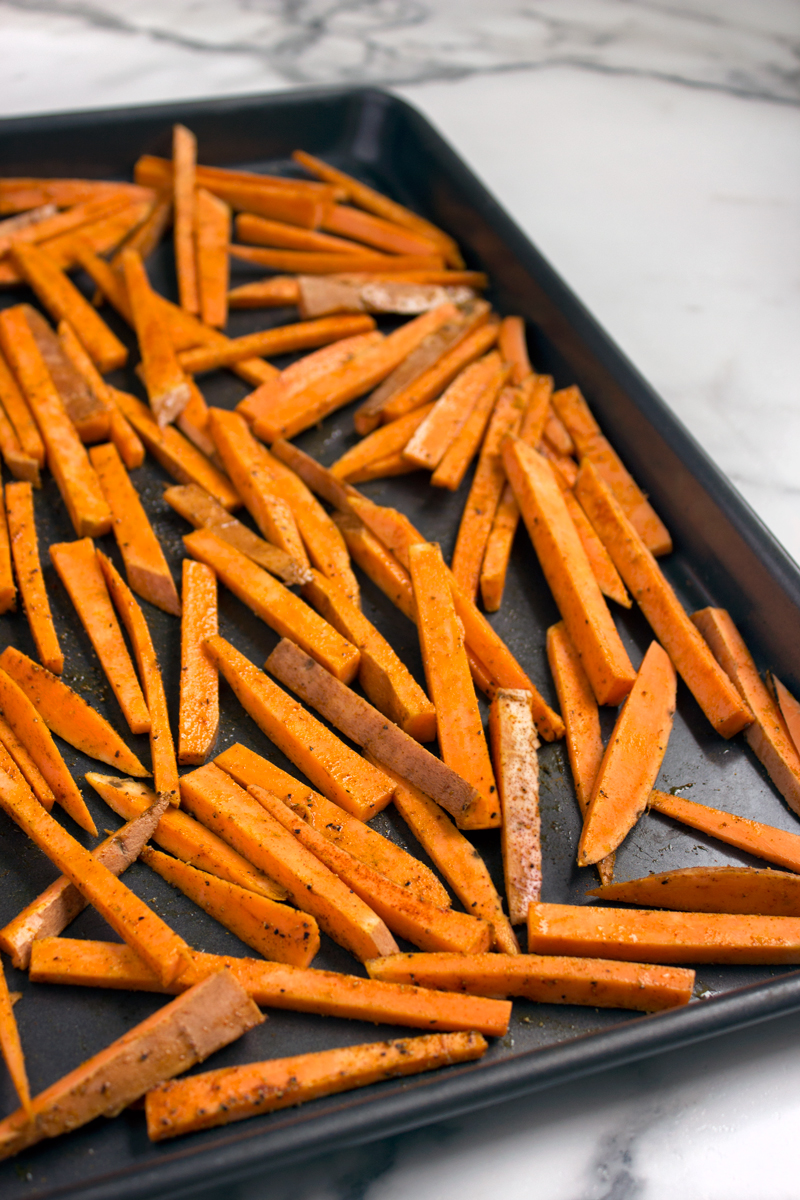 I also may never eat chili without fries again. After last night's experience, it just won't ever feel the same without them.
On a non-food-related topic, Happy Monday! This week is an exciting one because in a few days I am going to be launching my first-ever podcast. Stick around and come back later this week for the big reveal. Until then, make it a great day and I love you guys!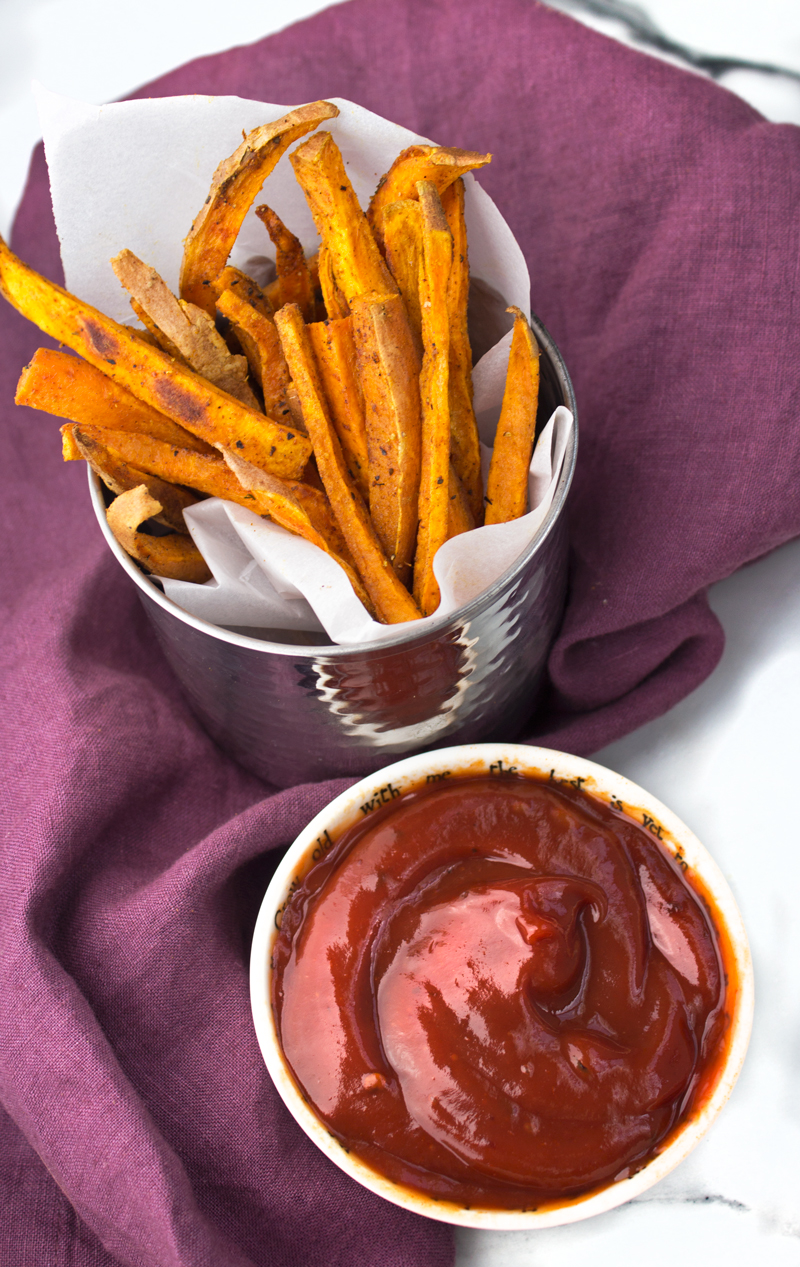 Baked Curry Sweet Potato Fries with Chipotle Ketchup
Ingredients
1 lb. sweet potatoes
1 tablespoon + 1 teaspoon olive oil
1/2 teaspoon paprika
2 teaspoons curry powder
1/2 teaspoon garlic powder
1/4 teaspoon salt
1/4 teaspoon black pepper
[br][br][b]For the chipotle ketchup:[/b]
1 cup ketchup
2 tablespoons pureed chipotles in adobo sauce
Instructions
Preheat oven to 400˚ F. Pour 1 teaspoon of oil on a baking sheet and spread around with a paper towel to grease the sheet before adding potatoes.
Rinse potatoes well, and taking one at a time, cut ends off the potato to create a level surface. Stand up on one end and cut down the potato in 1/4″ thick slices.
Stack half the slices on the flat side down and cut again into 1/4″ thick strips. Repeat with remaining potatoes. Place fries on pre-greased baking sheet and toss with remaining olive oil, spices, salt and pepper. Arrange fries on sheet so most of them are not touching.
Bake 30-35 minutes, removing sheet every 10 minutes to stir. Bake until crisp and golden.
For the ketchup: Place ingredients in a small bowl and stir until combined.