Forget the traditional mandarin orange salad — this Chopped Asian Salad is bursting with flavor in every bite and protein-packed with edamame and sweet chili glazed shrimp.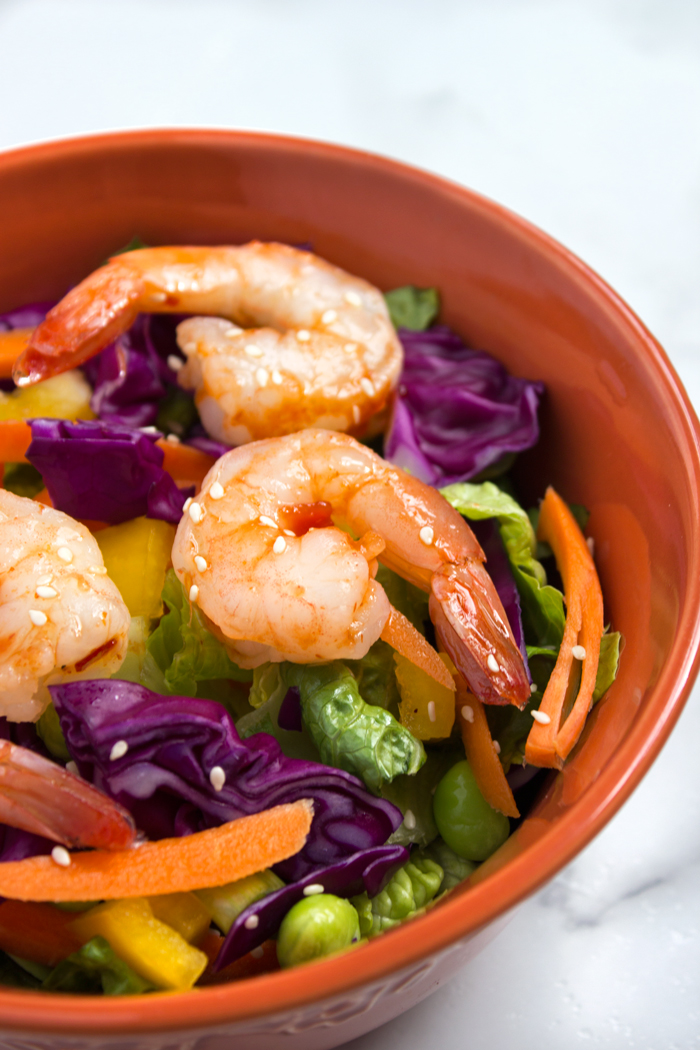 Before we get to today's recipe, can we talk about how crazy the weather was this weekend? I don't know about you, but when I woke up Saturday morning to 38-degree weather I thought I had taken a time machine back to March. Dear Mother Nature, you can stop being a pain in the butt at any time now. Sincerely, Lauren.
Luckily the weather didn't keep Mr. MLS and I from having fun with our old neighbor from Minnesota and her little boy. The two of them were kind enough to drive down and see us this weekend, and we had a blast cooking, baking, playing and going to the farmers market together. Warmer weather would have been nice, but I'll take friends over warmer temperatures every day if I have to.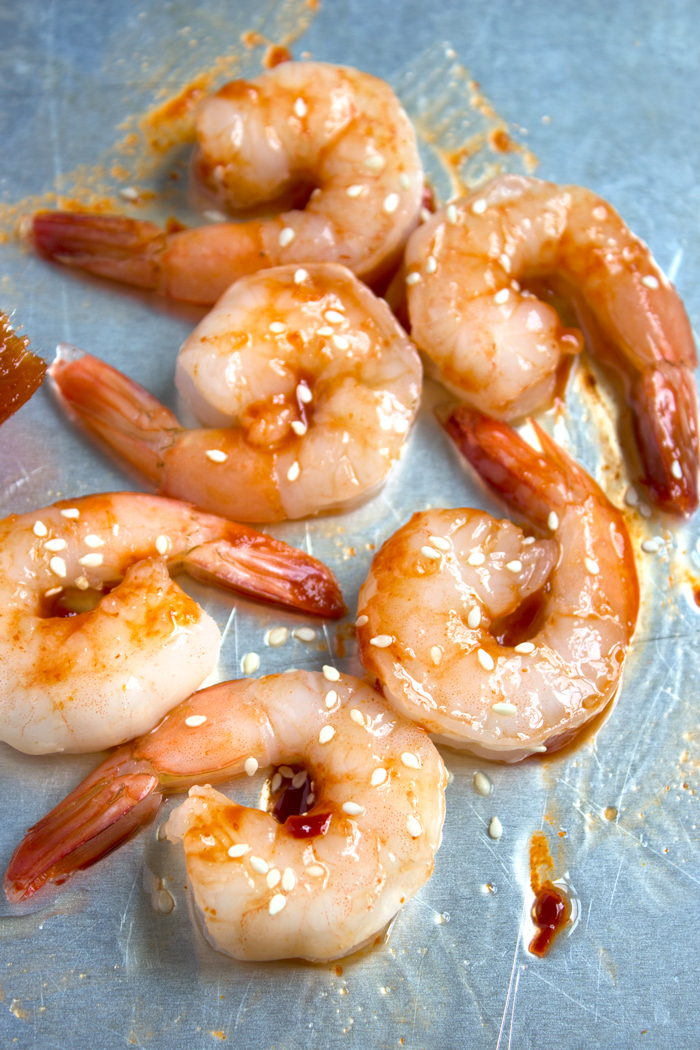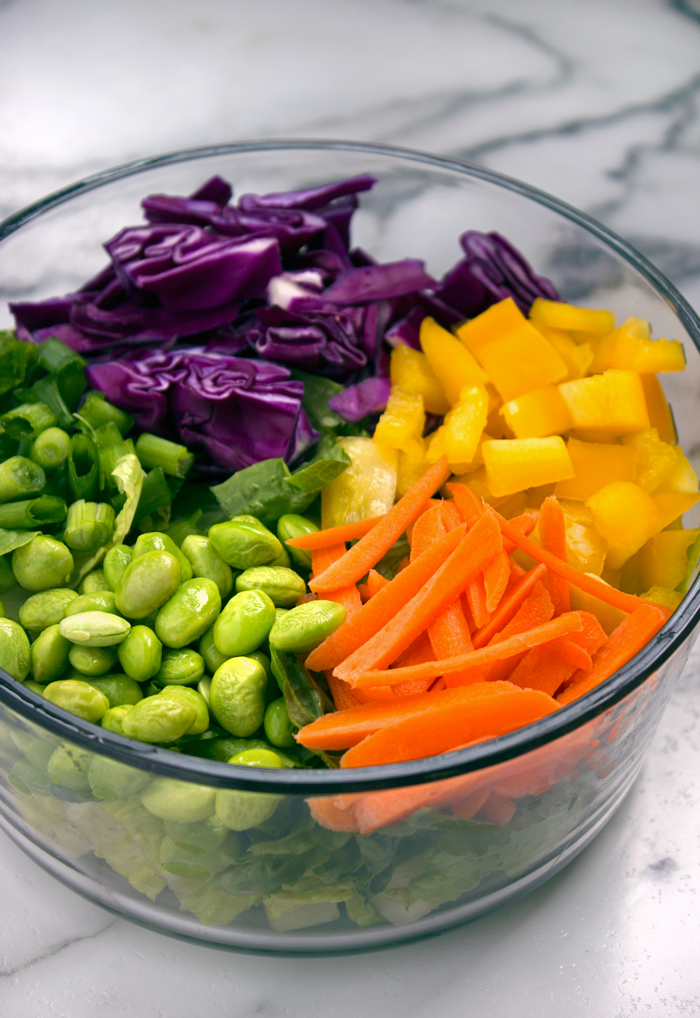 What did you do this weekend? Any exploring? Any kitchen adventures? I love knowing what you guys have been up to! Aside from hanging out with our friends, I was also busy making this amazingly delicious Chopped Asian Salad with Sweet Chili Glazed Shrimp. 
When you think of an asian salad, you probably think about mandarin oranges, sliced almonds and crispy Chinese noodles. That's what most restaurants put on these kinds of salads. As a person who doesn't really like fruit in their salad (call me crazy, but that's just how I am!), I was inspired to create a different kind of asian salad — a more satisfying, crunchy and mouthwatering kind.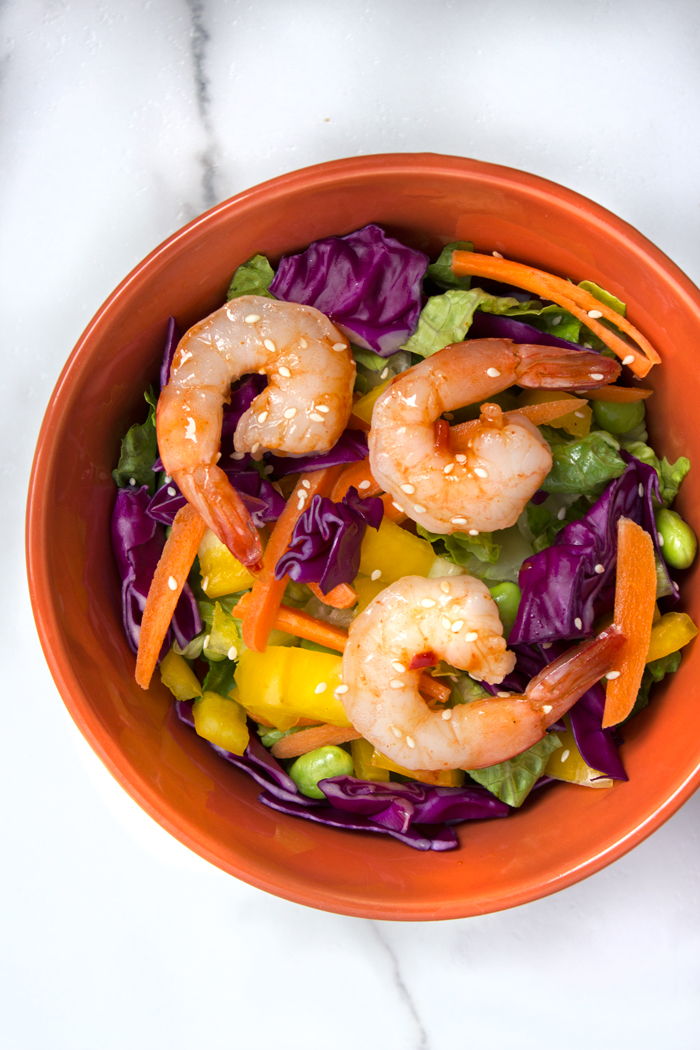 Let's talk about how this salad is made. You won't believe it only takes five steps!! First, you start by prepping and mixing together a bunch of fresh veggies — romaine, red cabbage, edamame, carrots, bell peppers and green onions. Then there's the shrimp. My favorite part! This shrimp is made extra sweet and spicy because it is slathered in Thai sweet chili sauce. AKA one of the best sauces on the planet.
Licking the sweet chili sauce off the brush is encouraged once you're done marinating the shrimp … it's too good to waste! 😉 This salad is topped off with sesame seeds, which adds a nutty flavor to the dish and makes it look extra pretty, too!
Chopped Asian Salad with Sweet Chili Glazed Shrimp
Ingredients
2 heads romaine, shredded
1 ½ cups red cabbage, shredded
1 cup frozen edamame, thawed
3 carrots, julienned
1 bell pepper, chopped
3 green onions, chopped
2 tablespoons sesame seeds
1 lb. frozen shrimp, thawed
3 tablespoons Thai sweet chili sauce
1 tablespoon Sriracha
1 tablespoon sesame seeds
Additional Thai sweet chili sauce for serving
Instructions
Preheat the oven broiler. Place romaine, red cabbage, edamame, carrots, bell pepper, green onions and sesame seeds in a large bowl and toss to combine.
In a small bowl, combine Thai sweet chili sauce and Sriracha.
Place shrimp on a baking sheet and brush with marinade. Sprinkle with sesame seeds and cook under broiler about five minutes until slightly opaque, flipping halfway through.
Top salad with shrimp and additional sweet chili sauce and toss to combine.
Serve immediately or let everything marinade for a few hours and serve later.
Tip: The longer it sits, the more flavorful it gets!