Brunch menus, meet your newest addition: a hearty, healthy, easy-to-make, baked oatmeal.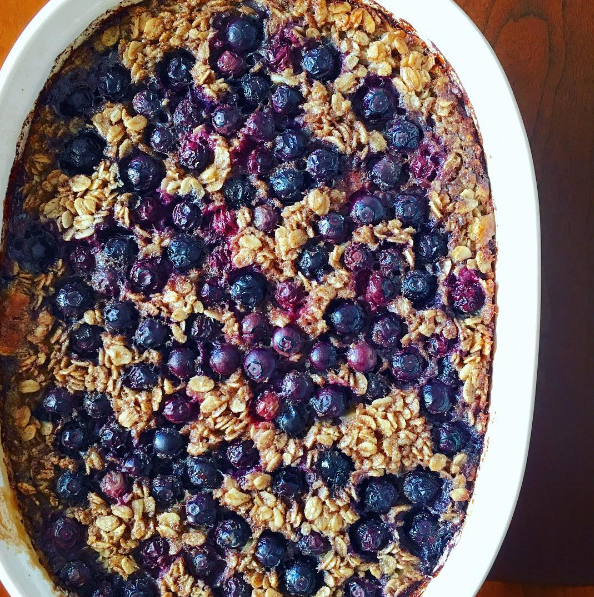 The best part? The bottom of this dish is lined with Pink Lady apple slices! After the apples bake in the oven for more than 30 minutes, they turn soft, delectable and even sweeter than usual. I love that the apple slices are on the bottom because whenever I serve this for brunch, no one expects them to be there.
I haven't been able to cook much for others this summer, what with me living in a new place and adjusting to a new kitchen and lifestyle. So when I first had the chance to make this for a friend, I was beyond joyful to be able to share and try out this new recipe on them. Sure it's summer, but who says we can't have hot dishes for breakfast in July? (This is coming from a woman who is always cold, but, c'est la vie.)
If, however, having a hot breakfast in the summer months does not suite your fancy, this recipe will surely come in handy for the months to come. Speaking of cold weather, I don't think a summer has ever flown by so fast in my entire life. It seems like just yesterday, I was driving to Minneapolis to start my internship at Tiger Oak Publications.
Today, I consider myself extremely blessed for the relationships I have made, and hope to keep. once I return to this city in January. By then, I will most likely be homesick for the Twin Cities … and chances are with the frigid winter, I will be in need of this recipe, too.
Apple + Blueberry Baked Oatmeal
Ingredients
1 Pink Lady apple, cored and thinly sliced
2 cups rolled oats
1/2 cup toasted almonds, chopped
1 teaspoon baking powder
2 teaspoons cinnamon
1/2 teaspoon salt
2 cups milk
1/3 cup maple syrup
1 large egg
3 tablespoons unsalted butter, melted
2 teaspoons vanilla extract
3/4 cup blueberries
2 tablespoons brown sugar
Instructions
Preheat the oven to 375˚F. Butter the inside of a square 8-inch baking dish. In a medium bowl, combine the oats, almonds, baking powder, cinnamon, and salt. In another bowl, whisk together the maple syrup, milk, egg, butter and vanilla.
Spread a single layer of sliced apples across the bottom of the baking dish. Pour the oat mixture over the apples, and then pour the liquid mixture over the oats. Scatter the blueberries across the top and bake for 40-45 minutes, until the top is golden and the oats are set. Remove from oven and sprinkle with brown sugar. Serve warm.