Living by faith can feel scary. Sometimes it feels like we're treading water out in the ocean, with no sight of land and no place to secure our feet. Sometimes the deep waters of life can leave us feeling worn out, battered and bruised. Sometimes the waves make us feel like we're going under. Have you ever felt that way? I found myself feeling this way in high school, after battling panic attacks, and again in my early 20s, after being handed a debilitating health diagnosis.
In these moments of distress, when the deep waters around me started churning with an untamable force, I knew I had two options. I could sink. Or I could learn how to swim with Jesus as I put my faith in Him and trusted His Word for my life.
I cannot even begin to tell you how many questions I grappled with during these seasons of life: How can I trust a God that is allowing all these bad things to happen to me? Is God really good? Can God really be trusted? Is the Bible really truth I can rely on? How can I exchange fear for faith? The answers to these questions and the lessons I learned saved my life — and they also became a book!
After working toward becoming a published author for the last five years, I could not be more excited to unveil the cover of my first book, Into the Deep: Diving Into a Life of Courageous Faith (which releases November 6!!!)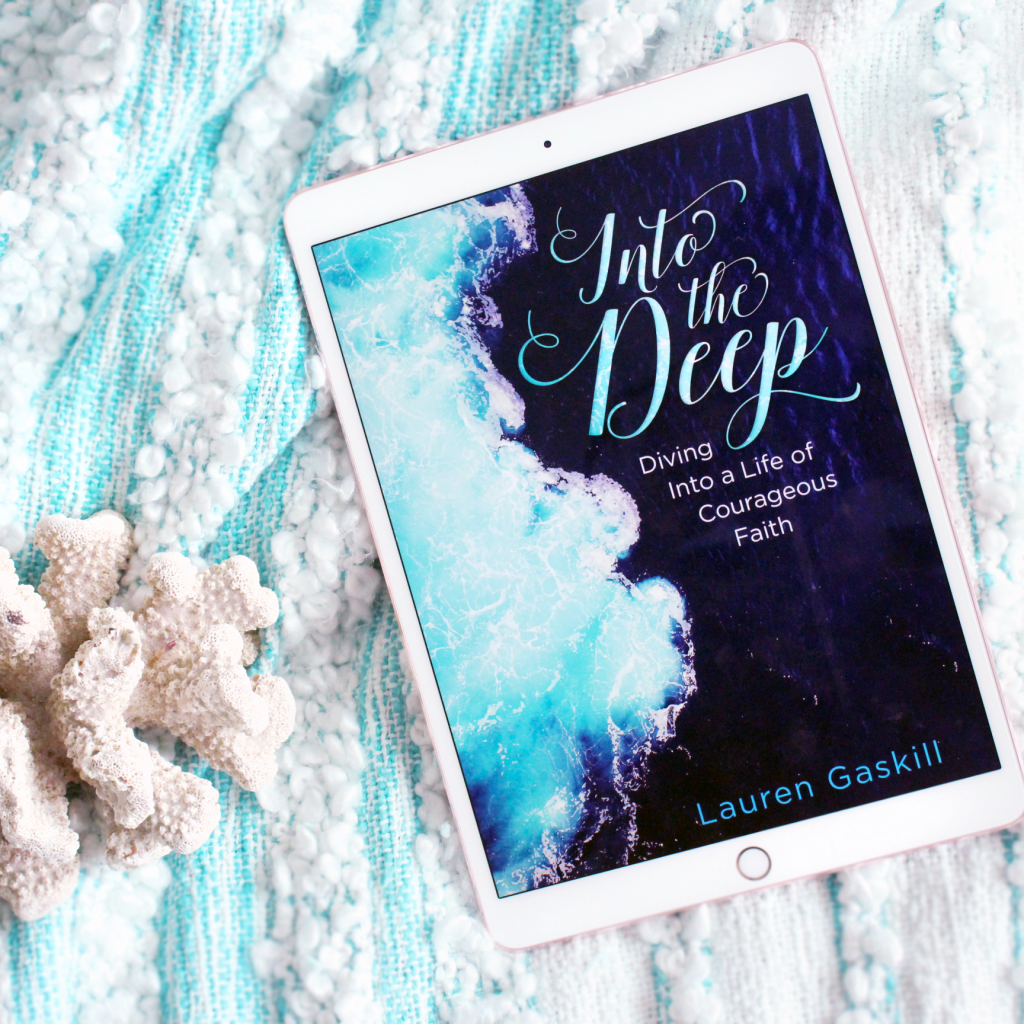 This book is an invitation to dive headfirst into a life of courageous faith and, in the process, exchange fear and frustration for holy confidence and joy. Together, we will discover that we do not have to drown in the deep waters of life. With Jesus by our side, we can learn how to overcome and see that we are warriors of the deep:
We are more than conquerors.
In Him, we are strong.
In Him, we are courageous.
In Him, we are victorious.
And because Jesus lives in us, we will overcome the waves.
This is my hope and prayer for all of us — that we would learn to be warriors of the deep who overcome every high and stormy gale by clinging to our faith in Jesus!
PREORDER YOURS NOW
If you're interested in reading Into the Deep, I'd be incredibly grateful if you preordered your copy today. Preorders are kind of a huge deal for authors. Not only do they ensure booksellers will have the book stocked properly when it releases, but it also helps spread this powerful message of faith to others who are browsing for books.
You can preorder at any of the following retailers:
Make sure to save your online receipts because I'll be offering a few lovely preorder bonuses soon! (Bonus: If you watch the trailer video below, you'll be the very first to hear more about the book!)
If you've ever wanted a deeper faith that circumstances cannot shake, will you please join me on this journey? Together, we can truly learn to be the warriors of the deep God made us to be.
All my love,
Lauren
*Links in this post may be affiliate links. If you purchase using one of these links, I will receive a small commission. Thank you for supporting this ministry!