Please join me in welcoming Amanda Davison to the blog, as she guest posts about finding joy in following after Jesus and cultivating joy in marriage.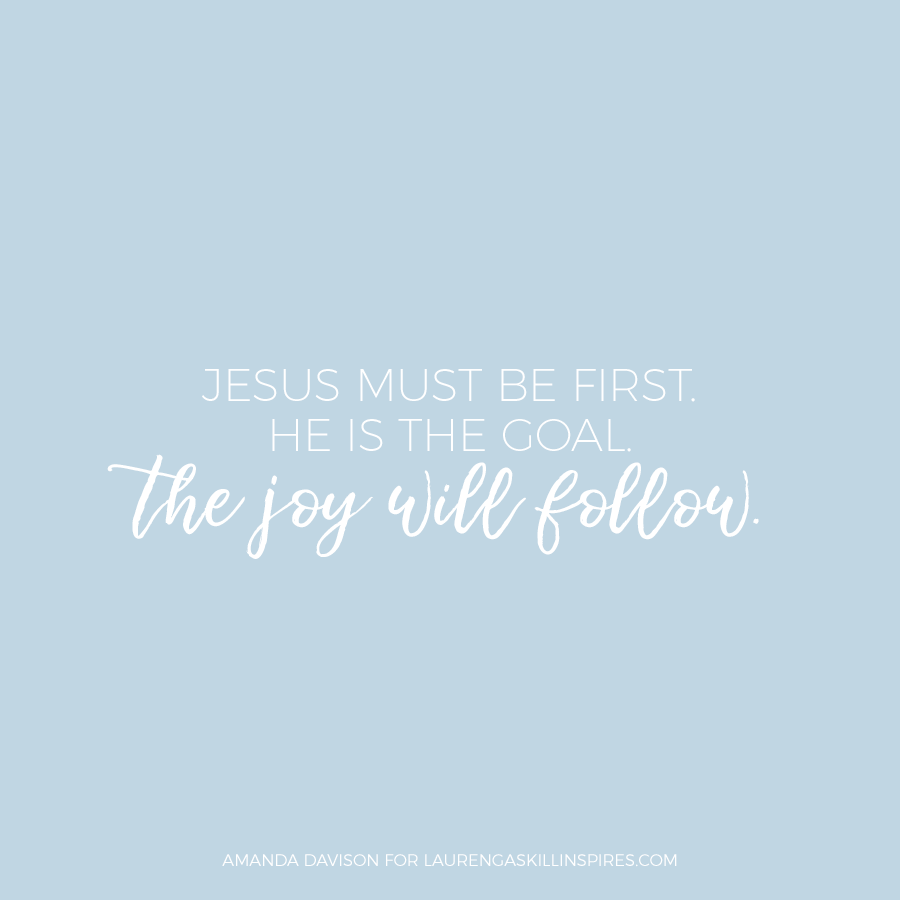 I stood hunched over in the middle of our mudroom, helping our toddler get her boots on. Just as I reached my arm out to grab her gloves on top of the washer, my husband walked by, on his way to grab another child's coat. As he scurried behind me, my hand brushed against his. The touch surprised me, so I looked up and caught a glimpse of his face. It showed a spark of happiness and surprise, and I realized he thought I was reaching out for him, wanting to connect. My heart sank.
In that moment, I felt sad. In part, my sadness was due to my husband's excitement over such a small gesture. I wondered, is this really the only kindness I'm showing him? Misintended acts of love? What a wife I am! And partly, I felt sad because I didn't really want him to think I was reaching out for him. I knew it wasn't right, but it's how I felt. I didn't want to give him the satisfaction of thinking I was reaching out for him because I felt he hadn't earned it. I'm not reaching out for you when you haven't reached out for me, I thought.
This encounter caused me to stare straight into my reality–I was not happy. And I hadn't been for some time. My soul felt stale, and my marriage mundane. I so badly wanted to feel fulfilled in my marriage, but I was too busy being angry at my husband to look for signs of life in other places.
I Had it All Wrong
By this time in our marriage, I knew Jesus. I had a relationship with Him. And the mere fact that I was walking with God made me even more frustrated to not be experiencing joy in my marriage. Wasn't He supposed to give me joy? I sure didn't feel it.
Joy is a funny thing. We want joy to be the new outfit we slip into that highlights our best features and minimizes our worst. We want joy to taste delicious and its flavor to linger for days. We want to bask in its light and set up camp within its warmth. We want joy to be for–us.
I see now that I had it all wrong.
I wanted to exude a precious light and happy face so that my world felt better, and for my marriage to be great. I wanted joy before I wanted anything else. Even Jesus.
Months later while listening to a friend share about a particular passage in the Bible, God's Word came alive in me.
"Land that drinks in the rain often falling on it and that produces a crop useful to those for whom it is farmed receives the blessing of God." Hebrews 6:7
It's so kind of Jesus to smack me up a bit. If we try to bypass Jesus to get the joy, we'll find a dead end. The simple most important act of seeking Jesus to be with Jesus Himself produces joy–there is no shortcut. Further, this joy that is produced from fellowship with Jesus is found useful to God's people, and blesses us even more. Joy cultivated in the hidden spaces with God exudes flavor and beauty that is a gift to the people God has placed around us. It is through this exchange that our hearts awaken more deeply to the abundant joy Jesus offers.
A beautiful process, in a proper process according to His plan. I just didn't know it.
Isn't it a slippery slope into places we wish we weren't? Detours are sometimes unmarked, friends. But thankfully, we can pull out our roadmaps and get back en route.
The level of joy we experience in marriage is directly related to the level of joy we're allowing Jesus to cultivate in our hearts during the unseen, unbroken fellowship with Him.
But Jesus first. He is the goal. The joy will follow.
Do you desire to cultivate more happiness in your marriage? Begin by reading Dear Wife: 10 Minute Invitations to Practice Connection with Your Husband.
About Amanda
Amanda Davison is the wife to a Minnesota farmer, mother of three, and President of the nonprofit, A Wife Like Me. She is an author and speaker, and serves on staff at her local church, where her and her husband lead the marriage mentor team. Amanda is relentlessly sharing how her education in counseling and God's word changed her life and marriage. You can be a part of the growing community of wives on Facebook or Instagram, and can find many helpful resources for your marriage at A Wife Like Me.