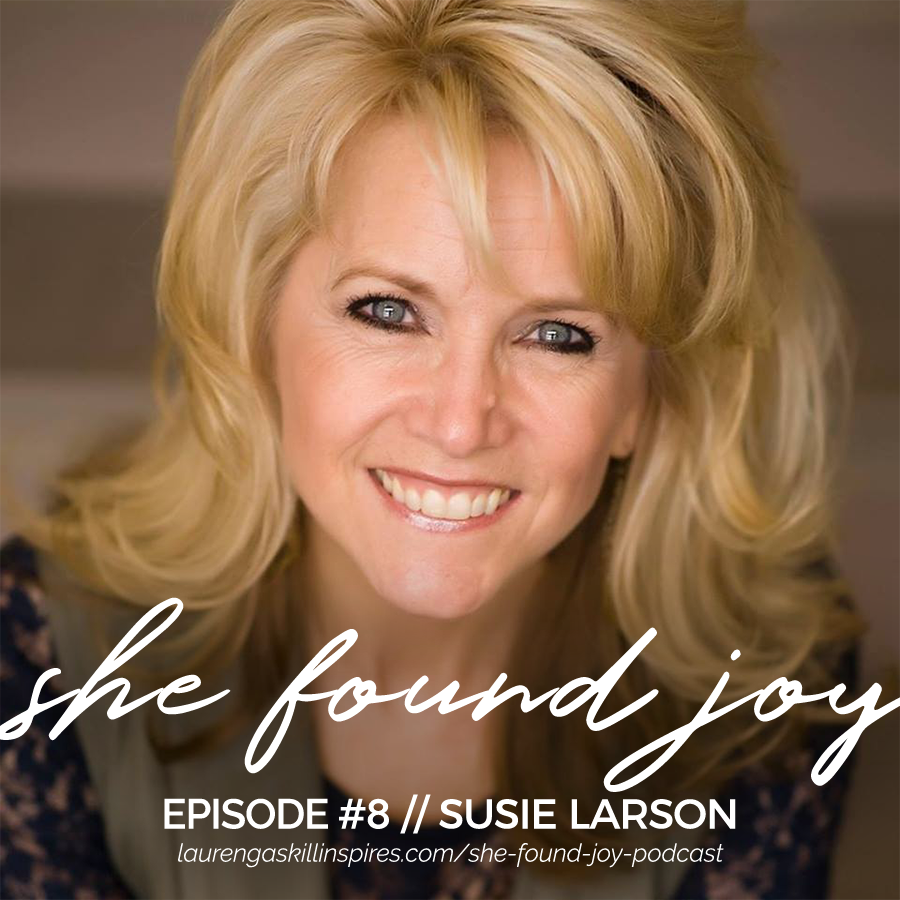 I could not be more excited to have my friend Susie Larson joining me today for She Found Joy #8! God first introduced me to Susie through her books, and quickly after I started reading them I realized we had a lot in common! After watching her courageously pursue faith and healing in the midst of her battle with Lyme Disease, I could not be more thrilled to host our conversation about healing, abundance and freedom here on the podcast today.
In this episode of the She Found Joy Podcast, Susie and I chat about:
How to experience the abundance Christ died to give us (instead of squandering it).
Our/God's definition of healing and blessing and how to pursue both with faithful tenacity.
How to stop letting emotions dictate what seems or what is true in our lives.
The importance of spiritual, emotional and physical disciplines and the role they play in our wellbeing.
What to do when you're afraid to keep hoping for a miracle.
Friends, so many of us are walking our own healing journeys, and Susie is a fellow journeyer on this path of struggle and fighting for wholeness and abundance in Christ. She gets it!! I just know you are going to be blessed by our conversation. Be sure to check out her new book Fully Alive: Learning to Flourish — Mind, Body and Spirit, which releases on Oct. 2, and enter to win a copy by commenting below on this post!
P.S. If you've been blessed by the She Found Joy Podcast, or if this episode blesses you, it would mean the world to me if you left a review on iTunes. This will help more people find the show and learn more about the joy of Jesus.
Links from the Show
Natalie Grant's song "Awaken"
Susie's new book, Fully Alive
Connect with Susie
Connect with Lauren
Tweet the Podcast
How to Listen to the She Found Joy Podcast
You can listen to the podcast here on this blog, or by subscribing to the podcast through iTunes.

Subscribe to the iTunes podcast HERE.
Subscribe on Stitcher HERE.
Review this Podcast
By rating this podcast or writing a short review, you can help others find the She Found Joy Podcast more easily! Click here to rate on iTunes.