I couldn't believe what I was reading.
Did she really say that to me? Does she mean what I think she means? How dare she say such rude and terrible things. Who does she think she is?
The email cut through to the very core of my heart, exposing my vulnerabilities and making me feel incredibly small.
I didn't want to reply. After all, there's no use in arguing with someone who's dead set on having their way or getting their point across. The only thing I wanted to do was stick their face on a punching bag and go to town until my lungs gave out.
My gut reaction wasn't totally unreasonable, and anyone stuck in my shoes would've probably felt the same way. But deep down in my heart, I knew anger and aggression wasn't the answer. Lashing out wouldn't help me know how to deal with or love this difficult person. It would provide temporary emotional relief.
Living with our fists always ready to fly is no way to live.
Yet that's what culture teaches us to do. From a young age, we are taught to fight and fend for ourselves. To get defensive when we feel offended. To embrace debate and drama. To listen to our emotions and let opinions drown out the truth. To not give difficult people the time of day.
The problem with this approach to conflict is that it leaves little or no room for compassion. It takes love completely out of the equation. And you know what else? It turns us into difficult people too.
In Luke 6:27-29, Jesus offers some suggestions for how to deal with difficult people:"But to you who are willing to listen, I say, love your enemies! Do good to those who hate you. Bless those who curse you. Pray for those who hurt you. If someone slaps you on one cheek, offer the other cheek also. If someone demands your coat, offer your shirt also. Give to anyone who asks; and when things are taken away from you, don't try to get them back. Do to others as you would like them to do to you."
Here we see that the answer to loving difficult people well isn't responding with anger or aggression. It's responding with a generous, kind, loving and open heart.
This is not an easy thing to do. Most of us don't wake up in the morning thinking, Hooray! I can't wait to love a difficult person today! Lord, bring the difficult people my way! But loving difficult people is more than just a command. It's a chance for Jesus to do a work in our hearts and help us become more like Him.
Even when we don't know how to love someone, as today's podcast guest Amanda Davison and I talk about, God is willing and able to help us learn how to love them to the best of our ability — imperfections and all. All we have to do is sit at His feet, ask Him — the very author of love — to soften our hearts and listen to what He might have to say to us.
Pray with me?
Father God, we come before you today knowing that you know all about the difficult people we are dealing with because you placed them in our lives. You know what relationships we're struggling with today, and so we ask that you would help us know what to do. Show us how to love all people, especially difficult people well. Fill us with your generous, kind, loving and open Spirit. Help us not give in to the fleeting emotions of anger and aggression, though it might be the easier thing to do, and give us the strength to remain patient as we work to love others the way they need to be loved. In Jesus' name, amen.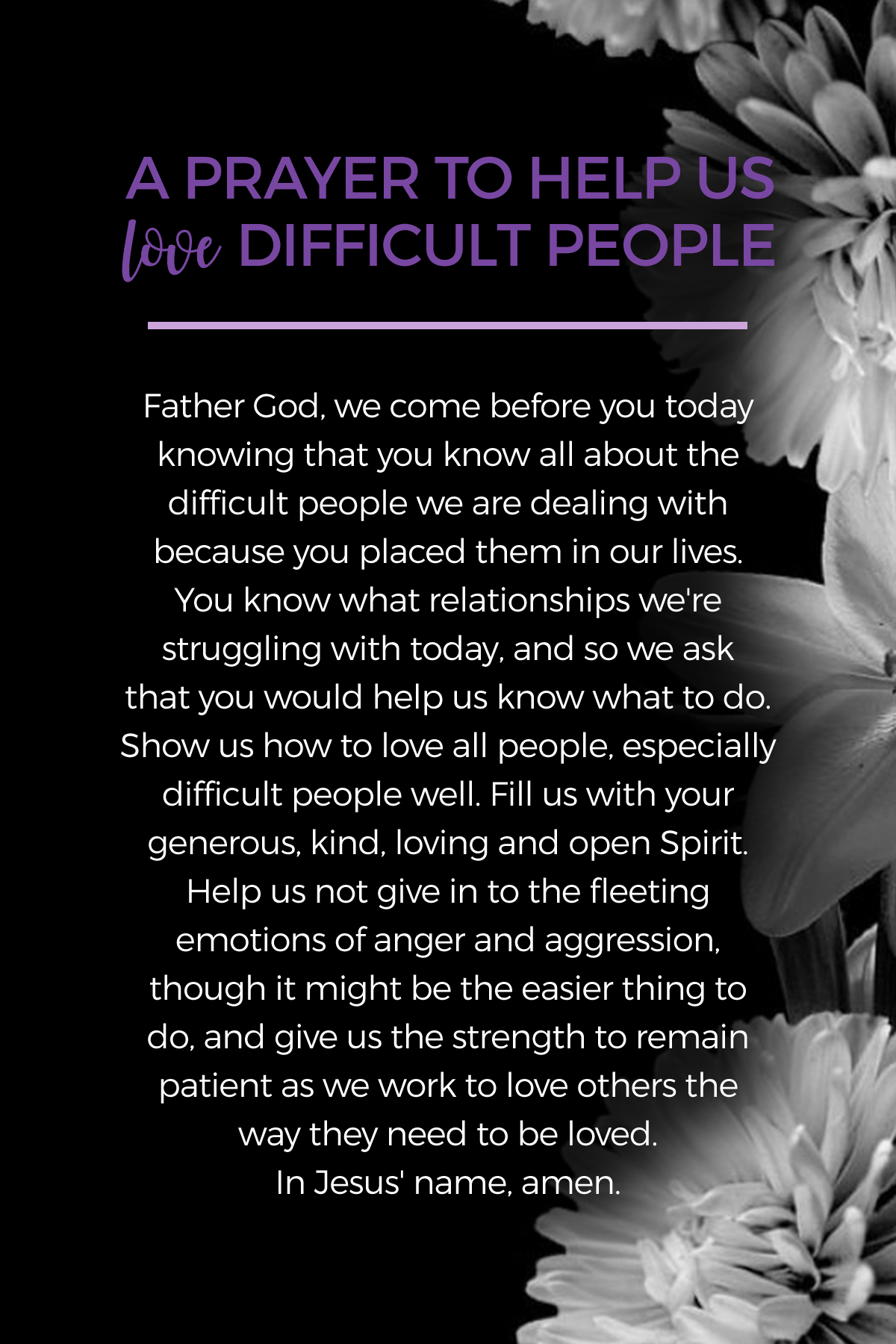 Want to go deeper and learn more about how to love difficult people well? Don't miss the latest Finding Joy Podcast episode!
Our guest on today's podcast, Amanda Davison, is passionate about helping others learn how to cultivate healthy, thriving relationships, and she knows firsthand how hard it can be to commit to loving difficult people well.
If you are dealing with any hard relationships right now, you don't want to miss our conversation. So what are you waiting for? Grab a doughnut, brew yourself a cup of your favorite coffee or tea blend and get ready for some practical tips that will help your relationships flourish.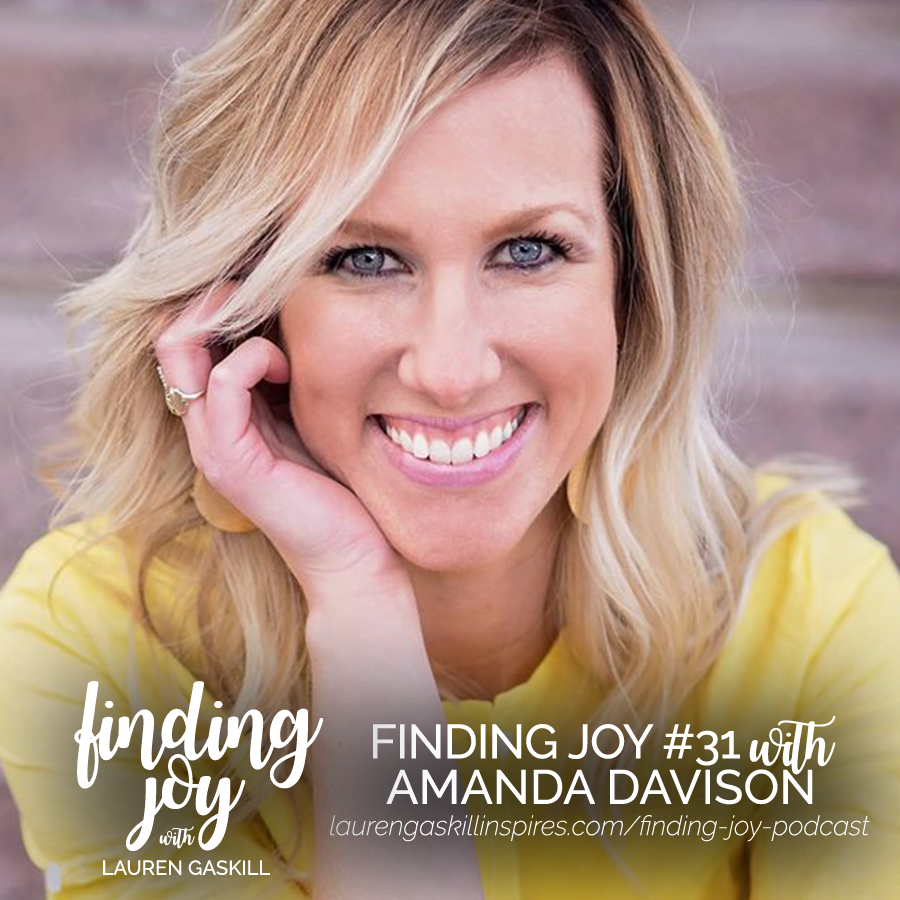 In our conversation, Amanda and I talk about:
How to navigate difficult relationships and love others well.

How to be honest with God about how we are feeling.
Why it's important to take our emotions to the Lord first, instead of going with a flesh reaction.
The gift of peace amid times of frustration.
Amanda encourages us to fight against our flesh reactions and trust that God will help us work out the interpersonal difficulties we encounter throughout life's journey.

Finding Joy is a podcast dedicated to bringing you encouragement and inspiration in all of life's moments — the good, bad and everything in-between.
Connect With Amanda
How to Listen to the Finding Joy Podcast
You can listen to the podcast here on this blog, or by subscribing to the podcast through iTunes.

Subscribe to the iTunes podcast HERE.
Review this Podcast
By rating this podcast or writing a short review, you can help others find the Finding Joy podcast more easily! Click here to head over to iTunes and rate Finding Joy.
Give to the Podcast
Click here to learn more about how you can financially support the The Finding Joy Podcast.
Lauren Gaskill is a participant in the Amazon Services LLC Associates Program, an affiliate advertising program designed to provide a means for bloggers to earn fees by linking to Amazon.com and affiliated sites.