If you follow me on Facebook, you might have seen this post last month, but after seeing its impact on Facebook, I knew I needed to share it here on the blog too for anyone who might have missed it.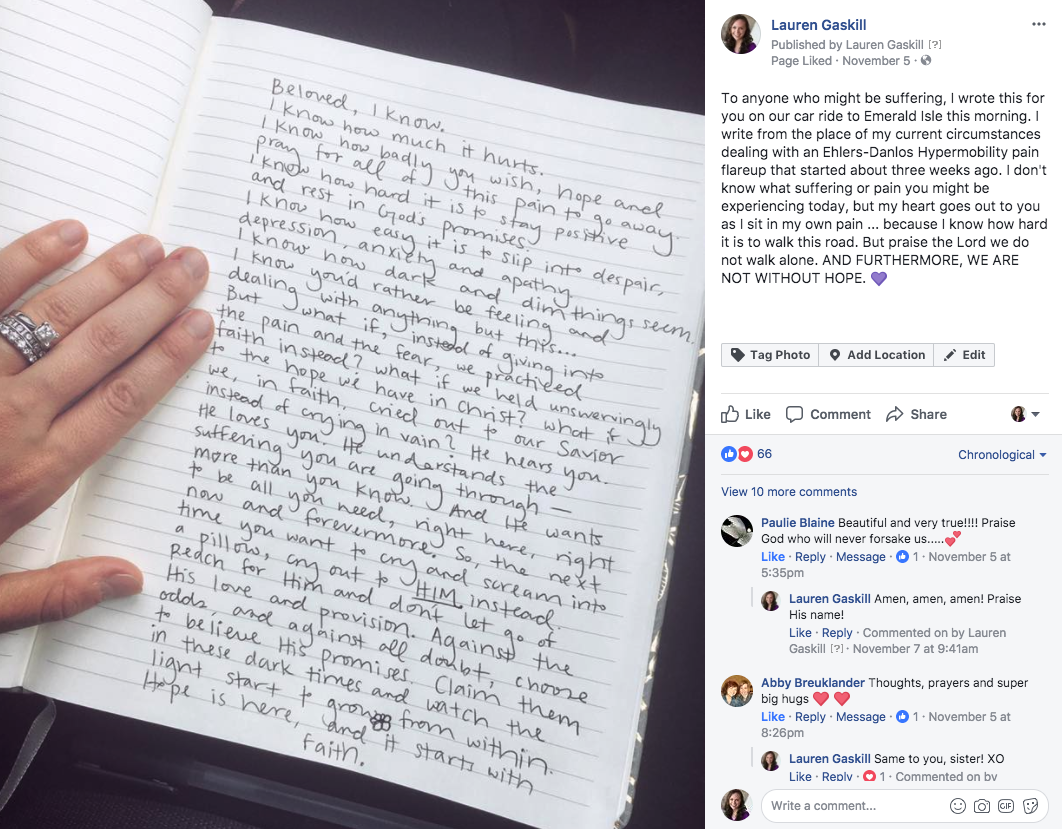 I don't know what battles you are facing today, but I want you to know that God is with you and He is bigger and stronger than that mountain that's staring you in the face. All we need is to have a little faith that He WILL see us through. Be encouraged, dear friend! Take courage and rest in the shadow of the Almighty.
As it says in one of my favorite Psalms,
1 Whoever dwells in the shelter of the Most High
    will rest in the shadow of the Almighty.[a]
2 I will say of the Lord, "He is my refuge and my fortress,
    my God, in whom I trust."
3 Surely he will save you
    from the fowler's snare
    and from the deadly pestilence.
4 He will cover you with his feathers,
    and under his wings you will find refuge;
    his faithfulness will be your shield and rampart.
5 You will not fear the terror of night,
    nor the arrow that flies by day,
6 nor the pestilence that stalks in the darkness,
    nor the plague that destroys at midday.
7 A thousand may fall at your side,
    ten thousand at your right hand,
    but it will not come near you. (Psalm 91)
Just in case you can't read the copy in the picture, I've copied the Facebook post that inspired this blog post for you below (in blue), along with the love letter (in purple).
To anyone who might be suffering, I wrote this for you on our car ride to Emerald Isle this morning. I write from the place of my current circumstances dealing with an Ehlers-Danlos Hypermobility pain flareup that started about three weeks ago. I don't know what suffering or pain you might be experiencing today, but my heart goes out to you as I sit in my own pain … because I know how hard it is to walk this road. But praise the Lord we do not walk alone. AND FURTHERMORE, WE ARE NOT WITHOUT HOPE.
Beloved, I know.
I know how much it hurts.
I know how badly you wish, hope and pray for all of this pain to go away. I know how hard it is to stay positive and rest in God's promises. I know how easy it is to slip into despair, depression, anxiety and apathy. I know how dark and dim things seem. I know you'd rather be feeling and dealing with anything but this …
But what if, instead of giving into the pain and fear, we practiced faith instead? What if we held unswervingly to the hope we have in Christ? What if we, in faith, cried out to our Savior instead of crying in vain?
He hears you. He loves you. He understand the suffering you are going through — more than you know. And He wants to be all you need, right here, right now and forevermore.
So, the next time you want to cry and scream into a pillow, cry out to HIM instead. Reach for Him and don't let go of His love and provision. Against the odds, and against all doubt, choose to believe His promises. Claim them in these dark times and watch the light start to grow from within. 
Hope is here, and it starts with faith.
XOXO,
Lauren
PIN THIS LETTER TO PINTEREST FOR OTHERS TO BE LIFTED UP & ENCOURAGED