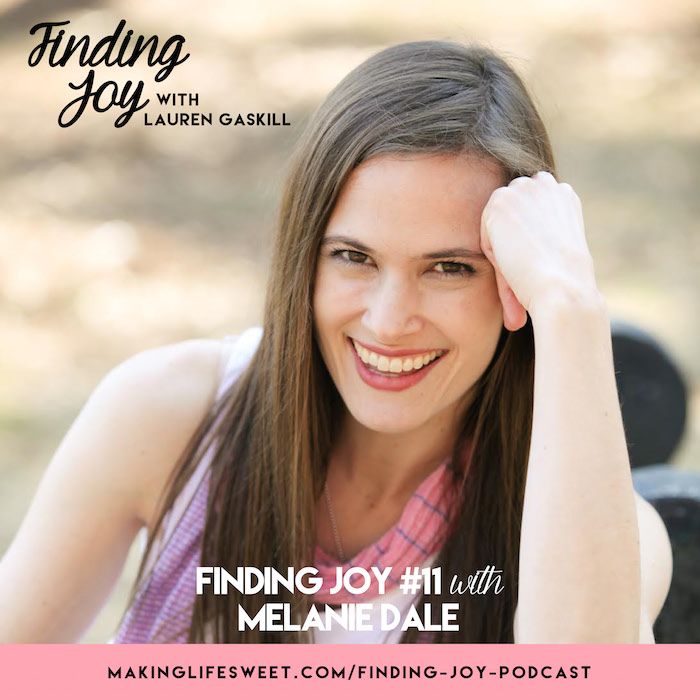 Finding Joy is a podcast dedicated to bringing you encouragement and inspiration in all of life's moments — the good, bad and everything in-between.
Melanie is our guest for the 11th episode of the Finding Joy podcast! Melanie is a mother, wife, blogger, author and speaker. I could say a lot about Melanie (because she's amazing) but I think what she's written on the about page of her blog paints a better picture of just how fun and cool she is: "I'm a total weirdo.  I'm Scary-Intense Girl and I stink at small talk.  I laugh at fart jokes, my favorite color is orange, and I majored in theatre (Shut up.).  I love crunchy leaves and I drink lots of black coffee. My laugh is a combination honk-snort, and it's so bad that people have moved away from me in the movie theater. I hide kale in smoothies but also have a waffle fry addiction. I adore sci-fi and superheroes, and I'm terrified of Pinterest. I'm allergic to sports.  And the outdoors. And outdoor sports."
But Melanie is so much more than that. Through her writing and speaking, Melanie inspires women to focus less on being the perfect mom, friend, spouse and Christ follower, etc., so they can focus more on embracing the life God has for them.
In this episode, Melanie and I talk about:
Her battle with infertility and depression.

She and her husband's journey with adoption.
Unexpected parenting.
The importance of counting the wins in life.
Why it's important to be honest with God.
Melanie encourages us to lighten up and not be so hard on ourselves all the time. Life's too short, Amen?
Links From the Show
Connect With Melanie
Facebook | Twitter | Instagram
How to Listen to the Finding Joy Podcast
You can listen to the podcast here on this blog, or by subscribing to the podcast through iTunes.

Subscribe to the iTunes podcast HERE.
Review this Podcast
By rating this podcast or writing a short review, you can help others find the Finding Joy podcast more easily! Click here to head over to iTunes and rate Finding Joy.