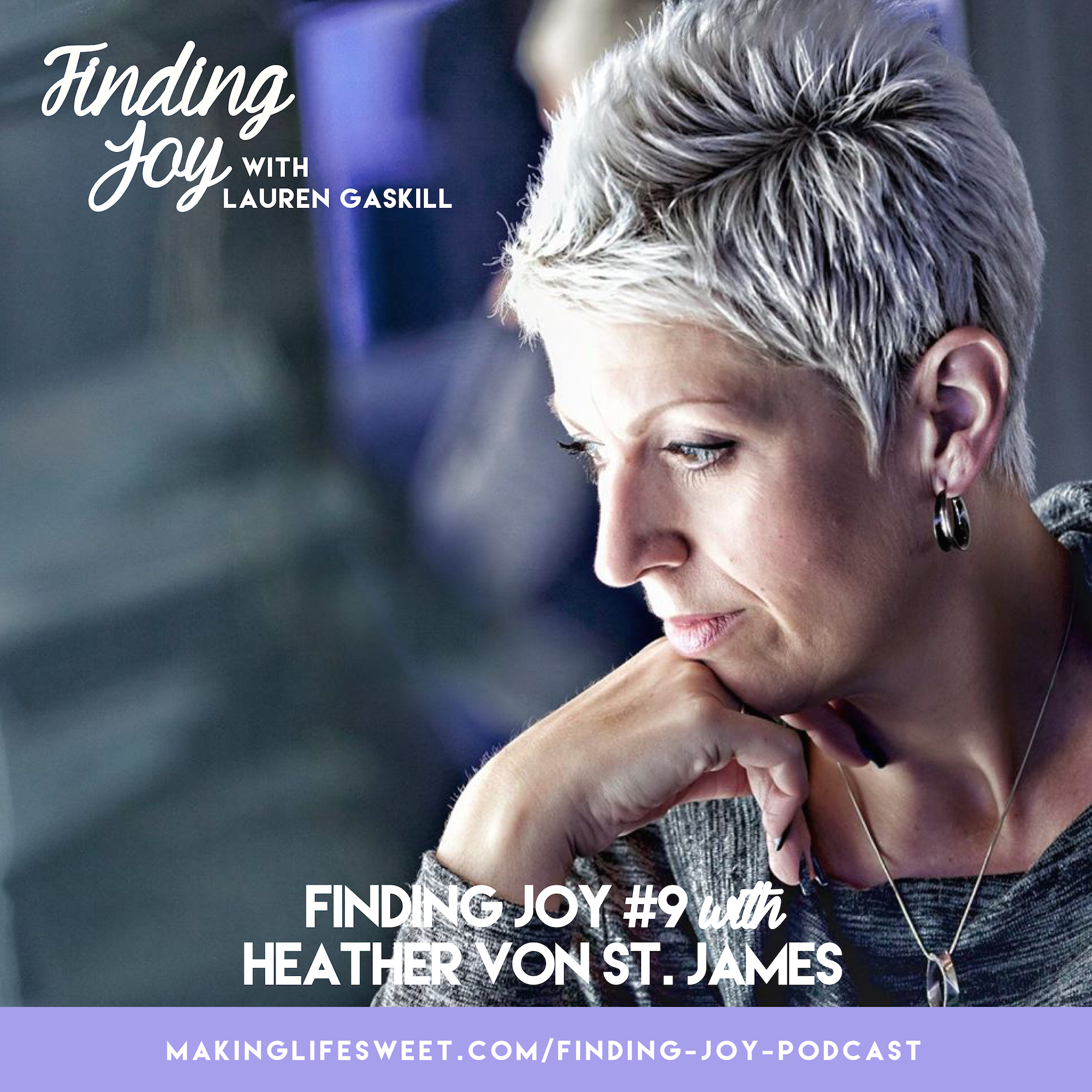 Finding Joy is a podcast dedicated to bringing you encouragement and inspiration in all of life's moments — the good, bad and everything in-between.
Heather Von St. James is our guest for the ninth episode of the Finding Joy podcast!  Heather is a mother, wife, blogger and advocate for the Mesothelioma Cancer Alliance — and as of this February, she's also a 10-year cancer survivor. Talk about amazing. Back in 2005, at the age of 36, Heather was diagnosed with Mesothelioma shortly after giving birth to her first child. Heather was given just 15 months to live.
After the diagnosis she and her husband, Cameron, immediately searched to find the best mesothelioma treatment care available. Their search placed them in the care of Dr. David Sugarbaker, a renowned mesothelioma surgeon who helped rid the cancer from Heather's body. Sugarbaker's famous saying, "with hope the odds don't matter," is a saying Heather holds on to after all of these years, and something she shares with many who are facing cancer.
Heather now shares her personal story on a national level to help spread hope and awareness for others going through this, in hopes that one day no one else will have to.
In this episode, Heather and I talk about:
Motherhood after cancer.

What it feels like to be a 10-year cancer survivor.

How Jesus got her through mesothelioma.

Why hope and community are important for anyone going through suffering.
Heather encourages us to cling to the hope we have in Christ and be OK with reaching out to others for help. After all, we were made to be there for one another.
P.S. June 5 is National Cancer Survivors Day. If you know someone who has survived or is going through cancer, share this post with them!
Links From the Show
Imerman Angels: One-On-One Cancer Support
Connect With Heather
Facebook | Twitter | Instagram
How to Listen to the Finding Joy Podcast
You can listen to the podcast here on this blog, or by subscribing to the podcast through iTunes.

Subscribe to the iTunes podcast HERE.
Review this Podcast
By rating this podcast or writing a short review, you can help others find the Finding Joy podcast more easily! Click here to head over to iTunes and rate Finding Joy.