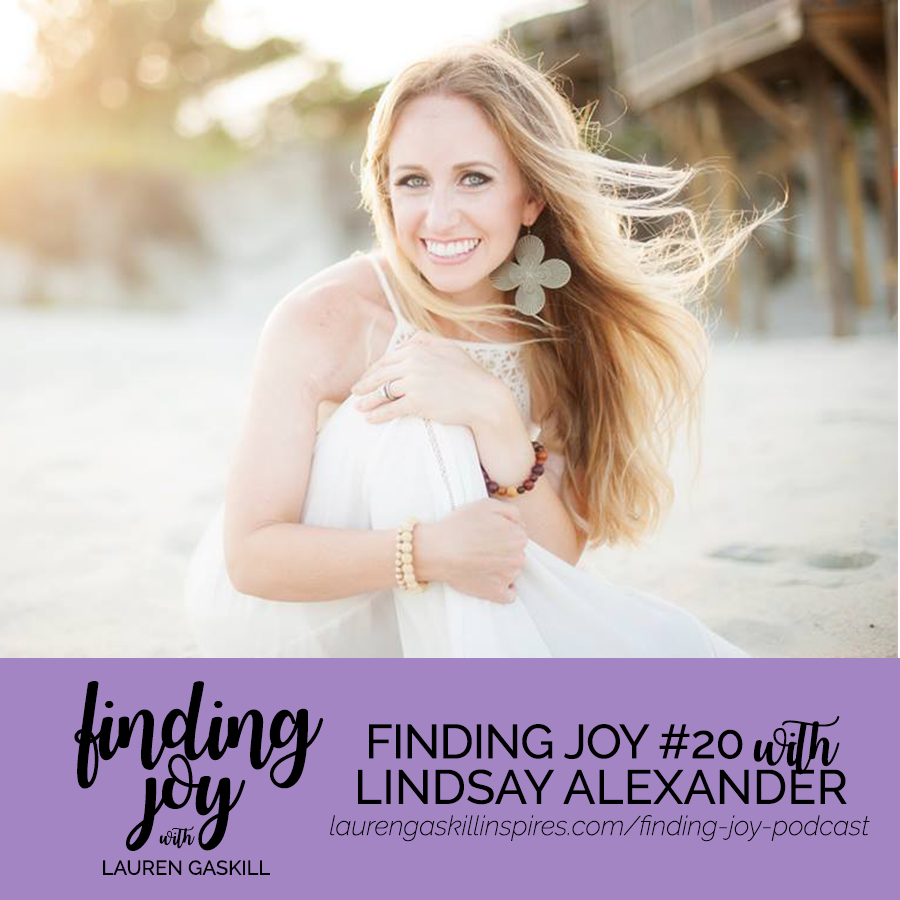 Finding Joy is a podcast dedicated to bringing you encouragement and inspiration in all of life's moments — the good, bad and everything in-between.
Lindsay Alexander is our guest for the 20th episode of the Finding Joy podcast, so grab a cup of coffee, pull up a chair and get ready for some girl talk! Lindsay is a wife, mom, blogger, former photographer and all around amazing person. Her desire is to help women know that, by God's great design, they were made to live a life of adventure and purpose. She writes, "No matter what season we find ourselves in, every minute is another opportunity to be all that He created us to be!"
In this episode, Lindsay and I talk about:
The beauty of being a blank slate for Christ, and how God redeems our past for His glory.
How God uses life changing things to show us the power of the Gospel and the power of the cross.
How to substitute a fake faith and striving to just be a "good Christian girl" for an authentic, real faith.
What it means to be a good steward what happens when God calls you to embrace a life of "less."
Lindsay encourages us to follow the Lord wherever He may be leading us and to not be afraid to jump off the dock into the waves when He tells us to go.
Links From the Show
Connect With Lindsay
Facebook | Twitter | Instagram
How to Listen to the Finding Joy Podcast
You can listen to the podcast here on this blog, or by subscribing to the podcast through iTunes.

Subscribe to the iTunes podcast HERE.
Review this Podcast
By rating this podcast or writing a short review, you can help others find the Finding Joy podcast more easily! Click here to head over to iTunes and rate Finding Joy.