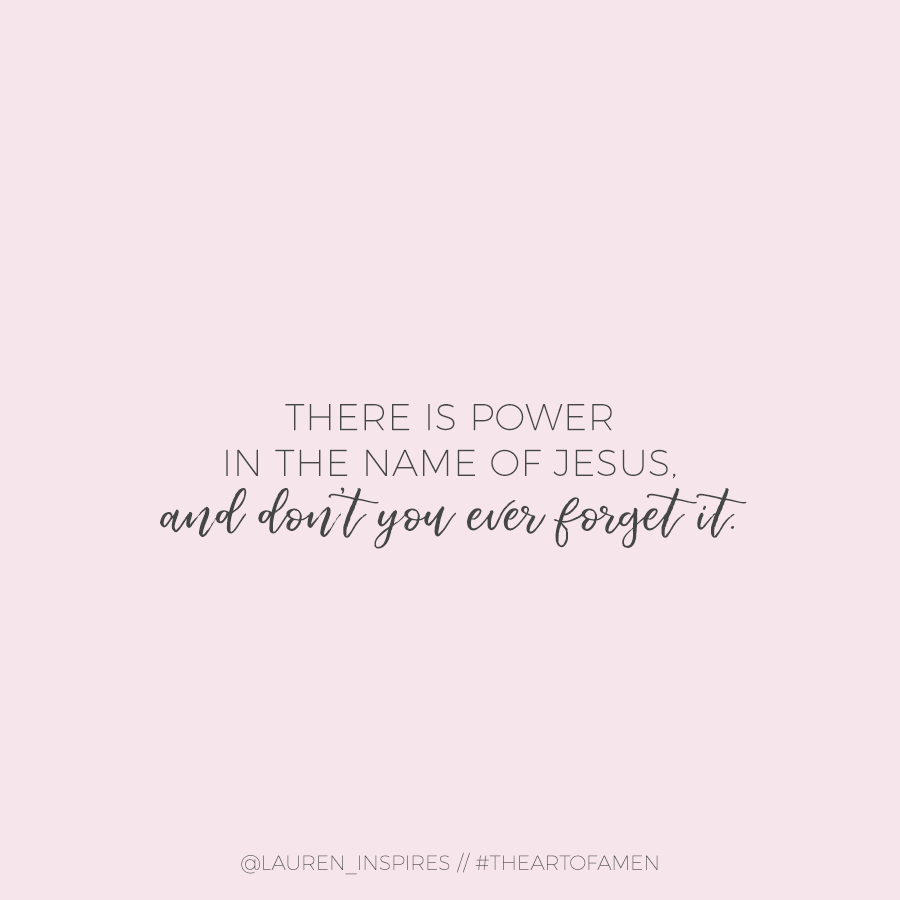 POWER IN HIS NAME*
Hot tears flow like silent prayers from my swollen eyes. Each one whispering, Jesus, Jesus, Jesus. The pain, it's growing louder now — so loud I can barely hear my husband say, "It's going to be OK."
Is it going to be OK? Fear whispers from the back of my mind. This could be it. This could be the start of everything breaking apart. You knew this day would eventually come. You can only outrun time for so long.
Twitch. Pop. Spasm. There are little fires burning in my muscles, joints and bones, torching an already fragile ecosystem. I open my eyes to stare at the blank ceiling and this time I say it out loud, "Jesus. Jesus. Oh, help me, Jesus."
It's all I can muster, but for right now it's enough. Because, friend, there is power in the name of Jesus, and don't you ever forget it. For everyone who calls on the name of the Lord will be saved1. And at the mention of His name, demons are cast out and signs and wonders are performed2. There is power when we call, mention and pray the name of Jesus out loud amid our struggles.
Sometimes when we're hurting, the name of Jesus is the only thing our lips can utter. And that's OK, because His name is more than enough.
POWER IN HIS WORD
Later that night, my husband and I climb into bed and I pull out my bedside Bible, desperate for a fresh dose of Hope and Truth. While dinner and dessert had offered welcome (and delicious) distractions for a few hours, the fear is returning as I settle under the covers.
Lord, give me a Word that will banish this fear once again. I pray.
I've read Psalm 91 more times than I can count, but I don't question when the Spirit leads me there once again. Tonight, however, it's not enough for me to simply read this passage of Scripture. You see, I don't just want the atmosphere of my mind to change. I want the atmosphere of the whole room and house to change. I want to hope and faith to arise in such a way that the fear will flee with each spoken word.
So, faith comes from hearing, and hearing through the word of Christ.3
Even when believing is hard, God can deeply strengthen our faith and drive out fear when we dive into His Word.
POWER IN OUR PRAISE
It's morning now. The little fires have calmed down to embers, but still the aches and pains persist. I rub my eyes and debate whether or not I should even get out of bed. Mondays have never been my cup of tea, and this one is already shaping up to be a doozy. I hit snooze on my alarm and close my eyes as I roll onto my good shoulder to drift back to sleep.
Get up.
"Lord, can't you see I'm trying to sleep? You say to take care of the body you've given me, and that's exactly what I'm trying to do here." I say, clearly annoyed by the early morning disturbance.
This is the day that I have made. Rejoice, and be glad, Lauren.4
I open my eyes once more to see sunshine peeking through our blackout curtains. Still, all I want to do is stay in bed so I can drift into a state of being blissfully unaware of my pain. I try cover my head with a pillow to block out the light, but when I do, one word flashes in my mind. Rejoice. Rejoice. Rejoice.
"OK, OK, OK, Lord!"
I grab my phone and tiptoe across the room while pulling up one of my sweet mama's favorite hymns, Victory in Jesus. Ten years ago, if you'd asked me to sing a song of praise to my Savior, I would have jumped at the opportunity. Growing up, I sang on a daily basis and was a regular member of our church band. You know those crazy people you see sitting in the car next to you at a red light, singing their lungs out to the radio? Yeah, that was me. But that was before Hypermobile Ehlers-Danlos destroyed my jaw and landed me with a stage four degenerative joint disease diagnosis back in 2015. Now, singing is a point of pain for me, and a reminder that, while I don't understand all of the reasons why, God has chosen not to heal me … yet.
But, every now and then, as He has on this particular morning, He stirs in my heart to sing anyways. So, despite the fact I feel like my whole entire body has been hit by a car, I clear my throat and I begin to sing as the chorus begins.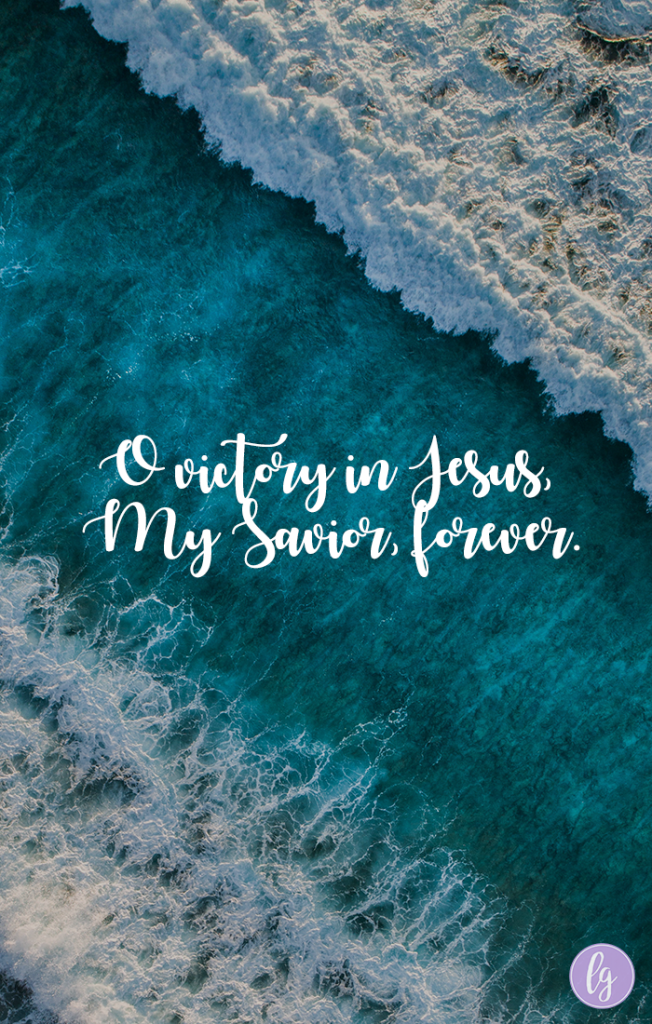 O victory in Jesus,
My Savior, forever.
He sought me and bought me
With His redeeming blood;
He loved me ere I knew Him
And all my love is due Him,
He plunged me to victory,
Beneath the cleansing flood.5
I hum my way through the rest of the song, and while the pain hasn't yet left my muscles, joints and bones, the blood of Jesus brings my heart to wholeness as I remember the ultimate victory I have in Him.
Romans 10:13
Mark 16:17; Acts 4:30
Romans 10:17
Psalm 118:24
E.M. Bartlett, "Victory in Jesus," 1939.
*Excerpted from my contributor piece for Catherine Bird's The Art of Amen by Leafwood Publishers. Learn more and order a copy on her website.