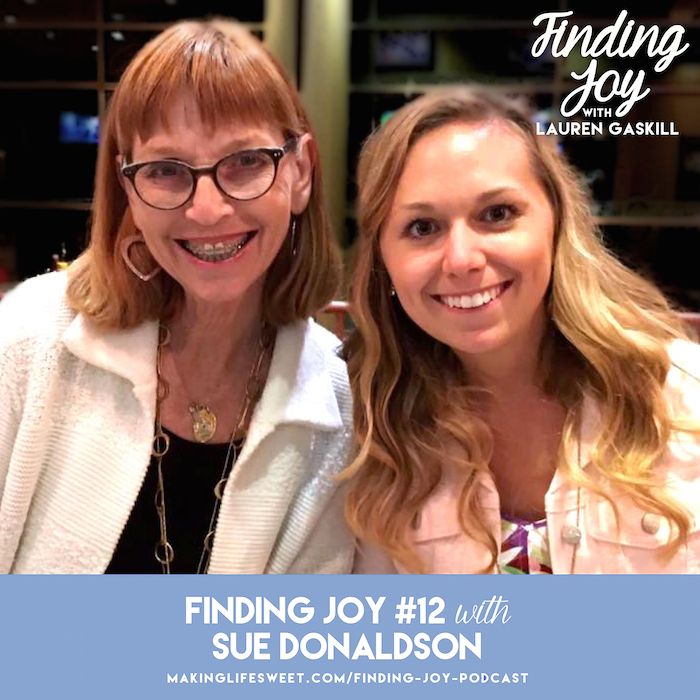 Finding Joy is a podcast dedicated to bringing you encouragement and inspiration in all of life's moments — the good, bad and everything in-between.
After a much needed break in July, I'm so excited to bring back the Finding Joy Podcast once again this month! Thanks for being patient while I was in a very busy season of life. Sue Donaldson is our guest for the 12th episode of Finding Joy!  Sue is a mother, wife, author, speaker, Bible study leader and — though she might not use these exact words — the queen of hospitality.
Sue and her husband Mark reside in San Luis Obispo, California with their three daughters, Bonnie Sue, Bethany and their "surprise" treat at almost 44, Mary Grace. She has a passion to share who God is with whoever comes her way. For her, intentional hospitality for the sake of Jesus is a joy and a privilege, and she believes it can be learned!
We recorded this podcast back in early July, and I had the privilege of meeting Sue in person at the She Speaks Conference just a few weeks later. Let me tell you friends, she was just as sweet and generous in person as I suspected her to be. I'm honored to call her friend and I'm so excited to have her on the podcast today. (P.S. You can enter to win a copy of her latest book below! You have until Aug. 10 to enter.)
In this episode, Sue and I talk about:
Her work as an author, speaker and missionary.

Common hang ups we might have with hospitality and how to overcome them.

Simple steps you can take to cultivate a more welcoming, hospitable heart.
Stories of people whose lives were changed because of Sue's Biblical hospitality.
Sue encourages us to step outside of our comfort zone by letting God use our tables to extend His welcoming heart and overflowing love to others. She invites us to start each morning by saying, "Lord, help yourself to my life." 

Links From the Show
Connect With Sue
Facebook | Twitter | Instagram